There are more than 3 million applications on the Google Play Store. In fact, hundreds of apps are coming out everyday which makes it really hard for any user to keep a track. Finding the best Android apps from the ocean of apps available on the Play Store can be a challenge and that is where we come in! We at True-Tech tend to follow an ideology where we showcase the top 10 android apps that you must try in this month. We test various apps across different categories and bring you our Top 10 Best Android Apps August 2020.
1. Hootsuite
Most of you already know that some huge brands and celebrities do have their personal social media managers who take care of rendering the company or person across the social media channels as the sole voice of the brand. They create content, manage posts by scheduling, reply to messages or comments, and etc. So, have you ever imagined how would it be like having your personal social media manager? Well, then Hootsuite is for you!
Using Hootsuite you can schedule posts and track the performance of your content on Facebook, Instagram, Twitter, and LinkedIn from one place. You can use its tools like composer, publisher, streams, and inbox to enhance the overall experience.
2. Adobe Premiere Rush
Adobe Premiere is one of the finest and most professional video editing tools. A lot of cinema's, documentaries, music videos, are completely edited and graded using the Premiere Pro. Well, Premiere Rush is the mobile version of the same. It is not a very feature-rich or doesn't come with professional-grade tools either, but it can get the mobile range editing done.
The application comes with simple but essential tools that are very much handy for simple editing. You can add music to the videos, color correct them, and there is the multi-track editor here too. If you are looking for a simple yet powerful tool to edit your IGTV video, Reels, and TikTok videos too.
3. Microsoft Authenticator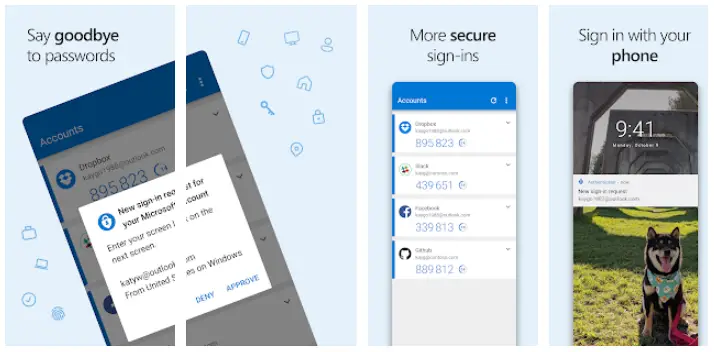 Forget the passwords, you can use this application to login to all your accounts using one password. Yes, Microsoft Authenticator is one of the finest and most convenient passwords managers. You can add multiple applications like Linkedin, Amazon, Github, Dropbox, Google, Facebook, and the list goes on. You can also set an option for time-based one time passwords for more security. It also supports Multi-factor authentication even if you still want to enter your passwords for more security.
4. Kooky: Photo Editor
Kooky is one of the most powerful and high-rated photo editors in recent times. This application comes with various features making it stand out from the crowd. The application is a compilation of the best smartphone editing features. For starters, there is an Aging Camera feature inspired by Face Cam app, which was all over the internet a few months back.
Not just that, you can animate the images, create AR stickers for a different scene, mysterious predictive function, and etc. You can also fine-tune your images including selfies with face beauty features.
5. Squad: video chat + screen sharing
Most of us are stuck at homes due to health concerns in the wake of the COVID-19 pandemic. If you are at home and unable to spend the time with your friends, then this application is for you. The implementation here is more or less like RAVE, where you can watch Netflix or any OTT with your friends, but Squad takes this to a whole new level. For starters, you can video chat with up to nine people.
You can also cast your screens with your friends and shop together, browse social media, or you can watch videos together. The application is made available for App Store and is featured under New App We Love on Apple's App Store. Now, they made it to Android and we love this App too!
6. Brave Private Browser
There is no such thing called privacy in the current smart world. Whatever you watch, talk, and do the applications on your smartphones read and use them under the favor. If you are planning to browse anything private instead of opting for incognito mode, which can still access your location and other data, you can use any private browsing applications.
Brave Private Browser is one such application where you can browse fast, free, and privately, that too with no ads or minimal ads. There are no external plug-ins or setting here. The other features include a built-in ad blocker, secure bookmark sync, script blocker, private search engine.
7. Story Maker by InShot
In the ocean of story makers available on Play Store, it gets a bit hard to find out the best Story Maker for Instagram, WhatsApp, and Facebook. But not for us! Story Maker by InShot, hands down, is the best story maker application out there. If you are in the content creator, you must definitely have come across the InShot apps. They have developed video editing apps, photo editing apps, powerful audio editing apps, and the list goes on.
Coming to this application, it is filled with tons of designs that are super elegant and head-turning. The editing here is very simple with more than 100 text styles and design patterns. You can also create and save highlight cover images and backgrounds too.
8. Flud – Torrent Downloader

Flud is a simple yet powerful torrent client for Android devices. The features of Flud include no speed limits or capping on downloads and uploads, the ability to select which files to download, the ability to specify folder/file priorities, and a lot more. Flud also supports RSS feed support with automatic downloading options, Magnet link support, and the ability to download sequentially.
9. Access Dots
Access Dots is one of my favorite applications on the list. As most of you already know, a lot of third-party applications access the camera and microphone in the background. Most of these applications are permitted to use the mic or camera as they are basic requirements for such apps. For instance, in order to use Facebook properly we need to give access to the camera and mic, and who knows what Facebook listens?
If you are worried about the same, then Access Dots is for you. The application is developed by XDA's recognized developer jagan2 who created applications like Energy Ring, Energy Bar, and notch in the past. The implementation here is similar to the iOS 14's privacy feature. It displays you an icon whenever the phone's camera or microphone is engaged by a third party application.
10. Slite
Slite is a simple collaborative documentation tool that helps businesses stay organized and work more thoughtfully. Due to Coronavirus Pandemic, a lot of us are working from home. Using this application, you can create new documents and enrich them with checklists, bullet notes, headers, and tables which supports the backing for embeds, images, videos, code blocks, and more.
You can write and edit together with your team members, and get notified whenever someone mentioned you. You can work from mobile and sync it to desktop app or the web version of slite.com. You can also quickly access to swiftly search and navigate across your team's knowledge.
You might also like
---
More from Android
---
Type a query, a tag, or any random string and I doubt you won't find an app on the Google …
Samsung unveiled three different sets of Ultrabook today at the Galaxy Unpacked April event. The event was held via the …
XiasssAfter getting a lot of headlines over a couple of weeks now, the Redmi K40 Gaming Edition or Gaming Enhanced …
Editor Picks
---