There are more than 3 million applications on the Google Play Store. In fact, hundreds of apps are coming out everyday which makes it really hard for any user to keep a track. Finding the best Android apps from the ocean of apps available on the Play Store can be a challenge and that is where we come in! We at True-Tech tend to follow an ideology where we showcase the top 10 android apps that you must try in this month. We test various apps across different categories and bring you our Top 10 Best Android Apps July 2020.
1. Firefox Send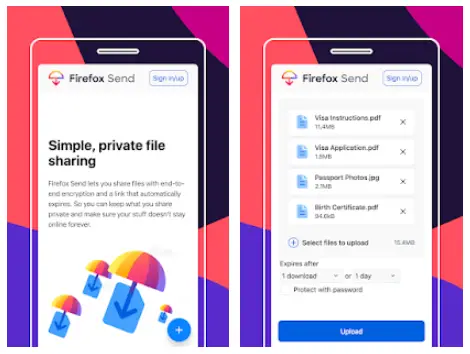 If you are a content creator you must definitely have come across the services like WeTransfer and MyAirBridge, where you can upload a file, be it an image, video, or a document which you can share it directly through the mail or by using a temporary link which expires within a few hours or days. Well, Firefox Send is a polished version of the same. Using Firefox Send, you can share your files easily. The end-to-end encryption and the ability to create a link that expires makes the usage even better.
You can send the files up to 1 GB quickly and you can set the download limits and protect it with a password too. For example, if you limit the file up to 3 downloads, the file automatically expires once it is downloaded three times. The service is announced back in March this year.
2. Vita
Video editing on Android devices was a nightmare a few years ago! Now, with the release of new and modular video editing applications, you can create amazing videos in just a matter of minutes. Using mobile applications like Kinemaster, Wondershare Filmora, and Quik by GoPro, you can create head-turning videos on just a few taps. Vita adds to the same list. Using Vita, you can create trendy content within a few taps.
You can add trendy fonts, elements, and effects to create professional-looking videos. The filters here are just awesome. You can apply filters in a few clicks and create vlog-styled videos from the pre-made templates. Moreover, you can color grade your videos to give that cinematic punch.
3. Sound Amplifier by Google
Almost all Android phones come with a pre-installed equalizer, but it is mostly a hidden feature. Well, the default audio frequencies set by manufacturers turn out to sound good, but you can get the best out of your phone only when you customize using an equalizer. Sound Amplifier is one such application that can be used to improve the overall listening quality.
Using this application, you can filter, augment, and amplify the sounds on your device. Sound Amplifier increases important sounds, like conversations, without over-boosting distracting noises. With two simple sliders within the application, you can quickly customize the sound enhancement.
4. Bundled Notes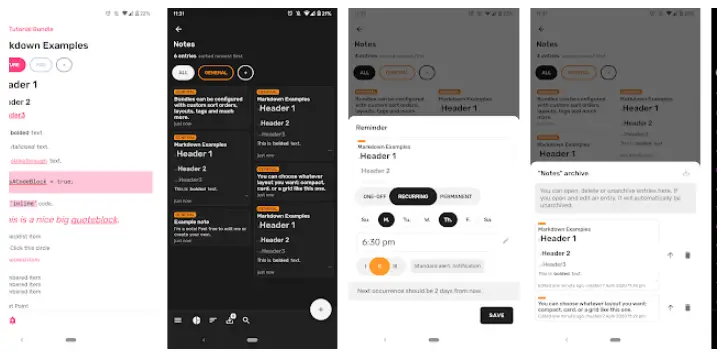 Bundled Notes is much of an enhanced version of Google Keep notes application. It checks all the boxes which Google missed with its notes app. Using the application, you can control the sort order, tags, layout, and to-do features, and then fill them with content like reminders, to-do lists, journals, and etc. What's more interesting here is that you can pin the notes to your notification drawer. If that is too much for you, you can also set permanent, one-time, and recurring reminders.
You can also customize your layouts from the grid, card, and compact options. The app developers also confirmed the launch of the web version of the same. Hence, the cross-platform syncing is not a big deal here. Overall, it is a beautifully designed application with good animations and theming options.
5. Zone Launcher
Zone Launcher is one of the unique and fun to use Android launchers that we've come across in recent times. Most of the launchers available on the Play Store are just the same with a few additions here and there, but developers of the Zone have taken the launcher experience to a whole new level. The implementation here is top-notch! You can access the app drawer or app shortcut space, I could say, from any screen using one gesture swipe. You can also customize the trigger areas. You can also arrange shortcuts into easy to reach zones, and, you can also customize every single aspect of the app from colors, backgrounds, and icons.
6. Pomelo
Pomelo is one of the powerful photo editing applications that we have recently come across. At first glance, Pomelo gives you an impression of "just another beauty camera app", but it does hide a lot of features under its sleeve. For starters, you can play with the colors and grade them. You can access the tools like structure, temperature, tints, highlights, shadows, blacks, fades, white balance, and the list goes on. The filters here are just awesome. You can achieve that moody grays, brownish tints, and fades in just a few taps. You get more than forty filters in the free version, for more filters you can buy the pro membership for the same.
7. Abstruct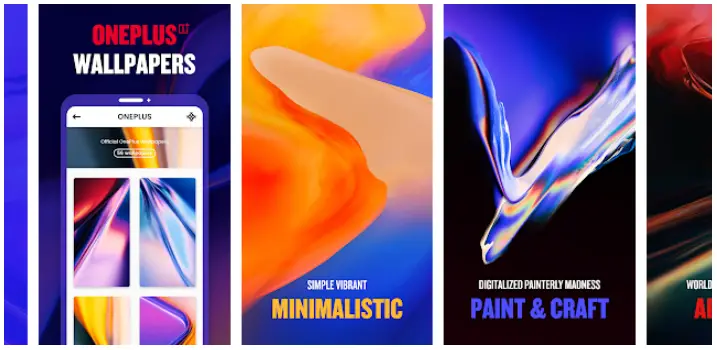 Abstruct is one of my favorite wallpaper applications available for Android. As the name itself suggests, the application is a collection of pure and high-quality abstract wallpapers. If you are an OnePlus wallpaper fan like me, get ready for an eye-feast! Using this application, you can apply the high-quality OnePlus stock wallpapers in 4K resolution. Abstruct is developed and maintained by the official OnePlus artist Hampus Olsson. Not just that, you also get all the official Paranoid Android wallpapers here. The interface here is simple and you can apply the wallpaper in just a matter of seconds.
8. Canaree Music Player
Online media streaming platforms are on the rage right now. Apps like Spotify, Gaana Music, and many other online media streaming platforms did gain a lot of popularity in recent times which made the users shift to the online music world completely. But still, there are a lot of people who prefer to download music and listen offline. If you are one of them, then Canaree Music Player is for you! The application comes with an astonishing interface and buttonless controls. There is also a built-in meta tag editor for tracks, albums, and artists. The application completely supports Android Wear and Android Auto integrations and comes with five now playing themes and equalizer settings. There are four themes you can choose from which include light, dark, gray, and pitch black too.
9. Hello.com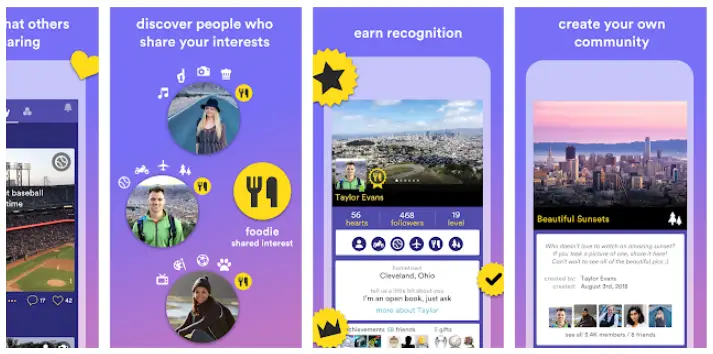 Remember the good old Orkut days? Well, Hello is the next evolution of Orkut! Using Hello, you can find and join communities and make new friends. Hello application itself is recently launched on the Google Play Store, but is definitely a worthy one to check out! Using Hello, you can discover personalized, fresh, and relevant content based on your passions and interests. Although you cannot find your old Orkut pictures and communities here, you get to see a lot of new communities and features that you will love.
10. Muviz Edge
Muviz Edge is a unique application that is developed and maintained by Sparkine Labs who also developed Muviz Navbar Visualizer. The Edge here is nowhere different when compared to the Navbar application. The only difference here is instead of showing the visualization on the navigation bar, this application shows it around the screen. There is no need of rooting your device here, all you have to do here is download the application and enable the necessary permissions.
You might also like
---
More from Android
---
On August 11th, Xiaomi will be celebrating its 10th anniversary & on this special day, the company has planned to …
August 5 was a great day for tech enthusiasts. The day saw one of the largest launch events i.e. Samsung's …
We know that the laptop market is hitting up in India from earlier this year when companies like Xiaomi and …
Editor Picks
---