With more than 3 billion Android devices in the world, the Google Play Store caters to a varied audience with its numerous categories of apps scattered across the marketplace up for grab. Some are paid, some are free and some operate on a freemium basis. However, it turns out it is nearly impossible to try the ones that matter. That is where True-Tech's listicle on best android apps comes into play. Like every month, here's the list of the top 10 best Android apps October 2021 that will blow your mind (metaphorically).
1. Talking Translator
The app with more than 1M downloads on Google Play Store, supports more than 100 languages from across the globe. The app lets you translate sentences in just a second. You have a upside-down support where both halves of the screen face opposite directions so that what you type is translated and what the recipient types is translates instantly. The app has easy to use quick launch option on the notification panel. Can't pronounce any foreign word? Draw it on the screen and the app will translate it in a jiffy. A premium plan gives you freedom from ads, add more features and more.
2. Top VPN
As the name suggests, it is a VPN app that is completely free and offers optimum secure VPN proxy for Android users. The app is always free, has a tonne of global locations be it Singapore, Japan, the UK, the US, and so on. There's no registration required and you can subscribe to its paid version only if you want with no compulsion on you. The app works with 3G to 5G and Wi-Fi networks with no data limits whatsoever.
Indeed, you are getting too many features with Top VPN and no doubt it garnered 10M+ downloads on the Play Store to date. There's a fully encrypted system in place that keeps all your data secure against unwanted intruders and hacking attempts alike.
3. SwirlWalls
Unlike iOS, Android can be customized a lot starting with the home screen. SwirlWalls is a brilliant wallpaper app that lets you access all the content for free. The app has a feature meter that unlocks content without paying, full dark theme support that you enable or disable. SwirlWalls has a catalog of 200 custom-made wallpapers with different color combinations and styles that caters to every Android user out there. The app is a goldmine for those who want something different on their home screen every day.
4. Instawork
Delivery jobs to hospitality and catering or others, Instawork is a great app to find those befitting jobs. You can choose the type of jobs, book shifts, and get paid all within the app. Expand on your skillsets taking a new gig every week or so. They are currently hiring for a variety of jobs such as sanitation, picking, and packing, forklift, dishwasher, concessions, event setup, and teardown to name a few. Get some extra cash in your hands working a few hours a day (or week).
Instawork is currently available in 25 cities in the United States and will soon arrive in Canada with early access starting soon.
5. PDF Converter Pro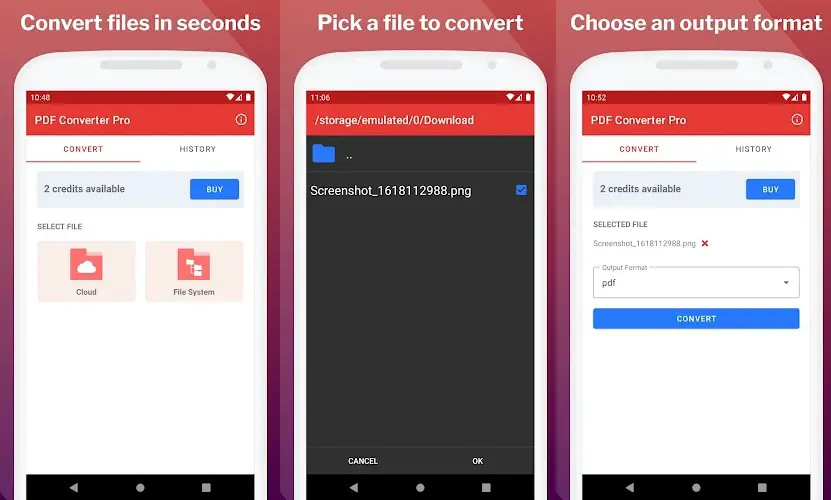 Converting files from one format to another isn't much of a task if you know what website can help do it. PDF Converter Pro is an app that allows file conversions supporting input formats such as PDF, DOC< JPG, BMP, TIFF, DOCX, PPT, XLS (and others) as well as output formats such as PDF, DOCX, PNG, BMG, DOC, among others.
PDF Converter Pro works on a freemium model wherein you have 5 credits to utilize free of cost. Once you are above that, you will have to subscribe to get the premium conversion services.
6. Radio Garden
You are someone who has nostalgic feelings about radio or someone who is very bored of the usual stuff or someone who wants to listen to something specific like a news broadcast from Paris on XYZ radio station. Well, Radio Garden is for you. As the name suggests, the app lets you listen to a variety of radio stations simply by rotating the globe.
There are thousands of live radio stations and with Radio Garden, you can listen to stations broadcasting from that city. The developers keep the app updated now there is a minimal probability that you would end up connecting to a defunct station.
7. Safemoon
Now about the latest trends in pricing, swap between various tokens all on the app, check out the top gainers and losers to bet on, and more. Safemoon is a one-stop shop for everything cryptocurrency i.e. balance, tokens, market, and more.
8. Slurrp
Food is an indispensable need that keeps us awake and pumping. Different people have different tastes in cuisines, food likes and dislikes, and there's no doubt about it. Slurrp is an app that uses a combination of diets, cuisines, calorie requirements, meal schedules, and others to bring the best recipes for you. In fact, the app has 1 million recipes at its disposal so you don't have to search for something to eat every day.
The app has a shopping list that you can use to prepare a list of ingredients to buy. There's the My Collection section that gives you quick access to the recipes you love in just a few clicks and more.
9. Naptime
I am quite sure you have already heard about apps that can save battery on your device or say battery saver apps. Well, Naptime isn't any kind of placebo app that allows you to do exactly what it says i.e. saves a lot of battery by dozing off features and functions that you aren't using. It kills off mobile data, location, Wi-Fi, and more. It has an aggressive doze timing feature along with scheduling and location detection and more.
The app doesn't require a root although you will permit it to use DUMP via ADB but once that is done, you have a lot to experiment with Naptime.
10. Moonbeam
Are you into podcasts? Moonbeam is a great app to discover podcasts with an ad-free experience attached to it. The app gives you a great user interface that you can use to discover podcasts that you'll love. Are you a podcaster? Well, Moonbeam lets you create your podcasts and let others discover the great content you have as well.
The app curates audio feed or podcasts based on your preference. You can choose the gender of podcasts that interests you. There's a lot you can do on this podcasting app.
With that, we have successfully ended the listicle on the top 10 best Android apps in October 2021. Let us know which app made your day and which failed to impress you. Make sure to drop a comment, email us your favorite app that we haven't listed yet, and if it's useful, we will feature it in the next edition i.e. November 2021.
You might also like
---
More from Android
---
OnePlus had a great year with three major launches dubbed as OnePlus 10 Pro, OnePlus 10R, and OnePlus 10T. Now …
Just a few days ago, there was news about OnePlus launching the upcoming OnePlus 11 earlier than before. It seems …
Looks like the European Union is really onto something worthwhile in the smartphone and related segment after forcing Apple to …
Editor Picks
---