If you have any Android phone, you are literally in for a treat as the Google Play Store has a colossal stash of games both casual to intensive and more. No matter what genre of games you like, the Play Store has it all. But hey, it becomes a task to find something interesting to play. This is why we do the hard work of finding quality games for you to play without going through the whole searching session. Every month, we bring Top 10 Best Android Games September 2020 to play which includes both free/premium and new/old. This list isn't limited to any specific genre so check out this list and let us know which game would you like to play.
1. Chameleon Run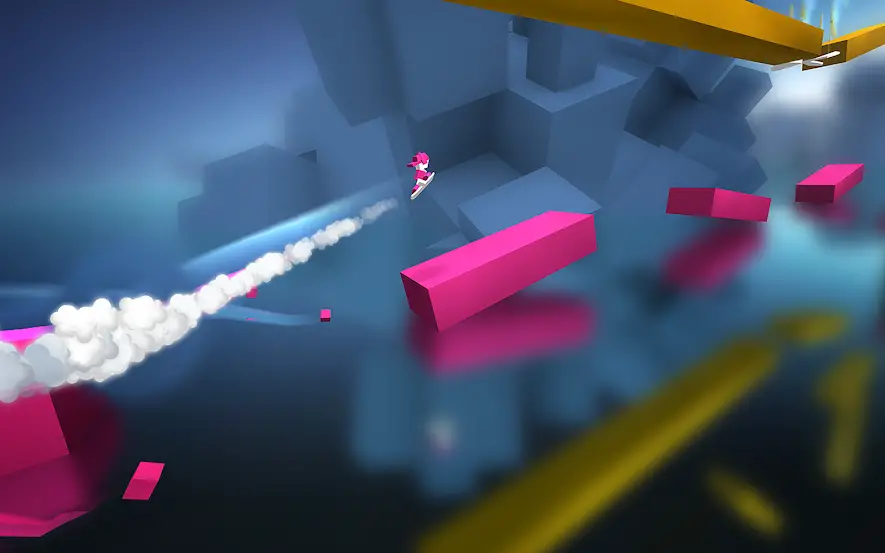 If you are into running games, try Chameleon Run. Your character is an auto-runner hurtling through the terrain switching lanes and with twists and turns to tackle. The goal is to switch colors with the name 'Chameleon' in it. Jump from platform to platform is this fast-paced game. It has pixel-perfect physics and a smooth and colorful graphics that you'd love to try out. Chameleon Run has three non-linear levels to play to complete 3 objectives on the way. Finally, you need to complete each level for the fastest time to win big.
2. Holedown
Strategize through the game and dig through six planets to win the game. With stunning graphics and an original space-themed run and soundtrack, you would love this shooting game that sort of resembles Tetris if you have ever played it. Upgrade in the game and get more balls, more shots per round, and more to conquer over the planets. It is an endless game with gameplay planned over 5+ hours. The game has 5 achievements to unlock and 11 leaderboards to get your name christened on it. It offers an intuitive one-handed play which adds another layer of USP on the same.
3. Jydge
If you have seen RoboCop, Jydge is a bit like it. The game revolves around you as a Jydge or a cybernetic crime-fighting enforcement officer who is tasked with using his pretty terrifying gavel rifle to fight the extremities. You can choose your companions and transform your character with weapon mods and a lot of different configurations that you can attach to get the best results. Replay levels to unlock various lasers, rockets, lead, and other tools. Perform heroic feats to unlock new equipment and achievements. The game is fairly new but it's worth a shot.
4. Sky Force 2014
Sky Force 2014 is a mobile blaster game that gives you an adrenaline shot with its high intensity of gameplay once you progress in the game. The game has stunning 3D graphics as one of its USPs and the other being intuitive controls and a mind-boggling upgrade system. The game has various levels to play with the sole objective is to rescue civilians. There's an incredible electronic soundtrack in the background that will leave you glued to the game. Upgrade using magnets, lasers, guns, shields, and other accessories to prevent opponents from eliminating you.
5. Exploding Kittens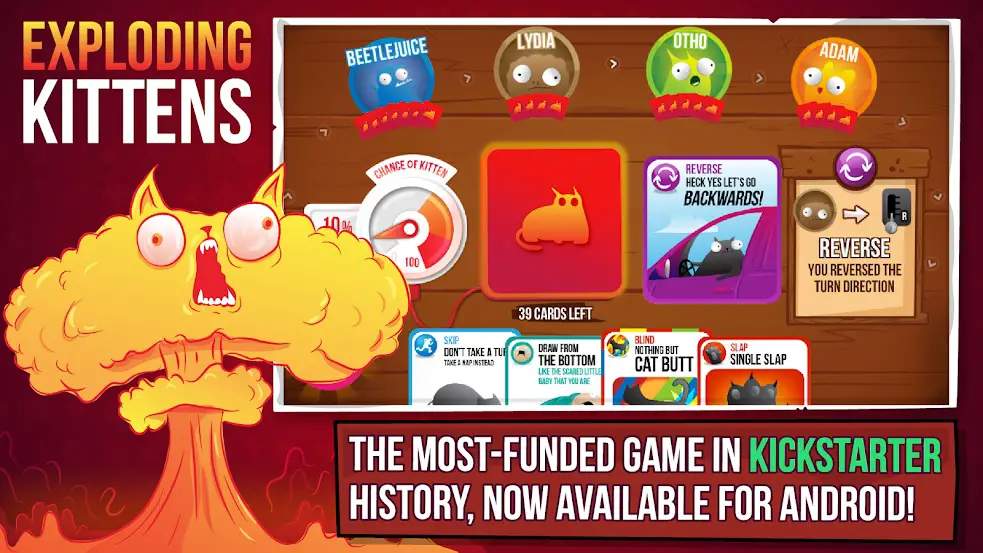 It is a card game that you can play with two to five of your friends or strangers on the internet. The game is highly strategic similar to Russian Roulette where you draw cards. Once someone gets the Exploding Kitten card, they are out of the game unless they have a Defuse card to counter the former. The game gives you the thrill of playing a card-based game with stunning graphics and a perfect example of a Kickstarter game that you should try out right away.
6. Dead by Daylight
Dead by Daylight is a 4 vs 1 multiplayer horror game. You can either take the character of one of the survivors or take the role of a ruthless killer who hunts down the survivor and kills them. The game offers a deep progression system that involves auto-generated maps at random, multi-varied in-game experience, and a tonne of character customization options that will leave you spellbound for sure. A classic game, Death by Daylight grabs you an experience of a lifetime with its arsenal of outfits and accessories on the display.
7. World War Heroes: WW2 FPS
If you can't get enough of FPS games, try World War Heroes: WW2 FPS. The game gives you stunning graphics and it is set in the WWII era where your task is to eliminate the enemies and survive tank battles en-route. You get 7 legendary WWII battle zones to combat with four combat equipment originating from USSR, USA, Germany, and Japan. The game is hardcore and the only rule here is to eliminate opponents by hook or by crook. Choose from 57 pistols, rifles, shotguns, machine guns, and a complete armamentarium of weapons. The game has multiple modes to play such as One-lIfe battle and bomb mode which is pretty self-explanatory if you have played games like CSGo or PUBG.
8. UNO
UNO is a classic card game but hey, it's not the same anymore. UNO, the game now offers you the same enthralling experience but on your phone. Partner up in a 2v2 mode or connect with your friends on the internet and play this iconic game. Learn all the rules of the game and play it smart by sending a '+4' wild card and drag down your opponents in the game. Compete in tournaments and events on the UNO app and win rewards. UNO is free to use and play so no matter if you are playing it for the first time or 100th, it's free and fun to play.
9. F1 Mobile Racing
Never have I ever played an F1 racing game? If that's the thing, try F1 Mobile Racing. The game offers you the experience of developing and customizing an F1 car to racing amongst the top 10 F1 racing teams. It has all the updated and original circuits seen in the 2020 season including street racing in Hanoi. The official game of Formular F1, the game gives you the chills of playing in high stake events, winning big rewards every time you succeed with flying colors. A real-time multiplayer mode lets you duel with others with stunning graphics, rib-chilling adrenaline-pumping races that you would forget.
10. Bottle Flip 3D
No doubt you must have heard about the Bottle Flip Challenge. Turns out there's a 3D game available on the Google Play Store that lets you do exactly the same but on your phone. Explore through different rooms with bottles set on various types of furniture that includes sofas, chairs, shelves, etc. The only task is to flip the bottle to land bottom down. You can either take a single or double flip based on the situation to score more. It is an interesting game to play if you are bored and don't want to play any intensive game either, this casual game would lighten your mood.
And that concludes a list of the top 10 best Android games to play in September 2020. Let us know which game you would prefer to play from the list above. If you have a rather interesting game in your mind, do let us know as well.
You might also like
---
More from Android
---
Vivo launched the new Vivo X60 series smartphones in China a couple of months ago, and also announced that the …
The most wanted Redmi Note 10 series is here. Xiaomi has been teasing the smartphone series for a long time. …
Realme C20 was announced in January 2021 and just two months after the big unveil, Chinese smartphone maker Realme is …
Editor Picks
---