September 10, remember this day as this is one of the most memorable days for Apple users. At the Apple Launch Event 2019 on September 10, the Cupertino-based tech juggernaut Apple introduced a string of new hardware including Apple iPad, the new Apple Watch Series 5 along with its gaming service Apple Arcade & entertainment service Apple TV+ and finally, the Apple iPhone 11, iPhone 11 Pro, and iPhone 11 Pro Max which were the showstopper of the event held at the Steve Jobs Theatre at Apple HQ, Cupertino, California. Here's everything you need to know about the event.
Apple Arcade
Apple teased its Apple Arcade game subscription service a few months ago. At this launch event, it finally flagged off Apple Arcade officially where Apple users can avail a library of more than 100 games at the moment. Apple Arcade is compatible with iPhones, Apple TV, iPad, Mac, and a few compatible Xbox & PS4 controllers. The gaming service starts at just $4.50 in the United States while for the United Kingdom, the monthly subscription is EUR 4.50.
Available from September 13, Apple Arcade will have a library full of games such as Sayonara Wild Hearts, Sonic Racing, Lego Brawls and others from well-known publishers like Capcom and Konami among others with a few titles exclusive to Apple Arcade users only and thus, these titles will not be available outside the service.
Apple TV Plus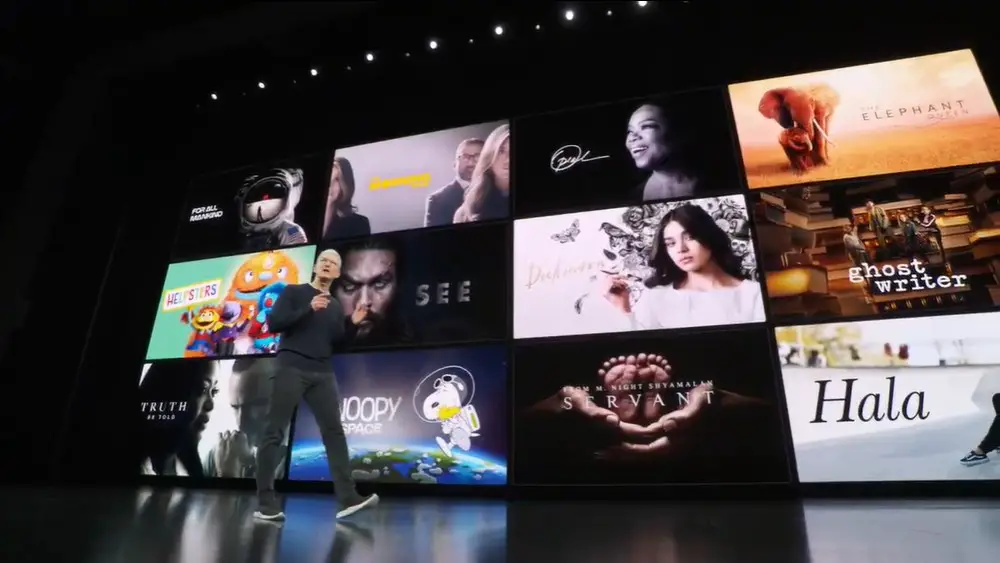 Apple finally dropped the curtain and unleashed its video streaming service Apple TV Plus. To our surprise, Apple will offer Apple TV Plus included with any Apple iPhones or Apple TV or iPad or Mac, with a free 1-year subscription.
Apple TV Plus will showcase plenty of Apple Original Shows including documentaries and more starting with nine titles at the launch with many that will update soon. At first, Apple will premiere three episodes of any series at once and will follow one episode release every week schedule while some shows will drop all episodes at once.
The Subscription for Apple TV Plus starts at just $4.50 for a family subscription which is the price of a single movie rental as opposed to the nine original shows that the service will offer once it is available on November 1. Users can check out Apple TV Plus programming on Apple TV app and it is not limited to just iPhones or any Apple products by Smart TVs and Samsung TVs will also support it.
Apple iPad 2019
Apple introduces an updated 7th generation Apple iPad 2019 at the iPhone event 2019. It is an updated entry-level version that replaces the 9.7-inch iPad. With a $329 price tag on-board, the iPad 2019 feels sturdy and has a larger display than its predecessor. It does feel a bit premium with a few best Apple specifications stuff into an iPad raising it to the level of iPad Air but there's surely not much to look for in it.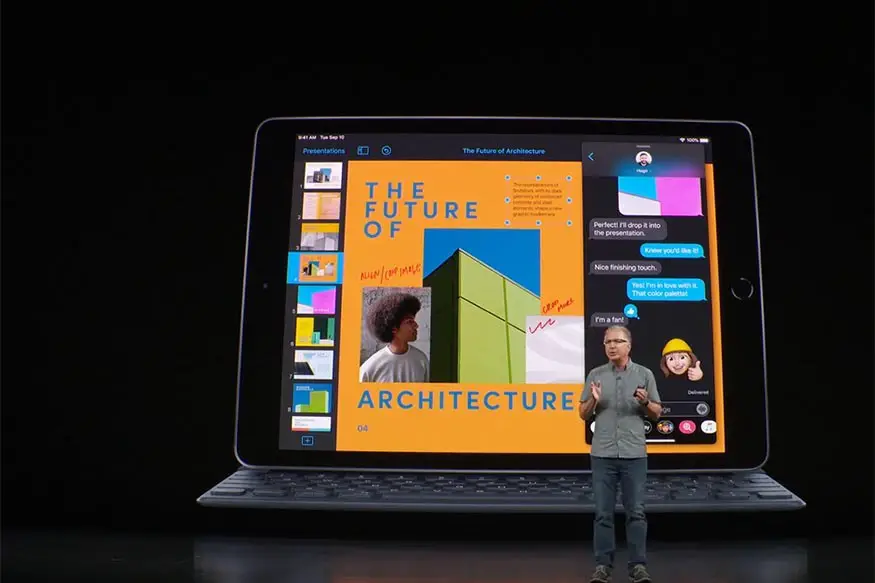 With an A10 Fusion chip, the device supports Apple Touch ID and along with 10 hours of battery life which is identical to what the 9.7-inch model offered. There are certain improvements such as a larger 10.2-inch display although with the same pixel density of 264 PPI but a greater resolution of 2,160 x 1,620 pixels.
There are not many changes in the camera department as well since it is still a single 8MP rear camera with HDR, Burst Mode and other features that its predecessor offered. The pros are the newly updated iPadOS along with support to Smart Keyboard which makes it stand against the 9.7-inch model for sure.
Apple Watch Series 5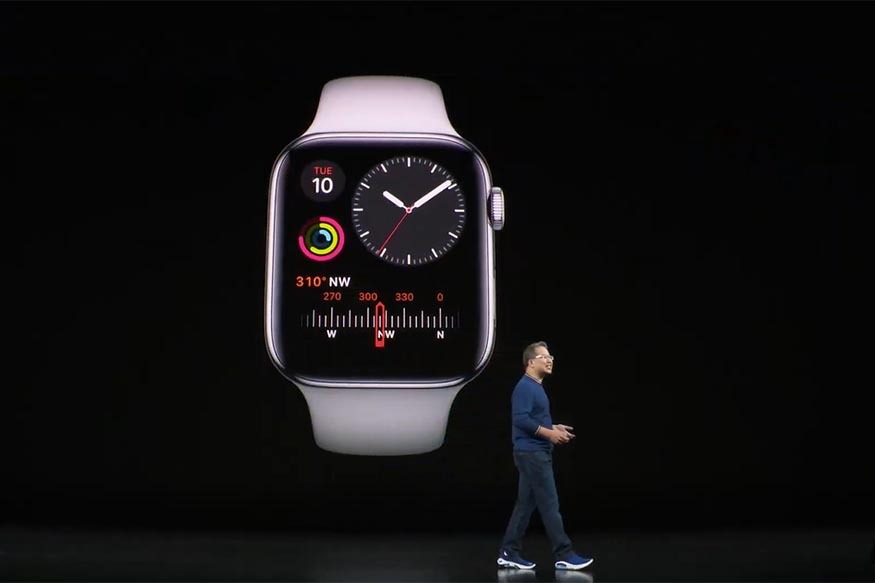 Introducing a radically redesigned Apple Watch Series 5 which stole the show before 2019 iPhones were introduced. Although the dimensions, shape, and size remain the same when compared to Apple Watch Series 4, the new fifth-gen watch offers much more.
Available in two variants i.e. a GPS only available in 41 countries while the GPS + Cellular model available in over 22 countries, the Apple Watch Series 5 is already available for orders while these devices will be available in stores on September 20 i.e. Friday.
A lot has changed over the course of a year. The Apple Watch Series 5 offers an Always-On Display, unlike its predecessor which means, the display will be always on no matter if you are using it or not. Instead of turning off, the display will dim itself and has been carefully optimized to provide a battery life of 18-hours while maintaining every function in and out which is incredible since the Series 4 would eventually turn off when not in use. All thanks to the newly engineered low-temperature polysilicon and oxide display backed by efficient power management, in turn, thanks to ultra-low-power display driver that makes it happen.
With Apple Watch Series 5, navigating is easier as the watch comes with Compass app preloaded which integrates itself to Apple Maps (the updated version) and shows which way you are facing. The Compass app provides detailed information on the elevation, latitude, longitude and other directional specifics that users can pin to the watch face if needed.
Apple Watch Series 5 hosts International Emergency Calling that will allow users to make emergency calls in over 150 countries irrespective of the origin of purchase. The feature is bundled with fall detection as well which will automatically alert emergency services for assistance.
Apple is also providing strong support for 'hearing' studies and thus, Apple Watch Series 5 comes pre-loaded with Noise app that calculates the decibels or ambient sound levels. The new watchOS 6 that runs on the new fifth-gen watch also has a Cycle Tracking app that captures information on menstrual cycles and provides insights as well.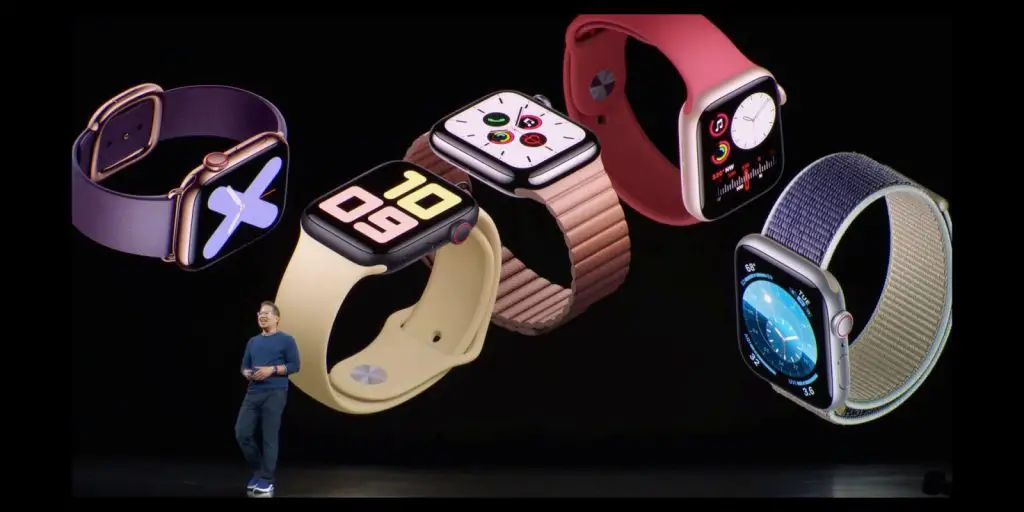 Apple is offering the users a golden opportunity to try Apple Watch Studio where they can combine any casing with any band of their choice to make their unique Apple Watch Series 5. It is available in aluminum case clad in space gray, gold, silver color make up of 100% recycled 7000 series aluminum. On the other hand, it is also available in space black, silver, and gold color stainless steel case and there's a magnificent brushed fitness with custom-engineered natural titanium built cases clad in natural color and space black titanium coating with DLC that allows it to be impeccably smooth and scratch-resistant. Finally, we have a high-end white-colored ceramic case available too although it will be pricey.
About the pricing, Apple Watch Series 5 GPS model starts at $399 in the United States while the GPS + Cellular model will have a price tag of $499.
Introducing – the Apple iPhone 11 series
Drum roll, please…. The showstopper of the September 10 launch event is the Apple iPhone 11 series comprising of three high-end models so here's everything you need to know about it.
Apple iPhone 11: Design, Display, Specs, Camera & more
Flagging off with the iPhone 11, the successor to iPhone XR launched last year, the new iPhone features 6.1-inch Liquid Retina Display with TrueTone and Haptic Touch. The phone is equipped with a state-of-the-art Spatial audio system that creates a home theatre-like environment with Dolby Atmos assembled on it.
Starting with the design, the phone looks much closer to iPhone XR but has a dual-camera setup arranged horizontally with flash LED on the right in a squaricle camera bump which is a standard for all iPhone 11 series. As said, the display is 6.1-inch LCD Retina display with 1792×828 pixel resolution and 1400:1 contrast ratio. The display itself has a Wide Color Display (P3) along with a maximum brightness of 625 nits in a typical environment.
With Apple's A13 Bionic chip integrated within the chassis, the iPhone 11 produces excellent performance and has a third-gen Neural Engine that also handles image processing as well. iPhone 11 will last 1 hour longer than its predecessor iPhone XR and will have improved camera processing thanks to the Neural Engine where it will use Deep Fusion technology to create contrasting images.
The device is equipped with dual sensors at the back that comprises of a 12MP Wide and Ultra Wide cameras. The primary sensor has a 25mm focal length along with 2x optical zoom out and 5x digital zoom up. With an aperture of f/1.8, it has a 6-element lens backed by Optical Image Stabilization and finally, it uses 100% Focus Pixels to capture photos in great detail. The secondary ultra-wide-angle camera comprises of the five-element lens that captures photos & videos at 120° FoV and can capture Panorama at up to 63MP.
The device is back with Night Mode that improves photos in low-light thanks to the bigger pixels. Both the cameras can shoot videos at 4K at 60FPS and have a QuickTake mode where users can click photos and convert it into photo video just like that. The front has a 12MP TrueTone sensor that captures images at 4K at 24FPS and up to 60FPS. Both the camera modules have extended the dynamic range for videos along with Cinematic video stabilization among other technologies that Apple integrate with their iPhones.
iPhone 11 will be available in 64GB, 128GB, and 256GB starting at $699 in the United States. It will be available in purple, yellow, green, black, white and PRODUCT(RED) and the pre-orders will commence on September 13 at 5 a.m PDT and will be available in stores on September 20.
Apple iPhone 11 Pro & 11 Pro Max: Design, Display, Specs, Camera & more
Presenting the iPhone 11 Pro and 11 Pro Max, the most powerful iPhones ever manufactured. Both the devices have almost the same specifications except the screen size i.e. iPhone 11 Pro comes with a 5.8-inch Super Retina XDR Display which isn't similar to OLED and produces even rich display than ever while the iPhone 11 Pro Max comes with a larger 6.5-inch Super Retina XDR display.
These two high-end iPhones have a maximum brightness of 1200 nits. The displays are made up of the toughest glass on a smartphone and feature wide color gamut, HDR10 and oleophobic coating the repels any drop of water.
Made up of surgical grade single piece stainless steel body with a matte finish, both these iPhones are truly worth the wait. Apple iPhone 11 Pro has a 2436×1125 pixel resolution while the larger iPhone 11 Pro Max comes with 2688×1242 pixel resolution with the highest pixel density of 458 PPI. The display offers 2,000,000:1 contrast ratio along with 15% energy efficiency which is something must on iPhones that have a bad reputation for their low battery life.
With Apple A13 Bionic chip under the hood and a third-gen Neural Engine along with U1 Chip, iPhone 11 Pro and iPhone 11 Pro Max has some of the best specifications seen on smartphones. No doubt these specifications will allow the phones to hit any flagship smartphones harder than ever.
Further, both the devices offer a triple camera setup arranged in a rather unique way. The three lenses are arranged in a triangular shape within a squaricle camera setup that sits on the left side of the glass rear panel made up of the toughest glass on any smartphones.
Apart from the wide-angle and ultra-wide-angle cameras that you already read about previously in the iPhone 11 section, these two high-end iPhones have a third 12MP telephoto sensor with a larger 52mm focal length made up of a 6-element lens and have OIS and Focus Pixels. Finally, the A13 Bionic chip works in conjunction with the Neural Engine to combine images from the three cameras to create the best position images and videos.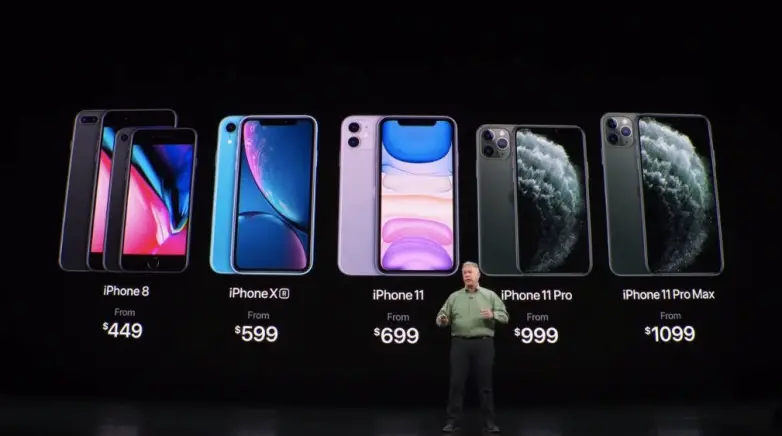 Other features that iPhone 11 series will furnish are Wi-Fi 6, faster Gigabit-LTE, Dual SIM with eSIM, wireless charging, 18W wired charger, better battery life of 4 hours over iPhone XS and 5 hours over iPhone XS Max for iPhone 11 Pro and iPhone 11 Pro Max respectively.
Apple iPhone 11 Pro starts at $999 while iPhone 11 Pro Max will start at $1099 for 64GB while other storage variants available with it at 128GB, 256GB, and 512GB. This is everything you need to know about the launch event held at the Steve Jobs Theatre, Cupertino, California on September 10.
You might also like
---
More from Gadgets
---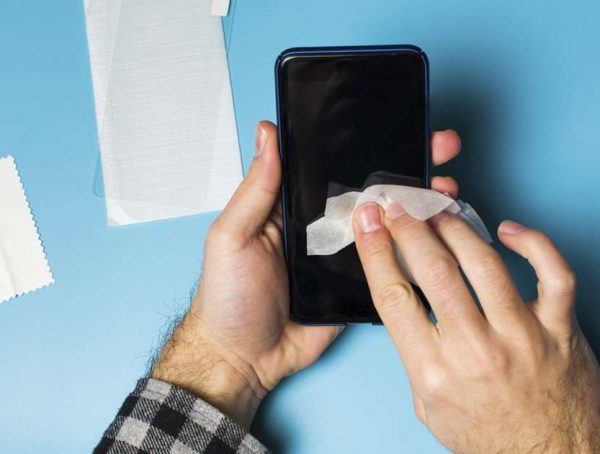 We are constantly clung to our smartphones day in and day out no matter what. Amidst a coronavirus outbreak which …
Apple has been scrutinized a lot when it comes to its Macbook because of the keyboard they have had inside …
Drones have become common nowadays but drones that can be aerobatic aren't that common. When it comes to a manned …
Editor Picks
---