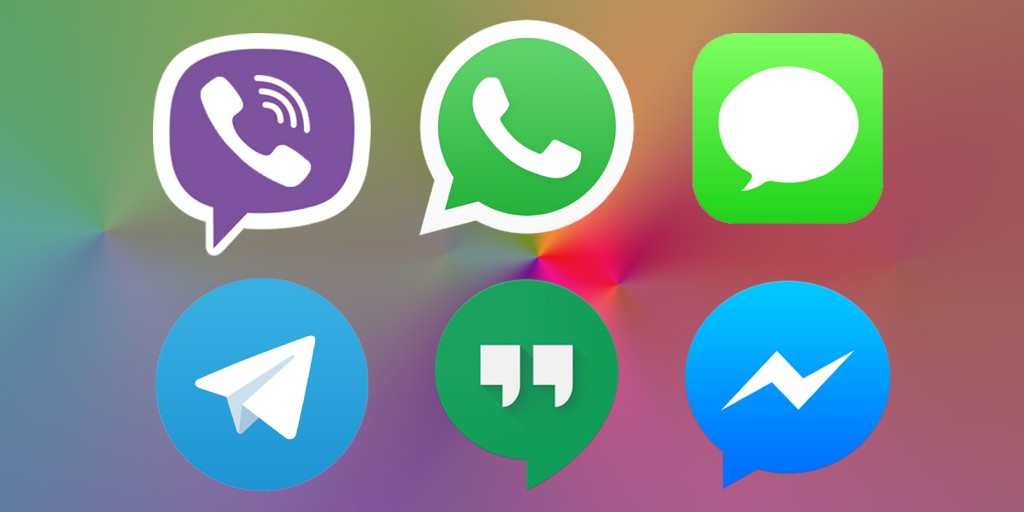 Besides calling, texting is one of the most popular forms of remote communication today. While we still have the traditional SMS service, most of us seem to be using other Instant Messaging services more often. The internet consists of a large pool of such services; here are a few of them that we really like:
Facebook Messenger
Facebook has been around for a long time and the 'Chat' service has gotten better and better everyday. Facebook Messenger is definitely one of my favorite messaging services. It's super fast and almost everyone uses it. Besides just the primary purpose of sending texts and media, it has additional like video and voice calling, awesome stickers, integration with apps like GIF Keyboard, and what not. However, the thing I like the most about this app is that its connected to Facebook and that all the texts that you send and receive are backed up to your account, so you don't have to worry at all when you reset your device or switch to a new one. Also, even if you don't have a Facebook account, you can still sign up using your phone number. I really like this feature as I know how some people may not have a Facebook account and wouldn't want to make one just for using Messenger. Its available on the web and all mobile platforms so no matter what device you own, you will be able to send and receive messages. If you have an Android device, things get even cooler as you get to use this feature called 'chatheads' which allows you to send and receive messages to people without having to leave an app window. The only thing that I don't like is that the photos and videos sent are significantly compressed, but you're getting to use it for free, so you cant really complain about it. With more than 800 monthly active users, you simply can't go wrong with Facebook Messenger.
Viber
This purple themed communication service is definitely one of my favorites and what I use most of the time after Facebook Messenger. It does its main functions really well like any other IM services like sending text/photos/videos along with clear voice and video calls. Besides these, it also has so fun stuff like stickers, 'winks' doodles, voice recording and much more. You also have the option to share files and contacts if you really want to. Its a fairly simple app and there's nothing more to it. What I hate the most about Viber is that it doesn't have a system to backup your messages. If you format your phone or buy a new one, all the texts gets lost and there's pretty much no where to get it back. If that doesn't bother you, then you should definitely give it a try. Just like many other IM services, Viber can also be used in pretty much every phone or computer. This can really come in handy as if in case your phone dies, you will still get your phones and messages on your tablet or computer.
Whatsapp
I've heard about Whatsapp since a long time but never actually used it. Not many of my friends or family used it so I didn't bother using it. Last year after hearing how popular it is, I wanted to try it out; and I did. Whatsapp primarily works based off your phone contacts and not email addresses. This is probably the biggest reason why it is so popular. You don't have to dig up people's email addresses or ask for usernames. If you have anyone's number and they have registered for Whatsapp, it will automatically appear. With the subtracted number of steps required to start texting someone, I see why people would choose this app over any others out there. While there are other apps like Viber that work in the same way, Whatsapp is way more simpler with a clean and minimal design, with no gimmicks at all. It services allow also offers a reliable message backup system which not many other IM services allow. With its availability on all platforms and the number of users, it would definitely be a smart move to start using it.
Hangouts
When I first used Hangouts, it left me really confused. It had integration of both SMS and Instant Messaging, something that I had never seen before. Although it took me a while to adjust and learn how to use it full fledged, once I figured it out, I really started using the app on a daily basis. However, it has now received an update which allows you to choose whether you want to merge your SMS or not. The service is owned by / requires you to have a Google account which majority of people on the Internet already do, so there's a very small chance of not someone being on Hangouts. This app allows you do do pretty much everything that other messaging apps allow like sending receiving media, stickers, location, cross platform support, messages backup and also voice and video calls. One particular thing that I like about is that it allows you to make phone calls to any phone number around the world for really low prices and even for free if its a US or Canadian number. Hangouts is definitely one of the best services out there with a reach of a lot of people and the two-in-one functionality featuring SMS and IM. Its like iMessage for Android.
Telegram
The one thing that Telegram does really differently from any other app/service listed in this article is its speed and security. It boasts of having 'data centres positioned around the globe to connect users to the closest possible server' to ensure a super fast messaging service and from my experience they definitely live up to this claim. Instead of just being lightning fast, it is also very secure. It encrypts all your messages and data sent/received with proven-to-work algorithms and even stores them safely for free on Telegram Cloud. It's got other cool perks like the ability to add 5000 members in a single group chat and send/receive any kind of documents. In case the super secure messaging didn't satisfy you, there's also an option to send 'Secret Chats' that'll delete the message automatically from both parties within particular amount of time, somewhat similar to Snapchat.
iMessage
While there's a lot to talk about iMessage and how much I like it, there's one major problem: IT ONLY WORKS ON iOS! That's a huge bummer, considering the number of other devices out there besides iDevices. However, it has a strong position among the Apple ecosystem with it being available on almost each and every Apple Device like the iPhones, iPods, iPads, Macs, and the Apple Watch. What makes it cool is that you can register into iMessage with multiple emails. That way your friends and family can contact you no matter which email ID that have of you. Other thing that I really like is that photos and videos that you send via iMessages are sent in full size and go through no compression. While it is super handy in cases where you need full quality photos and videos, it might not be the best option when you have a slow connection, or when you're on cellular data. All in all, if you have an iMessage capable Apple device and many of your friends do too, it would definitely be the best option start using it.
Honorable Mentions:
Snapchat, Instagram, Skype and Twitter
While they don't serve the primary function of sending messages, they still kinda have the option to do so. Did we miss futon something? Tell us in the comments below, probably we'll give it a try!
More from Android
---
Samsung is holding a special event on October 11 and it was lately teased as '4x Fun' although the information …
With years of expertise and an upper hand in terms of R&D and technological innovations, Sony announced the much-awaited Master …
A few weeks ago, Realme which is a subsidiary of Chinese smartphone manufacturer Oppo, launched its second phone in the …
Editor Picks
---