Google Play Store is currently an undisputed leader in terms of apps compared to other app aggregators. There are more than 3 million apps available on Play Store and there's a slim chance that you will be using them all (which isn't gonna happen). We at True-Tech have listed out the top 10 best Android apps December 2021. We make these lists every month, so feel free to explore the previous editions after you finish reading this one.
1. Sharetube
Sharetube is a VPN app with a tonne of security and privacy-related features on-board. This includes hiding the original IP that lets you browse the internet anonymously. The app doesn't log any data neither monitor nor sell your data, unlike many other VPN apps.
Sharetube is a trustworthy app offering minimum risk of server overload, allows browsing anonymously at a faster speed, and more. You can pair up with 100+ countries' proxy servers with a mention of time delay, game speed booster, among others.
2. Sgallery
We all have some photos or videos that we don't want others to check out, no matter if it's someone from your family or friends. Sgallery is a fantastic app that hides user-selected photos, videos, apps, and other files making it unavailable for others to have a glance at. The app disguises itself as a calculator app and gives you a superpower to encrypt files with an AES encryption algorithm and that's all without needing to root the phone.
Since the app disguises itself so no one will find the app itself but you. There's no way to break it as you get a tonne of safety features such as fingerprint unlock, intruder selfie, shake close, fake password and the list goes on.
3. Crypto
Another app on the Play Store that you must try is Crypto, the app that has plenty of useful features including cryptanalysis, checksum, encryption and decryption, and more. The app is available for dealing with learning, testing, and applying various blockchain and crypto-related features and tools. Tonnes includes AES, DES, Ciphers, Enigma, Salsa20, among others.
The app has plenty of cryptanalysis tools, mathematics-related features, and asymmetric methods like DSA, RSA, among others. The cherry on the cake is Crypto has a beautiful and modern-looking user interface that makes it a must-try.
4. Fake GPS Location
Nowadays when every device is connected to networks and government and other bodies can surveillance one's location with ease, privacy has become a myth. Fake GPS Location gives your device a new location so when your location is tracked, you are basically in London while being in New York in reality. This can help greatly for location-specific apps like Viber, HBO Max, and so on. There's no rocket science here, you install the app, select a location and there you have it.
You still need a GPS Status app to refresh your actual location in case if you want to stop using the app for all.
5. WiFi Router Master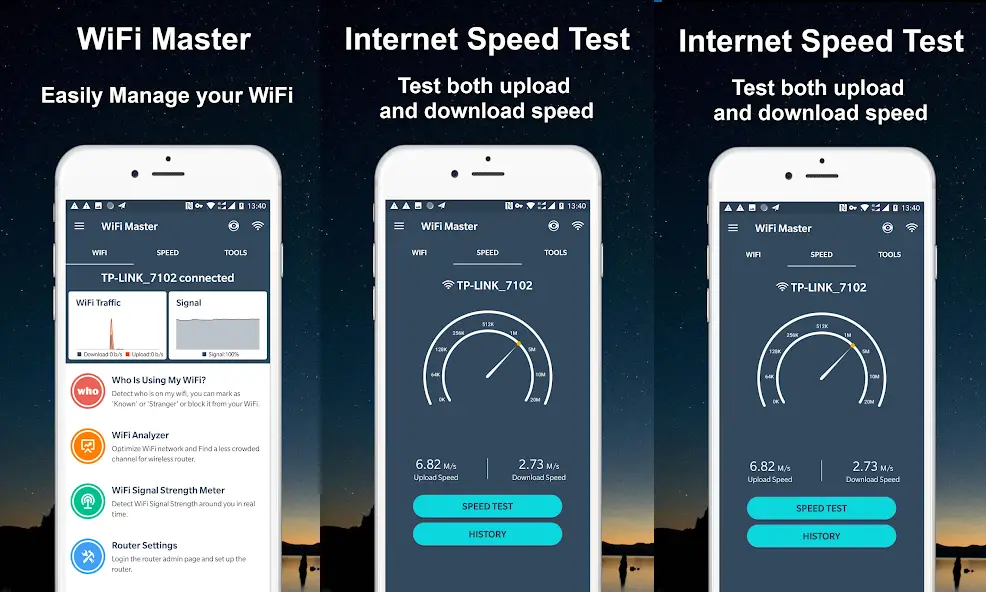 A free WiFi manager, WiFi Router Master is a great app to test WiFi speed, analyze network, WiFi signal strength meter, and so on. The app lets you find out about WiFi networks and who's using them. There's an internet speed test feature that calculates the accurate broadband speed on 'n' number of networks. A WiFi analyzer gives you a sneak peak at WiFi channels around you.
WiFi Router Master lets you find router passwords as well in case if you forget the router password. You can access the admin page via Router Settings via the app itself. Other features include Whois, Ping, WiFi List, WiFi Signal Strength Meter, and others.
6. BMI Calculator
Turns out there's not much fuss using this app as it does what it sounds like. The BMI Calculator app calculates your Body Mass Index (BMI) based on the age, gender, weight, and height profile based on the D.R. Miller formula of BMI. This is one of the most popular scales used to detect if a person is obese or underweight or anywhere in between.
The app supports both metric and imperial systems so for those who don't use metric (say the U.S.), imperial is available.
7. Pascal N-IDE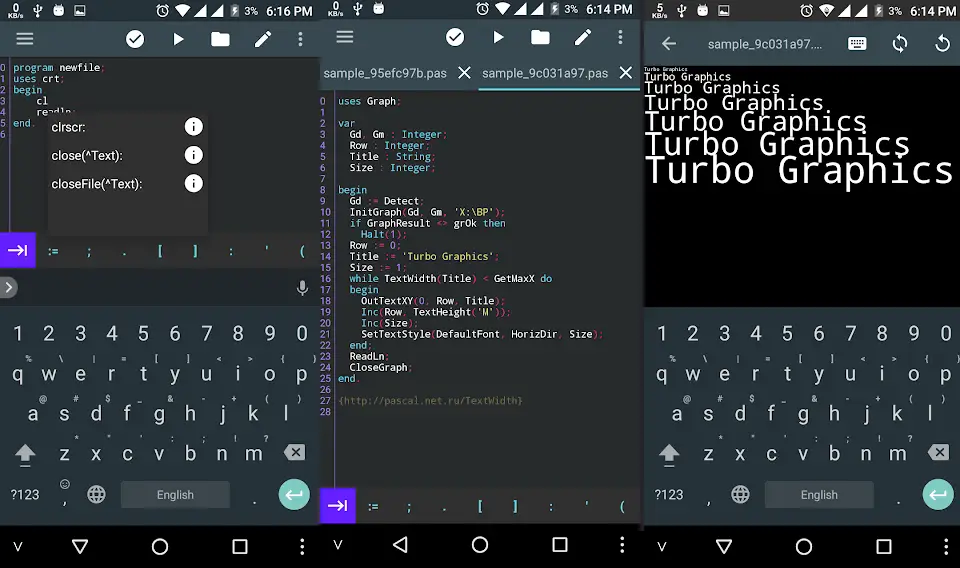 Pascal is apparently faster than C in many ways although both arrive with their pros and cons. Pascal N-IDE is a great Android-powered interpreter app available at your disposal. You can code and compile Pascal programs on your device without needing a computer or internet par to say. It is a powerful app with a tonne of features including auto suggest, goto line, highlight code, auto-format, and so on.
Pascal N-IDE on Android supports a series of libraries including aBattery, aClipboard, aNotify, aSensor, aVibrate, among others. The UI is as beautiful as it gets. If you are interested in Pascal, give it a shot.
8. Music Player
It seems like people have started forgetting about offline music players but they do exist. Music PLayer from SuperTools is one of the examples that allows users to browse through his/her local music faster than ever and play right away. There is a tonne of features including a powerful equalizer with 3D reverb effects. Multi-format support ensures that you can playback any sort of audio format without the app reporting it as unsupported.
The app has a ringtone cutter (yes, it exists) that lets you create a personalized ringtone that is unlikely unavailable on the internet. You get notification status support, headset control, night mode, and other features on this music player that has garnered more than 10M+ installs to date.
9. Radarbot Free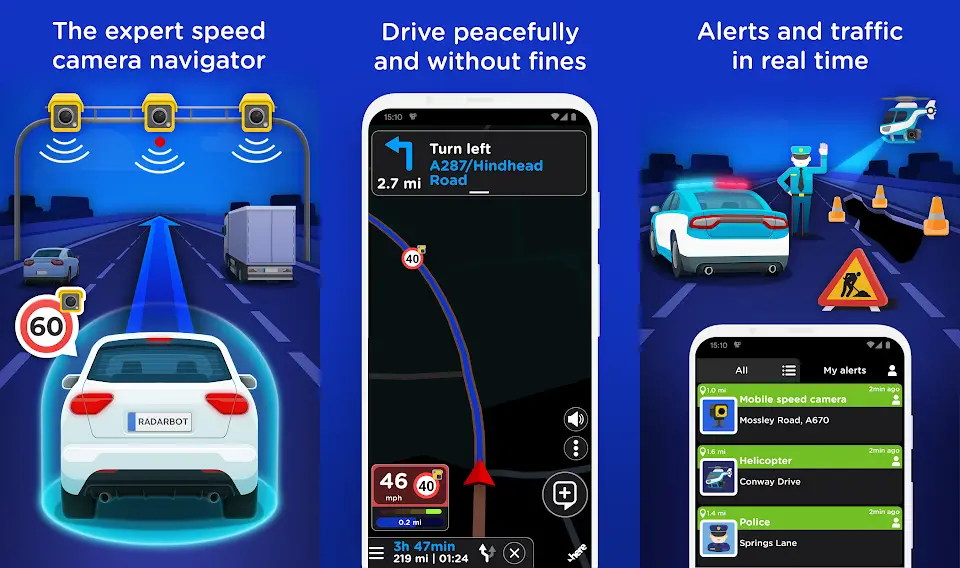 Every highway or national highway or even internal roads and flyover have a specific speed limit. This means if you cross it, you are likely going to pay a fine if captured by a speed camera. Radarbot is a great radar detection app that alerts you of fixed radars, tunnel radars, speed traps, traffic light cameras, and more.
The app gives you a glance at the speed limit on your destination and alerts when you go overboard. You have a comprehensive list of alerts such as speed cameras, speed bumps, accident blackspots, and others, that you can set up and get notifications accordingly. The premium version of the app unlocks a lot of other features as well.
10. iFace
Change your face with a cartoon with iFace. The app users advanced AI technology to transform your portrait into cartoons instantly. You can upload it on social media or other places that will give you a different look altogether.
The app has a vector portrait template, offers a full-body cartoon maker, and more. You can choose anywhere from simple to complex design layouts based on your preference.
Closing Phrases
And with that, I have concluded my list of the top 10 best Android apps in November 2021 that you can install and have fun with. Do let me know what apps you want to include next that wasn't in any of our monthly editions.
You might also like
---
More from Android
---
If you inquire about a smartphone that facilitated the "Moon Shot," the Galaxy's Ultra series would be at the forefront …
Looking for the best Android games to play this June? Look no further! We have compiled a list of the …
OnePlus recently announced the launch of a limited edition color option called "Marble Odyssey" for their latest flagship smartphone, the …
Editor Picks
---