Google Play Store is a den of millions of apps. It just takes a flick of a finger to find an app to do almost anything from taking photos to editing videos to investing in mutual funds and whatnot. With the abundance apps available at your disposal, it becomes really difficult to decide which apps to try. Thus, we've compiled a list of Top 10 Best Android Apps February 2020, to save you the hassle!
1. Lock Me Out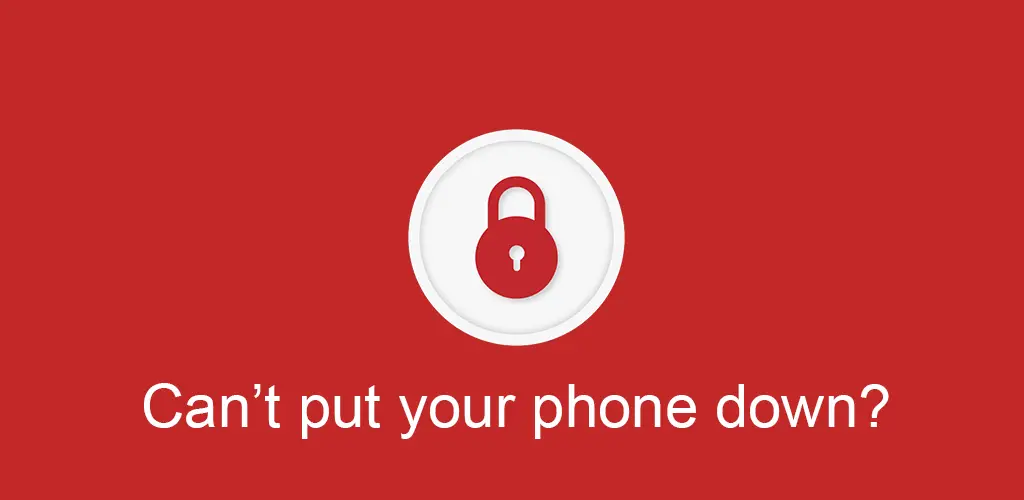 Don't let your phone tie you down and feel distracted. Check out Lock Me Out, an app that kind of treats your addiction to your phone. It literally locks you out of your phone so there's no WhatsApp and no Facebook or anything while the lockdown is in progress. It is easy to use a powerful application available for all Android smartphones that offer a high-octane lockdown with emergency access. Tweak the settings to get the most of the no distraction time, relive your life and give your eyes a break with the harmful blue light.
2. Typewise Keyboard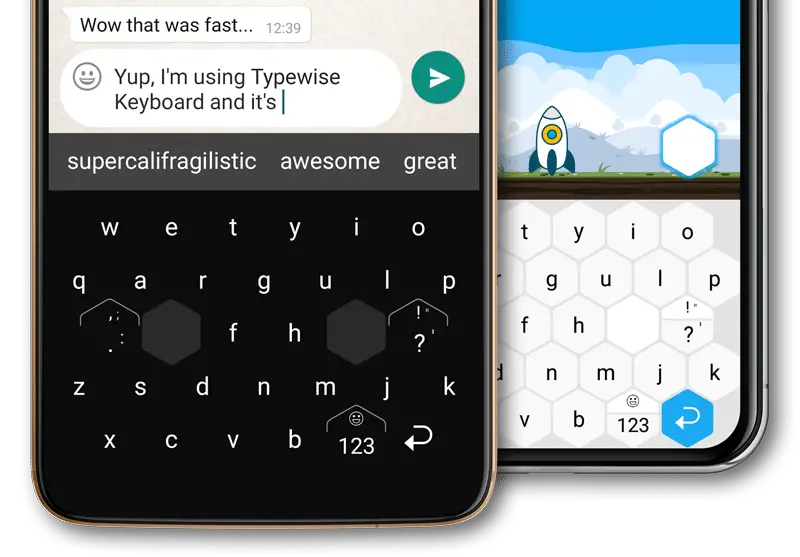 Bored with the usual keyboard app with the same UI, Typewise Keyboard brings a zing to the most used feature on a smartphone. It offers an intriguing hexagonal-shaped keyboard with the familiar QWERTY layout although it is not the keyboard was you using so forget that. The keyboard is optimized to be used with two thumbs with larger buttons which reportedly brings down the typos by 80% which is mainly one of the reasons why it had made it to this list of the 10 Best Apps for Android in February 2020.
3. Bouncer
Don't want to grant permission to an app to access your contacts or location or camera all the time? Bouncer has your backs. As analogous as it is named, Bouncer enables giving permissions to any app just once, the moment you try to leave the app, Bouncer will notify whether to keep certain permissions or retract it. This app prevents users from any security & privacy threat an app could cause if it contains any malicious code trying to take control of your data and so on. It also aids in saving precious battery life so it is a must-try.
4. 1Gallery
With 1Gallery, you don't just view the photos you have but there's a lot you can do with this app on any Android smartphone. You can check out the information of any video or audio file you are storing or trim the videos and edit the photos if you want. You can also store a tonne of videos and photos under its 'hidden files' section where the data is encrypted so that you don't have to worry about anything peeking into your gallery to check out what you store and whatnot.
5. Solid Explorer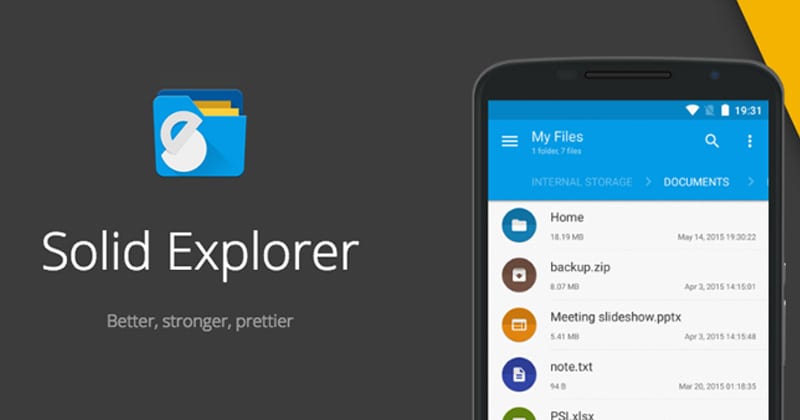 May it be something you downloaded on any browser or something an app has saved, you'll need a file explorer to search for it. Although almost all Android smartphones have file explorers built-in, Solid Explorer does add literally a lot of cherries on top. It has material design and supports prominent cloud services. Furthermore, it has CIFS/CMB, WebDav, SFPT, and FTP that enables sending files and whatnot over the network. The app is available as a freemium and a premium subscription of $2.99. It is also one of the most reliable and stable file explorers without any doubt.
6. TickTick
The app is a blessing to someone who forgets things that they are supposed to do today or tomorrow or simply those who procrastinate. TickTick is a lesser-known alternative to Todoist and works with the help of a simple and intuitive user interface. Add items in the to-do list, sort it out in tags and folders and get a real-time report on what items in your to-do list are pending. The app lets users share the list and the reports with other users as well. It is available across all Android smartphones with free subscription and a paid one available if needed.
7. Activity Bubbles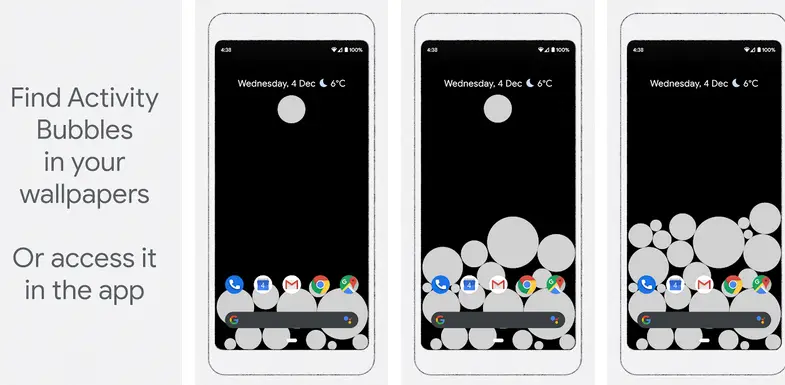 What's one of the most common issues with smartphones? Addiction, is it? Well, Activity Bubbles works with Google's wallpaper app and it is a part of Google's Digital WellBeing initiative and it works. Although it doesn't stops you from using your phone, it shows your active sessions in the form of bubbles on the wallpaper itself. Every time you unlock the phone, it creates a new bubble that increases in size based on the time you used the phone before locking it again. The bubbles accumulate on the home screen and begins to fill up dictating the time you spent on your phone. This is a modern way of putting a mirror against users with phone addiction so it is a must-have.
8. ColArtive
If the current wallpapers on your phone are annoying, try ColArtive and put spice to it. The app is an all-purpose wallpaper-making application that uses plenty of colors and combinations to create mind-boggling wallpapers on the go. The app is equipped with many design algorithms that offer a wide range of wallpapers based on the color combinations you offer. These wallpapers are not ordinary but well-crafted unique and high-resolution wallpapers that you can use on any smartphone or tablet running Android. The app contains ads but that's okay since it is free and undoubtedly a great app for making creative wallpapers.
9. Listle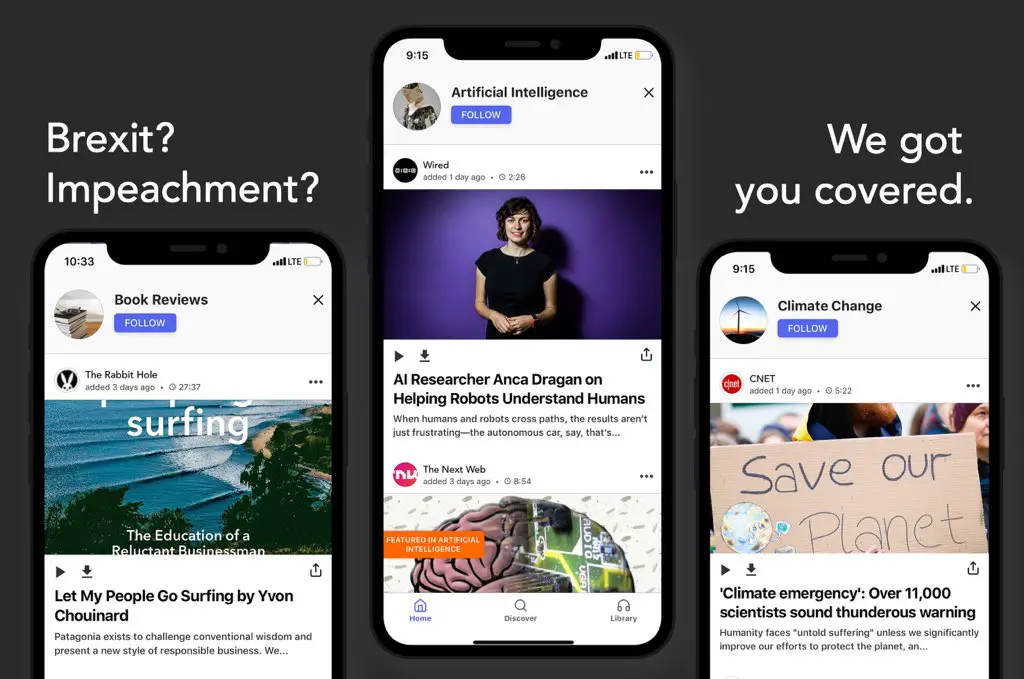 Want to know what's happening around the world and everything is too long to read? Listle is for you. The app satisfied the need to get information via high-quality audio playback that anyone who is just too busy to read get the most of it. The app lets users listen to interesting stories and events across different topics, authors, publications, and whatnot. The USP of this app is a natural-sounding voice rather than a robotic sound while the narration is going on so yes, this is a must-have app if you want to know things without giving time reading the articles.
10. 1Weather
Planning a hike tomorrow? Going on a road trip this weekend? Check out 1Weather. This app is where you'll find detailed weather information in your location or wherever you are willing to visit. You get customized weather forecasts for up to 12 weeks and all sorts of other stats such as 25+ radar layers and more. The USP is its minimal design and visuals, the easy to export widgets for home screen, weather notifications & more. It is available on both, freemium and premium basis.
More from Android
---
OnePlus has finally introduced us to its new lineup of smart televisions in India under the U-series and Y-series. The …
There are more than 3 million applications on the Google Play Store. In fact, hundreds of apps are coming out …
It's fairly common for smartphone makers to accidentally reveal some information or photos especially when it is Samsung that has …
Editor Picks
---