Whether you want to keep yourself entertained in your free time, or you have a long journey planned ahead, mobile gaming can only save you from boredom! Google Play Store is filled with a variety of games embracing different genres and playing styles. If you are in a lookout Android games on the Play Store it gets really hard for you to find the games which deserve a place in your storage. We at True-Tech tend to follow an ideology where we showcase the best games you must try this month. Now, let us take a look at our Top 10 Best Android Games April 2020.
1. Daddy Was A Theif
If you are a fan of Action-Arcade games, then Daddy Was A Theif is one of the finest games you can find in the world of Android Games. This game is developed by Rebel Twins and you play as a titular daddy who is abruptly fired and turns himself into the world of crime to feed his family. This game is best described as an endless faller. Every game starts with the dad escaping the bank and the players have to bust through each floor destroying the things and collecting the coins while dodging the cops and missiles. Almost all the props are smashable and can create a rage. As mentioned earlier, the game is endless!
2. WWE Mayhem
This game is developed by Reliance Big Entertainment group exclusively for Wrestling fans. WWE is bigger and better than any other wrestling game available on the Play Store. You can play as any of your favorites wrestlers. The list of playable characters in the game includes Roman Reigns, John Cena, Seth Rollins, The Rock, and the list goes on! You can play through epic matches between WWE Legends and WWE Superstars to determine the greatest of all time. Every character has their signature styles and finishers. Other features include Tag Team matches and weekly events, rewards and bounties. WWE Mayhem delivers all the adrenaline, thrill, and excitement of a LIVE WWE match with commentary.
3. Virtua Tennis Challenge
There are not a lot of good Tennis games available on the Play Store. Most of these games are filled with a lot of ads and in-app purchases. If you are a huge Tennis fan and are in a hound of the perfect Tennis game, then Virtua Tennis Challenge is for you. The game is fully filled with 3D graphics, tactical controls, and realistic gameplay. This game is developed by one of the world-famous game creators — Sega. You can unleash your gameplay skills by playing through different stadiums and environments across the world. You can challenge your friends online and play through face to face connectivity. This game fully supports the HID compatible controllers.
4. Need for Speed No Limits
Need for Speed No Limits is one of the best racing games available on the Play Store. In this game, you will be in competing for countless underground street races to be the best street racer. You can launch yourselves between chaos and control as you hit the loud pedal and roll into underground car culture. You can win races and buy new cars. With the increase in level, you can also customize your cars. You can pick-up the real-world cars from Subaru BRZ to the BMW M4, McLaren 650S, Porshe 911 and more. You can drive fast and fearless and clash with the cops as well. If you are a race fanatic, then this game is for you.
5. Die in 100 Ways
Die is 100 Ways is one of the funniest games available on the Play Store. The further you go to the thriller it gets. It has more than 25 challenging mini-games with superb graphics and entertaining music. The characters are adorable and their lives are in your hands. You have to protect the characters from a lot of fatal accidents manipulated by death. You can easily figure out how to play the game within a few minutes. The gameplay includes protecting the characters from dying by connecting the broken electric wire, kill the fishes, pickup up the banana skins to prevent characters from falling and dying.
6. Dawn of Zombies
This game is all about survival. You will have to fight every day and be alive during the Zombie apocalypse! The controls of this game are very easy to control and understand. You will have to build and craft on the ground and underground in order to survive. Energy will be refilled by consuming food. You can choose any vehicle in this open world. There are a lot of vehicles available from bicycles to UAZ. The graphics are really good with dynamic lighting conditions and deeper contrasts during the night gameplay. Various weapons and artifacts are available across the gameplay. You can also play this survival game along with your friends and win together.
7. Real Car Parking 2
Real Car Parking 2 is one of the finest simulation games with best in class graphics available. The cars and the reflections are very clear unlike the other games in the same genre. The car interiors and rearview mirrors also have excellent detailing. You can start with normal cars and grow up to parking the supercars with tougher courses. You can fill your garage with magnificent cars. The environment and gameplay are ultra-realistic and can also help in real car parking as well. You can shift the gears and clutch manually and drive with various sets of speeds. The developers of the app, Genetic Studios are releasing more and more cars with every update.
8. Brain Dots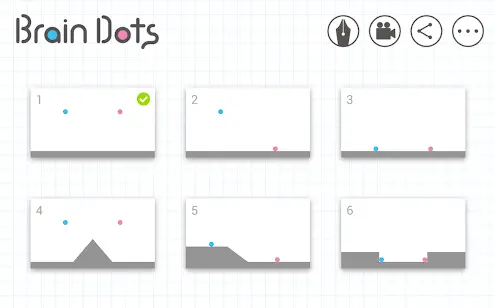 If you are a puzzle game fanatic, you will love this game. Bran dots is all about bump two balls by drawing the lines across your screen. You will have to draw lines and shapes freely to move and roll the balls. In the beginning, you can start off drawing with a simple pencil and can move on to crayons and markers. This game is a test for your logical thinking and flexibility of your mind. If the levels are not very hard enough for you, you can challenge yourself by creating a stage for yourselves. Also, you can challenge your friends to win the stages created by you. There are almost 3 million stages already created.
9. Trail Extreme 4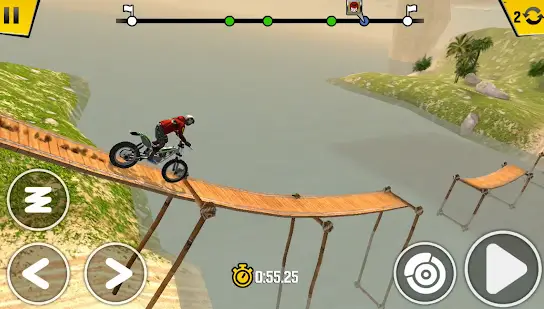 This game is for the motorcycle stunt enthusiasts out there! You will have to race against players while dodging the objects and performing the stunts in order to win the race. You can race against the players around the world and win the cash and other prizes. There are more than 200 extreme levels to challenge your biking skills and strategic thinking as well. The graphics are on point with deeper colors and contrasts. You can also improve your character by winning races and increasing your skills. You can also buy outfits and hardcore equipment as well.
10. That Level Again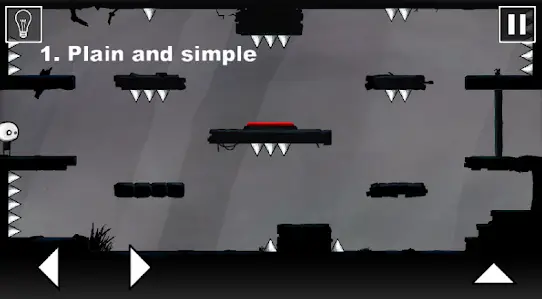 This is one of the most rated logical games where all the levels are the same but the ways to win are not. All you have to do is press the red button to open the door. Once the door opens, you will have to cross the door to enter the next level. Sound very easy right? But trust me, it is really hard. It almost took five minutes for me to win level 2. You will have to dodge the spike and hit the red button safely. If you jump or walk unnecessarily you might end up dying because there are spikes everywhere.
You might also like
---
More from Android
---
Samsung unveiled three different sets of Ultrabook today at the Galaxy Unpacked April event. The event was held via the …
XiasssAfter getting a lot of headlines over a couple of weeks now, the Redmi K40 Gaming Edition or Gaming Enhanced …
Realme has had a busy year upgrading its smartphones, releasing newer ones, and whatnot. The company has just released three …
Editor Picks
---