There are more than 2.5 million apps on the App Store and hundreds of apps are listed on the store every day. Since you will end up using maybe 100-odd apps during your time with a smartphone, probably in a lifetime, there are millions of other apps that you miss out on for sure. We at TrueTech list out the top 10 best iOS apps December 2021. We produce this list every month with apps that you must give a try. Of course, the list includes known and lesser-known apps, both old and new so you have a mix of quality apps at your disposal. Read along to know more.
1. Lake
This is an app that lets you color drawings and pages in your style. The app has more than 85+ coloring books at your disposal. There's ASMR that produces soothing brush sounds. You can use a 5-piece toolset to color any pages on Lake. The app has Apple Pencil support as well.
Lake offers you a load of 730 colors and numerous pages that you can color according to your mood. Don't feel like coloring? What about drawing something of your own with the blank canvas feature. Lake is a stress buster app for sure.
2. Cheatsheet
It's a note-taking app so what's the big deal. Turns out the app Cheatsheet goes in-line with the name since it offers a glance of notes you have saved for quick referencing rather than going through various notes in a note-taking app finding the one you want to read. It has a simple UI, you can add notes and the widget will appear on the home screen giving you what you want in a jiffy. The app has a Siri shortcut too so whatever you want to find, a command to Siri will do it.
There are some advanced features as well with the Pro version such as no limit on the number of widgets, properly organized cheats, iCloud sync, and passcode lock protected cheats for reference. There's practically a lot you can do on Cheatsheet.
3. Super Cool Ringtones
There's not much you can do to customize your iPhone the way an Android user would do but you can change the ringtones. Super Cool Ringtones is a fabulous ringtones app that lets you record or explore new ringtones for calls, alarms, notifications, and messages alike. The ringtone maker lets you mix and remix and create distinct ringtones. You can search for the best ringtones from a variety of categories including rock, house, classical, hip hop, animals, and so on. Get it for free or subscribe to weekly, monthly, or even yearly subscriptions.
4. JQBX
You can customize your profile based on your moods. JQBX lets you pair the playlist with Spotify, add music, queue it up and export, and more with JQBX.
5. Pexels
The global community of photographers is put up on Pexels so you can join it too. Create your collection, add your photos or download from a various catalog of photos available on Pexels with just a click.
6. Pixlr
Embrace your creativity with Pixlr. Earlier known as Pixlr Express, the app gives you access to a tonne of tools making it a much better photo editor out there. Use over 2 million combinations of overlays, effects, and filters. Create impressive photo effects using the Stylize tool or add overlays, color splash, and more. You can download a range of photo effects and add them to your photos to give them a surreal look.
The photo editor app makes it easy to add photos, format, frames and borders, and other editing chops making it one of the best iOS apps out there. Do check it out.
7. Duet Display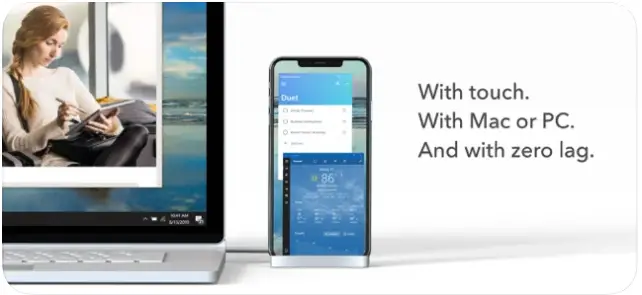 Do more with Duet Display, the app that lets you add an extra screen to your PC or Mac. The app is great for multitasking which is a great way to interact with your system to push productivity to the next level. The app lets you add a touch bar to iPad devices with my mac devices. The app supports pan, zoom, and two-finger scrolling among other gestures with zero lag.
The app has been recognized by multiple media outlets including Business Insider, The Guardian, Lifehacker, among others and it is also #1 best-selling across 20+ countries. Duet Display is available for All PCs running on Windows 7 and above, iOS 7.0 and above, and macOS 10.9 and above. The Duet Pro is available too.
8. Miracast
Made for iPhones, Screen Mirroring Z – Miracast is a high-quality wireless mirroring app that lets you mirror your phone's screen to any smart TV out there without requiring any specialized hardware. There's no delay and everything mirrored on a smart TV is in real-time. The app works with TVs with web browsers across a hoard of discovery protocols including UDAP, DLNA, DIAL, among others. The app lets you cast photos, videos, and even your phone's camera onto a TV with ease.
Miracast has already garnered a lot of following with more than 47.5K ratings on the App Store and rated at #72 positions in the Utilities section. Give it a shot.
9. QrScan
Almost everything you find in a supermarket or any e-commerce website or wherever you go, you will find a QR code facing you. It is how the information related to that particular product is stored in a machine-readable format. QrScan is a brilliant QR reading app that decodes what any QR or barcode means. It is great for scanning and reading barcodes as well as creating your own. You can use QrScan to link your photos, PayPal, YouTube, and other sources.
The app has a series of features including multiple windows to scan, dark mode, Siri shortcuts, and accessibility using voiceover support. The app has already made a buzz with 20.3K ratings on App Store.
10. Earthquake 3D
If you are particularly interested in earthquakes or live in an earthquake-prone area, Earthquake 3D aids you with the 3D interpretation of Earthquakes using animated graphics. The app has over 4000+ years of historic data on earthquakes, a solid wireframe for earthquakes with transparent Earth, and more.
The app offers a database of 8 Earth display types with tectonic plate and population-type maps and more. There's a tonne of advanced seismic information to consume for those who are interested along with local news and more. The app is paid so you will have to pay for it.
There you have it. This was the list of the top 10 best iOS apps you must try. Do check out our previous listicles. Also, if you have a great app you discovered and want others to benefit from it, drop a comment below.
You might also like
---
More from Apps
---
WhatsApp is currently testing out a feature that will allow users to transfer data from Android to iOS devices as …
Online video streaming juggernaut Netflix has upped its monthly subscription prices in the United States and Canada across all plans. …
If you check out the homepage of Google Play Store's Games section, you will get a list of top paid, …
Editor Picks
---