Apollo, a new and the world's first portable power bank using graphene composite battery and USB-C PD technology is probably the must-have accessory right now for many. This compact but very powerful power bank can charge smartphones at a maximum of 60W. The makers of this beast claim that it can charge an iPhone X or iPhone 8 within 20 minutes, which is almost 10x faster than current leading battery chargers in the market and in case of an iPhone 7, it can charge the phone in just 10 minutes!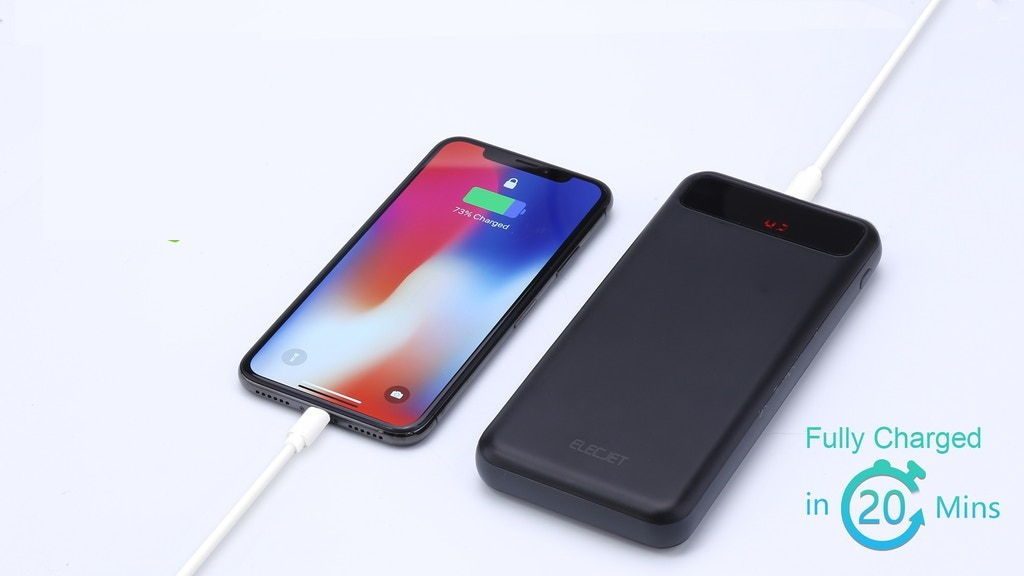 With Apollo, you won't have to worry about device compatibility and carry a bunch of dongles around as it uses Power Delivery 3 protocol and USB Type-C, which is the standard now in 2018. It is compatible with USB-C power adapters of Nintendo Switch, Apple MacBooks and laptops from any leading brand like Lenovo, Dell, or HP laptop.
Apollo uses the graphene composite cells which are being used for the first time in any power bank. The makers claim that this will help maintain much smaller internal resistance and better conductivity, which keeps the temperature low while charging any device at a very fast speed. Huawei also recently teased something similar, which can charge a phone at a ten times faster rate, and it is being expected that Huawei will showcase it at the MWC Barcelona 2018. Huawei showed in the video how they could be able to charge the battery to 58% within five minutes.
Apollo supports 40W USB Type-C PD output, using which it supports the Fast Charging for the latest iPhone 8 or iPhone X or in case of emergency it can charge your laptop as well. The makers of Apollo have confirmed that the product has already been designed and developed and will be ready for manufacturing by February 2018.
More from Gadgets
---
Apple unveiled three new iPhones this year on its September 12 Special Event 2018. Named for iPhone XR, iPhone XS, …
Xiaomi Redmi Note 6 Pro is still days away from its official release, however, it seems like a seller on …
Samsung is holding a special event on October 11 and it was lately teased as '4x Fun' although the information …
Editor Picks
---