The best thing that I adore about iPhones is that these devices are powerful enough to withstand whatever you throw at it. No matter if it's a nerve-wracking graphics-intensive game like PUBG Mobile or Fortnite or if it's a simple game like Clash of Clans. Similar to the Google Play Store, iOS' App Store has millions of apps and games and more are added almost every day.
Well, it is a bit complicated to draw a list of Top 10 Best iOS Games for January 2020 but we here at True-Tech understand that our readers are interested in knowing what's the best. Here is a list of the 10 best iOS games for January 2020 that we have curated.
1. Alto's Odyssey
Want to try out an endless runner game? Try Alto's Odyssey instead. The game has some of the best pieces of music as its background scores and has a beautiful, elegant, and soothing art design that makes it what it is. Alto is a llama herder who has to cross the mountains, chuck obstacles, run downhill and enter into a superfast zen mode that speeds you up and more.
The game has a relaxing background score that adds to its galore of excellency. The weather changes swiftly from day to night and back. Collect points for any move, jump, or stunt and score the highest in Alto's Odyssey to win big.
2. Minecraft Earth
If you are someone who likes games, I am certain that you might have heard about Minecraft at least once. At the epitome of the gaming industry, Minecraft Earth is one of the most popular games that use augmented reality on your phone. Construct new things within the game. In fact, people showcase castles and even cities that they have built within the game after putting hours of effort into it.
Though the game is easy to play, you might have confusion at the beginning but I am certain that you will love this game 3000 (wink).
3. PUBG Mobile
I can't recall a reason to list this battle royale game here. PlayersUnknown BattleGround (PUBG) is a uber-popular battle royale game that has 100 people pitted against each other in their quest to win the 'Chicken Dinner'. With the new season dropping soon, the game will introduce a new mode, a new map, and a tonne of new skins and vehicles that are surely gonna intrigue the masses.
The game already has Classic and Arcade mode with different maps/games listed under it and welcome Payload, Deathmatch and other modes as well so you won't get bored anytime soon. It is a first-person/third-person shooter game so practice your skills, perfect your targeting and win the game.
4. Call of Duty: Mobile
From the developers Activision Publishing and Tencent Games, CoD: Mobile is again a popular shooter game that falls in the battle royale genre. It shares some of its traits with PUBGM since the developer is the same. The graphics are pretty detailed, sharp and you'll notice that if you switch from PUBG to CoD: Mobile.
The game pits 100 players against each other, free to play CoD enables a thrilling gaming experience without worrying about paying even a penny. The game is an epic battle between you and 99 others where you fight them, search and equip yourself with arsenal, guns, and ammunition. The game has a number of maps to play, different spawn locations where you'll find vehicles and ammunitions and a lot more.
5. The Machines
The Machines is truly one of the best games that takes advantage of Apple ARKit to feature high-quality AR-enabled game. This turns any flat location like a tabletop into a battleground where you and the enemies can combat against each other. The game uses its back camera to locate a plane, uses Apple's augmented reality technology to convert it into a battleground that has 3D graphics on-board.
You need to physically move the phone and combat the opponent's troops throughout the map. The game is catching a lot of attention thanks to its AR capability and regarded as one of the best when it comes to playing AR games on iPhones.
6. Tropico
Listed as one of the best games for Android as well, Tropico has a considerable fanbase on the iOS platform as well. The game revolves around you as the president of a Caribbean nation called Tropico. You are the one who rules the nation and develops roads, foreign policies, trade and military and other aspects of the game. The game has great gameplay mechanics and uses iOS's touch interface for an excellent mobile gaming experience.
You run the police, the industries, the tourist spots and protect the nation from external powers to become an ultimate visionary leader. The graphics are impressive and so is the sound quality where both are of PC gaming standards.
7. Skate City
Price:
Exclusive to Arcade
If you liked Alto's Odyssey, you'll like Skare City as well as they both are from the same developers. The game follows the same side-scrolling perspective although developers have added a lot of details when it comes to graphics and background score. You'll notice that the animation is smooth and doesn't irritate the eye while being super interesting in terms of gaming experience.
Ride you skateboard over the rails or steps and perform stunts to score more points. There are on-screen controls to balance your character when you are on the rails. Again, the most interesting aspect of the game is its graphics and no matter what, you'll love it and give it a go.
8. Oceanhorn
Looks like we have stumbled upon something close to the Legends of Zelda. Oceanhorn is an RPG game that offers players a chance to witness an epic journey that takes you through the world filled with puzzles and dangers through uncharted seas. You are taking a mysterious route to find the ancient kingdom of Arcadia.
The game is actually not new but has a reputation for being the best on iOS even today so yeah, I had to list it here. The game has 3D visuals and graphics that are immersive and with hours-long music and story that goes by, you will get engrossed even more. The game is also compatible with Apple TV in case if you want to know.
9. Pokemon Masters
What a list of best games to play if there's no Pokemon game in it? Well, although it might not be true every time but Pokemon Masters does justice to this list. You are tasked with creating a team of three members on an island of Pasio. You need to catch 'em all (aka Pokemon), train them to fight against trainers around the world.
Although it isn't like Pokemon Go where you have to physically move but it does keep you entertained. Train yourself throughout the journey, combat against opponents and win big. The game has excellent graphics and a background score to go with so don't waste your time, catch 'em all.
10. Mario Kart Tour
Similar to how the Pokemon series is breaking records, the Mario series does the same. Presenting the Mario Kart Tour that offers excellent gameplay. The game has some premium elements to it that you can unlock through a paywall although the game is free to play otherwise. You are tasked with racing in real-world cities with your friends. It is an endless journey through courses that you can control with the flick of a finger.
Steer, drift, drive, and collect points and more in-between to score more and accelerate your rank further. The game does need a Nintendo account to start and requires the internet to play but that's what the majority of games require nowadays.
You might also like
---
More from Apps
---
TikTok is already banned in India and might be banned in the U.S. too. Snapchat did manage to give TikTok …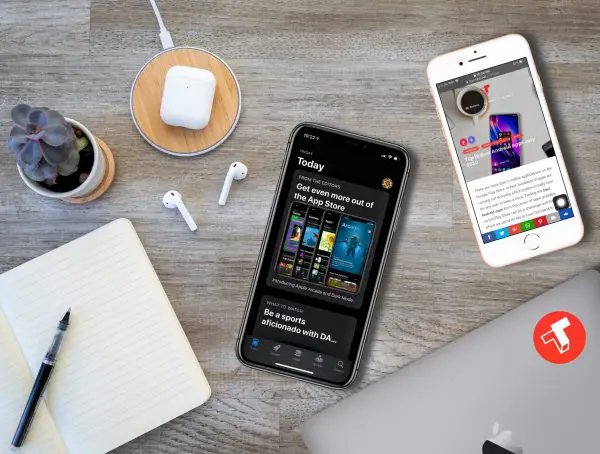 Are you looking for the best iOS Apps in November 2020? If yes, you are at the right place as …
Just like every month, we are here with a list of Top 10 Best Android Apps to try in September 2020 …
Editor Picks
---