Every month, we produce the top 10 best iOS Games, and this month isn't any exception. After going through the App Store, we have curated a list of ten games that you can play this month. Many of these games are almost unknown to many and thus, this helped us create the list giving you something new to latch on to every month. Moreover, this also aids in relieving you from playing popular yet stagnant games that you have been playing for a while now and need something new and out-of-the-box. Without any further delay, here's the list of Top 10 Best iOS Games January 2021 for you to check out.
1. Gear.Club
Before you skip to the next game, let me tell you that this is more than an adrenaline rush. The developers of the game promise the realistic driving and mechanics of the race. The game also offers a full range of cars which you can collect and upgrade with the time and money you earn after winning the races.
The features of the game include the cars with fully simulated engines, powertrains, suspensions, and aerodynamics. You can also explore breath-taking racetracks and exotic locations. You can also race against your friends through events and championships.
2. Forza Street
Forza Street, as the name itself suggest, Forza Street is one of the finest street racing games available for iOS and Android. It is a highly shrunken down version of the Xbox's top racing franchise. The game itself is like any other racing game, where you have to win the races and complete the challenges in order to win more cars and kits. You can kickstart your car garage from classic muscle to modern sports and retro supercars. You can race your collection of cars anytime you want in a quick one-minute race or you can either drive yourselves into an immersive story mode. There are more than 50 real cars available from top international car brands.
3. Golf King
Golf King is one of my favorite games on the list. The graphics here are astonishing for a golf game with some realistic location and vegetation. You can also play one vs one real-time multiplayer games along with people around the globe. You can also customize your character with tee's, caps, shoes, and a lot more. Moreover, the controls here are super easy and hard to master too. You get play in various golf courses and collect trophies in order to unlock new stages
4. Grand Mountain Adventure
Mountains, cool-breeze, adventures, and a lot of fun. Does this sound good to your liking? Well, then Grand Mountain adventure is the game for you. In this game, you can huge mountains with runs in several directions, and there are many backcountries to explore too. The gameplay varies from boardercross, slalom, super G, slopestyle, big air, and best drop line to mention a few.
The adventure starts at the bottom of a sleepy ski resort in the midst of the alps. You can lift up to Almhutte and try your first shalom challenge. You can also roam and discover hidden challenges and secret ski passes.
5. Virtua Tennis Challenge
There are not a lot of good Tennis games available on the App Store. Most of these games are filled with a lot of ads and in-app purchases. If you are a huge Tennis fan and are in a hound of the perfect Tennis game, then Virtua Tennis Challenge is for you. The game is fully filled with 3D graphics, tactical controls, and realistic gameplay. This game is developed by one of the world-famous game creators — Sega. You can unleash your gameplay skills by playing through different stadiums and environments across the world. You can challenge your friends online and play through face-to-face connectivity. This game fully supports the HID compatible controllers.
6. Dawn of Zombies
Dawn of Zombies is all about survival. You will have to fight every day and be alive during the Zombie apocalypse! The controls of this game are quite easy to control and understand. You will have to build and craft on the ground and underground to survive. Energy will be refilled by consuming food. You can choose any vehicle in this open world. There are a lot of vehicles available from bicycles to UAZ. The graphics are good with dynamic lighting conditions and deeper contrasts during the night gameplay. Various weapons and artifacts are available across the gameplay. You can also play this survival game along with your friends and win together.
7. Shadowgun War Games
Shadowgun War Games is one of the newly released tactical multiplayer FPS with some amazing graphics and player vs player battles. In Shadowgun War you will have to work out your strategy for classic capture the flag or in all guns blazing during the deathmatch. In my overall gameplay testing, I got the Fortnite and Call of Duty vibes. You can fight and win the matches against the real players and there are a lot of areas in the game. The game itself is fun and accessible for beginners and hardcore gamers also enjoy it as there is plenty of challenge here.
The Shadowgun War itself is a highly competitive game and is a multiplayer PvP that rewards skill and strategy. There are a lot of approaches to win the game here. Currently, the game is in season four. New characters, game modes, events, skins, and a lot more are coming in the future updates.
8. Subscribe to My Adventure
Subscribe to My Adventure is an RPG that simulates a real-life social platform where you can play as a newbie streamer who tries to gain attention and subscriptions from various adventures and progress toward the goals of becoming a famous influencer. Simulation of the realistic social platform which is presented in a virtual social platform that uses a realistic social media software to private messages, stories, etc. You can also make gameplay plot choices are different factions which may lead to different outcomes.
9. Daddy Was A Theif
If you are a fan of Action-Arcade games, then Daddy Was A Theif is one of the finest games you can find in the world of iOS Games. This game is developed by Rebel Twins and you play as a titular daddy who is abruptly fired and turns himself into the world of crime to feed his family. This game is best described as an endless faller. Every game starts with the dad escaping the bank and the players must bust through each floor destroying the things and collecting the coins while dodging the cops and missiles. Almost all the props are smashable and can create a rage. As mentioned earlier, the game is endless!
10. Rocky Rampage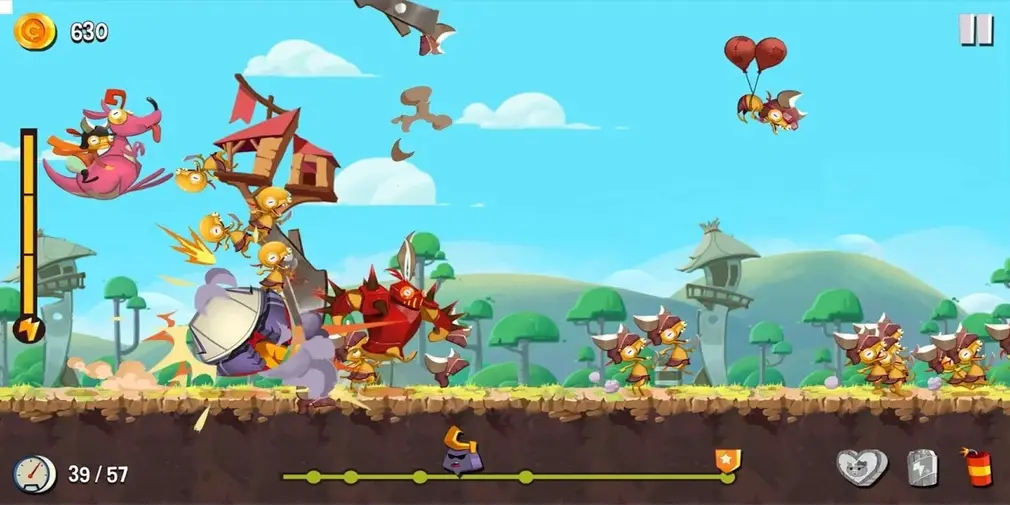 If you are a fan of a tactical endless runner, this game if for you. The game has its own back story where you can play as Mr. Boulder who is a fashionable champion of the Rock Kingdom. All you have to do in the game is chase down the Scissor who steals the collection of heroic wonder pants from Mr. Boulder. Oh, you are not alone here! You can chase down the Scissor with the help of Pebble, who is Mr. Boulder's trusty and loyal sidekick.
The gameplay here itself is superfast. You can destroy anything in your path in order with building and maintaining the speed. Be it your enemies or a huge wall, nothing can stop you if you play right. Each of the playable characters like enemies and etc. will have unique behaviors and some that you can even ride on to help you storm the castle.
You might also like
---
More from iOS
---
Editor Picks
---