Yesterday on August 9, Samsung held a spectacular 'Unpacked' event to launch its Samsung Galaxy Note 9, Samsung Smartwatch, and Google Home. The intuitive and fully immersive screen where all the presentations were shown grabbed the attention of the masses while the surround sound had people glued to the presentation perfectly timed and calibrated to an inch. Finally, the moment came that people were waiting for ages, the Unpacked launch event for 'Samsung Galaxy Note 9' that will officially mark the specifications and features and yes, there are no rumors here.
Samsung dubbed the Samsung Galaxy Note 9 as the 'Powerful phone ever made' with the ultra-fast processor and stunning specifications. The Galaxy Note 9 sports a Super AMOLED display with 1440 x 2960 pixel resolution and a pixel density of 516ppi making the display look crisp and bright. With a massive 6.4" display, it is the largest Note ever in the lineup designed to provide an end-to-end display with elegant curves around the edges.
At the back, the fingerprint scanner has been repositioned just below a horizontally placed dual camera set up at a central position. What's exciting about the Note 9 is its humongous 4,000mAh Li-Ion battery tried and tested to withstand all day similar to how Samsung promoted the Note 9 weeks before the smartphone was officially unveiled yesterday. Further, the Note 9 will have a base variant of 128GB while there will be a variant with 512GB internal storage which is commendable but that's not because Samsung is working on a 512GB memory card that will take the total storage to 1TB as Note 9 comes with '1TB ready' feature.
Samsung has opted for a 10nm manufacturing process for its Snapdragon 845 or Exynos 9810 Octa-core processor that promises faster and efficient processing power unmatched by other smartphones in the high-end segment. Heating up of the processor restricts it to perform optimally and thus, Samsung Note 9 has a water-carbon advanced cooling system that keeps the device cool and comfy.
Surprisingly, Tim Sweeney, CEO of Epic Games was present to address its uber-popular Fortnite. He said that Epic will launch the Fortnite Beta for Android smartphones with Note 9 exclusive for 30 days after which, Fortnite will be available across all eligible Android smartphones. What's more? Samsung Galaxy users will get a Galaxy Skin in Fortnite with added features that looks stunning.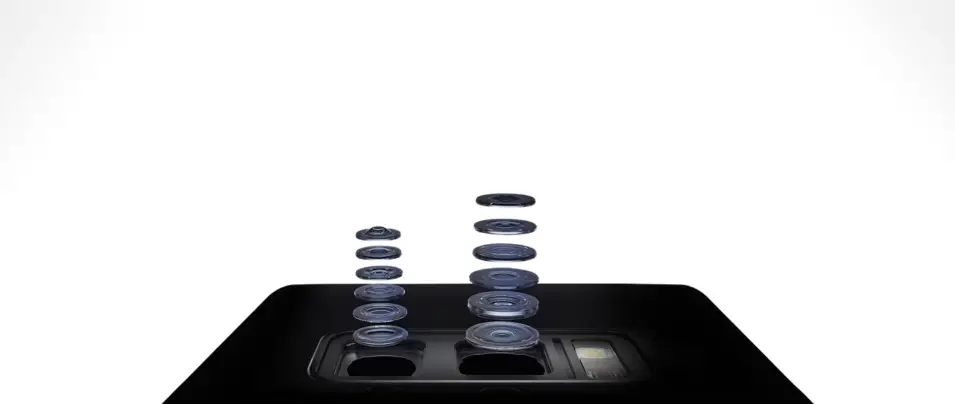 For better sound, Samsung has added an AKH stereo speaker termed as the loudest speaker in Note ever. One of the best aspects of Samsung Galaxy Note 9 is its intelligent dual aperture rear camera that adapts like a human eye with apertures between f/2.4 and f/1.5 that captures stunning low-light photos and videos at 4K and other resolutions. The rear dual camera setup sports a 12MP with f/2.4 and f/1.5 with OIS, dual pixel PDAF, and 1.4micrometer pixel size while the secondary cam is a 12MP telephoto lens with 1.0micrometer pixel size and an aperture of f/2.4.
The intelligent camera captures detailed photos while detecting any flaw in the scene that could make the photo worthless. It also has a scene recognition feature that optimizes and alters the color tone based on the shot. On the contrary, the front camera has an 8MP snapper with 1.22micrometer pixel size and an aperture of f/1.7.
What's was exciting about the entire presentation held in New York was that it was controlled by a small S Pen that comes with Note 9. The S Pen comes with Bluetooth capabilities that can be paired with Note 9 to captures Snaps on Snapchat, captures photos and videos on Note 9, play/pause YouTube videos, change slides in Microsoft PowerPoint and much more. The tiny S Pen that has improved over the years sports a fine tip that mimics natural writing tool while it has been refined to address 4096 pressure points that can be used for 30 minutes on a single 40-second charge.
Further, the Samsung Galaxy Note 9 has a feature that lets it connect directly to a screen via HDMI Adapter that fits right in your pocket while giving you all computing power while being a size of your palm. It also sports a dual canvas display that works both on Note 9 and Samsung Galaxy Tab S4 so that you can enjoy even bigger screen without compromising the Note 9 to make calls and check Instagram.
That's a wrap with Samsung Galaxy Note 9 but just one hour in, there's more Samsung would like to show and that is when it unveiled the stunning fitness-oriented Samsung Smartwatch with Corning Gorilla Glass DX that keeps it protected against multiple drops while being scratch resistant. It is water-resistant and comes in three variants. You can pair it up to Note 9 or use it as a standalone smartwatch with its own LTE connection and a great battery life that lasts 7 days on a single charge thanks to its optimized processor and AMOLED display.
Samsung also unveils Wireless Charging Duo which as the name suggests, is a wireless charging pad for both Samsung Galaxy Note 9 and Samsung Smartwatch. The Note 9 is estimated to go for sales on August 24 while the latter might be on sale by the end of August.
You might also like
---
More from Android
---
Last year in December, tipster Ishan Agarwal posted a leaked image showing a new design for OnePlus device with Pete …
After teasing its first-ever 64MP camera smartphone, Realme resorted to launching it later as the latest Realme 5 and 5 …
Huawei nova 5T will soon join the forces with nova 5, nova 5i, nova 5 Pro, and nova 5i Pro …
Editor Picks
---