NASA successfully launched the James Webb Space Telescope on-board Arianespace Ariane 5 on December 25th from the Guiana Space Centre in Kourou, French Guiana. Webb has already completed two mid-course correction maneuvers towards its destination at the L2 Lagrange Point. Although the propellant onboard the mission was earlier estimated to last from 5 to 10 years, NASA has reported that according to the latest analysis, Webb has enough propellant to last for even longer.
James Webb Space Telescope (JWST) is destined to reach L2 Lagrange Point which is 1.5 million kilometres away from the Earth. L2 is a point in the space behind Earth with the farthest gravitational balance on the far side of our planet. It carries enough propellant to help it maneuver as well as aid in science exploration for years to come.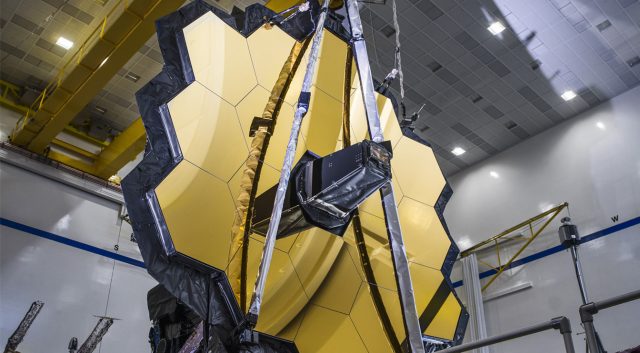 JSWT has already completed two mid-course correction maneuvers where the first correction of *5 minutes from Arianespace Ariane gave the observatory a 45 mph additional speed, which is 20 meters/sec in SI. The second correction made on December 27 allowed the observatory to top-up its speed by *.3 mph or 2.8 meters/sec as it hurtles towards its destination a whopping 1.5 million kilometres away from Earth.
For perspective, the Hubble Space Telescope is located at a distance of 380 kilometers from Earth which made it easier for human missions for servicing. Hubble, which is considered the predecessor of JSWT, was originally designed to last for 15 years. After several human servicing missions, the observatory has clocked in 30 years at work and continues to amaze us with the stunning graphics of the unseen Universe.
JSWT is equipped with a load of spacecraft propellant that will help it support all the scientific equipment, instruments, and functions alive for the duration of the mission. It will use the propellant for occasional station-keeping maneuvers that allow the Web to stay on its orbit using small thruster burs. Apart from that, Webb will use a momentum management system that keeps its orientation in space properly aligned.
The JSWT observatory has now started unfurling its solar array right after it separated from the spacecraft using the commands fed by the scientists before the flight. JSWT took just a minute and a half to unfurl its solar array after its separation from the Ariane 5 second stage thanks to the instance precision laid by the latter.
Once deployed and fully functional, JSWT will be able to glance at galaxies, stars, and other celestial objects with its mirror which is estimated to be 100 times sensitive. It will be used to take images, analyze the chemical composition, and more for the years to come.
You might also like
---
More from Science
---
Where on the moon would you want to live in the future? Well, definitely not in the coolest or the …
Scientists across the globe keep a tab on Earth's ozone layer that protects species from harmful ultraviolet radiation round the …
The Jet Propulsion Laboratory (JPL) of NASA has awarded the launch services contract of its upcoming Europe Clipper mission to …
Editor Picks
---