If you check out the homepage of Google Play Store's Games section, you will get a list of top paid, free, and newly released games. But the thing is, you won't find all the 'best' and 'must-try' games unless you explicitly look for them. The catch is, unless you don't hear or don't know about a said game, you won't be able to discover it on the Play Store.We at True-Tech have been listing out the top 10 best Android games for months now and this is where you can check out the 10 best Android games January 2022 that you must try.
1. Heads Off
I know that you won't be playing this rather abstract game for longer but it's something new so you might as well give it a try. The premise is simple, you have a head (and yes, it's just a human head without anybody) that rolls when you tap on the screen. It screams and rolls and it goes from left to right rolling and moving faster.
It has a rather vintage look to the graphics though and you are tasked with finding all other types of heads (of humans, for sure) as you progress in the game. That's pretty much everything you can know about Heads Off before trying it out.
2. I Luv Hue
It's not a complex game but a gentle one that will blow your mind. It is a grid puzzle game that checks your ability to recognize colors and perception. You are tasked with reordering mosaic pieces colored in the hue of any spectrum to finish any chaos or imperfection in the ordered spectrum.
It tests you on four levels i.e. Colour, Harmony, Perception, and Serenity. I Luv Hue doesn't work on logic but it's a puzzle of perception with a minimalist design and aesthetic with a soothing soundtrack in the background that will make you play more of it. And yes, there are 900 levels to solve so you have yourself a game for hours on a single stretch.
3. Townscaper
Another game that I came across is the Townscaper. You can build island towns in the game with curvy streets. Build a network of canals with soaring cathedrals or sky cities and everything in-between block by block.
You will be invested in the game as it puts itself forwards as an experimental passion project with hundreds of colors to choose from, blocks to locate and create everything from backward to houses, arches, and more in different configurations and alignments.
4. Frostborn
It's an RPG adventure game located on the lands of the Vikings where you will confront an army of the dead along with your friends in an epic string of battles against the foes. You are immortal and thus, cannot die but you need all the ammunition to combat against the darkness back from where they came – Helheim.
Frostborn is an MMORPG game with excellent graphics, a fixed top-down view where you get a clear picture of the surroundings and all. The game has more than a dozen RPG-style classes including Protector, Thrasher, Hunter, and others.It is a wholesome experience playing Frostborn so I would recommend giving it a try for sure.
5. Backgammon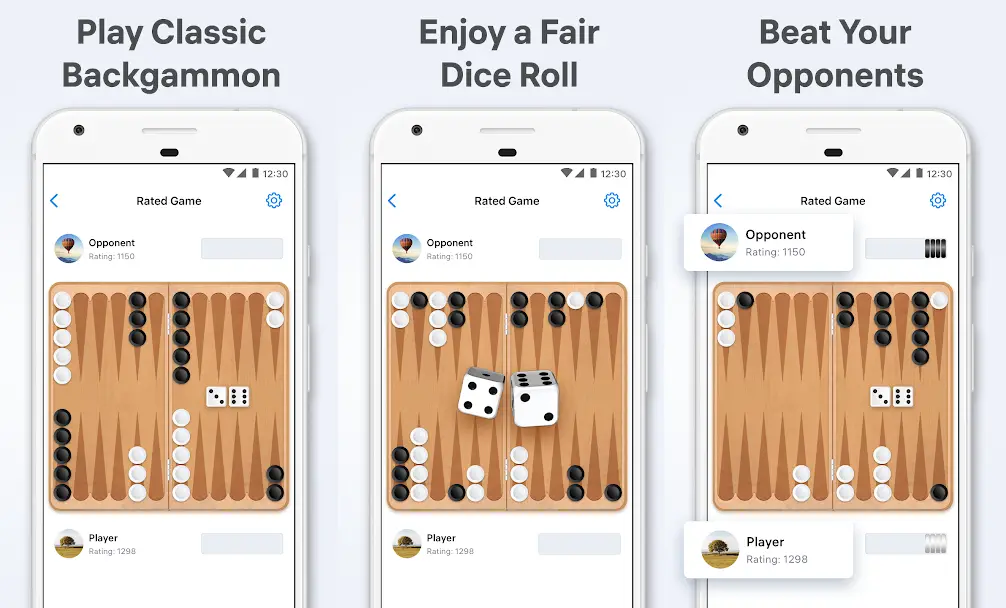 Trying a new logic board game poses its challenges right from learning every detail to finding ways to use logic and win. Backgammon is one of the most popular logic board games and here's a virtual game that you can play on your smartphone right away.
You need two players and get a board of 24 triangles called points. It will take some time to get a hold of how to move ahead in the game but as soon as you get it, I don't see any reason why you wouldn't master it even if it is just for fun. It is challenging to be honest but that's something many people like. For starters, roll the dice, and based on the numbers rolled, you can move ahead.
6. Pokémon UNITE
If you are a fan of Pokemon, you will love Pokemon UNITE as well. The game offers a 5-on5 strategy battle game where two teams of 5 players each compete against each other leveling up their skills and rewards every time they win. The game unlocks many Unite Moves that aren't available anywhere else. You can embark on a journey with friends and others and communicate via signals, chat, or voice chat with relative ease.
As and when you rank up, the players you are matched up with are chosen accordingly as well. You can check out the global leaderboard to know where you are standing. Note that teamwork is crucial to progress ahead.
7. Summer Catchers
Another game that I would like you all to try is the Summer Catchers. It is an arcade game where you embark on an endless road adventure through a variety of terrains meeting strange creatures that you know nothing about.
The game gives you dark swamps, forests, underground cities, and other lands to discover. As you embark on the journey, you can upgrade your skills and abilities on the way. There's more to the game than meets the eye.
8. The Escapists
The Escapists is a strategy game that uses old-school animations showing you as a prisoner trying to break out of prison. You were barred behind bars after the police caught you and that is where you need to decide to find ways to escape prisons. You soon realize that with the right tools, you can break away.
The Escapists is a sandbox strategy simulator game where you get to choose different aspects of escaping the prison ending up in different outputs.
9. Dino Squad
I haven't seen dinosaurs but I do like them unless there's one around me trying to kill me. In Dino Squad, you are a Dinosaur Master (just as Chris Pratt in the new Jurassic Park) but it's just a game. It's 3D and the visuals are good. You as a master have to train various types of dinosaurs, test their innate abilities, and train them. The game offers a lot such as teaming up with other players to destroy, protect, and a lot more. There's T.Rex, Stegosaurus, and a total of 17 types of dinosaurs with 6 maps available on Dino Squad.
10. Jumpgrid
Certainly, a cosmic experience much like the tesseract shown in the movie Interstellar, the game is a cosmic obstacle course that will keep you glued to it. With 100 challenging and unique levels with infinite speedrun modes, the game has an electronica soundtrack in the background that makes it a wholesome immersive experience.
Wrapping Up
That's the end of the listicle on 10 Best Android games in February 2022 that you must try on your Android smartphones.
You might also like
---
More from Android
---
The Redmi Note 13 Pro series will be unveiled in China in September, according to an official announcement from Xiaomi. …
OnePlus, the famed Chinese smartphone manufacturer, has just introduced its maiden affordable tablet, exposing the world to the OnePlus Pad …
The well-known Chinese smartphone maker Vivo has made it public that it will introduce the Vivo T2 Pro 5G on …
Editor Picks
---