Realme's 240W made its debut in early February 2023 and took the world by storm with its insane charging speeds. It overtook Xiaomi Redmi 210W fast charging tech was demoed late last year. However, Xiaomi is back with even faster technology this time around just four months after the 210W tech. Showcased at the MWC 2023, Redmi demoed a 300W fast charging technology that takes the battery from O% to 100% in just five minutes.
Chinese smartphone maker Xiaomi's sub-brand Redmi used a modified Redmi Note 12 Pro+ paired with a 4,100mAh battery to conduct the demo. It took two minutes to reach 50% while it reached the 100% mark in under five minutes. Redmi posted the video on Chinese social media platform Weibo.
Per Engadget, the peak input on the power meter was 290W while the charging tech was able to keep a steady 280W for more than two minutes during the whole demonstration.
It further added that the modified phone comes with a 15C cells powered battery instead of the 10C that we saw on the last Discovery Edition. It uses carbon materials reducing the thickness of the electrodes by 35 percent. Apart from that, there's an improved electrolyte formula in use that escalates power density with a faster charge and discharge rate of the battery.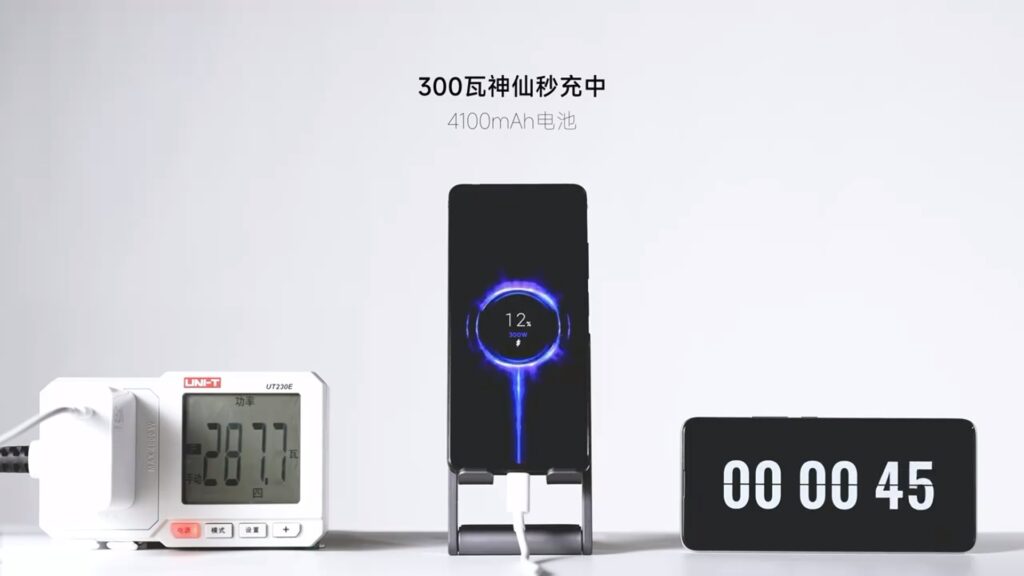 The battery reduces heat being produced during such a strenuous demonstration while heat dissipation has been optimized. It is all thanks to the new sandwich design for the battery where the 15C cells were staked with thermal materials in-between to extend proper channeling of heat and better use of the internal space.
As said, the max readings on the power meter were at 290W which is short of 10W since we are talking about a 300W fast charging tech which is its theoretical limit. The device safety features keep tabs on the power, and voltage, among other parameters and the cap comes for safety reasons as well.
According to GSMArena, the charging adapter is equipped with 50+ safety protection features packed in a small size to ensure nothing goes south.
However, there was no information on the charging cycles that the technology would go up to before rendering a battery useless. Additionally, there's no update on when the 300W fast charging technology will arrive commercially.
You might also like
---
More from Android
---
Tomorrow, Oppo unveils the company's premium Find X6 series, the Oppo Pad 2, and other items. The OnePlus Pad, which …
The Samsung Galaxy Z Fold 5 has been highly anticipated since the successful launch of its predecessor, the Galaxy Z …
The Amazfit GTR 4 arrived last September with a 1.43" display and 46mm rim. Cut to now, the Amazfit GTR …
Editor Picks
---