There have been a lot of details leaking about the OnePlus 5T that nothing is now left for the launch event. The only thing that was left to be revealed was its price, and now we finally have a number for that too. A new report suggests the OnePlus 5T's Indian pricing and it is exactly the same as the OnePlus 5.
According to TechDipper, the pricing of the OnePlus 5T will be in line with what had leaked a few days back. The OnePlus 5T will be priced starting Rs. 32,999 for the 64GB variant and Rs. 37,999 for the 128GB storage variant. As you might have noticed, this is the price OnePlus 5 was launched at earlier this year.
As per the specifications that had leaked yesterday, the OnePlus 5T will improve its display with a newer 18:9 aspect ratio. Apart from this, the phone will also have a slightly better camera performance, especially under low light condition, thanks to an improved aperture. The fingerprint scanner has also been moved to the back.
Most of the other specifications, including the battery capacity, will remain to be the same as OnePlus 5. The processor along with the RAM variants are also here to stay. You will again get a 6GB RAM and 64GB storage variant along with 8GB RAM and 128GB storage variant.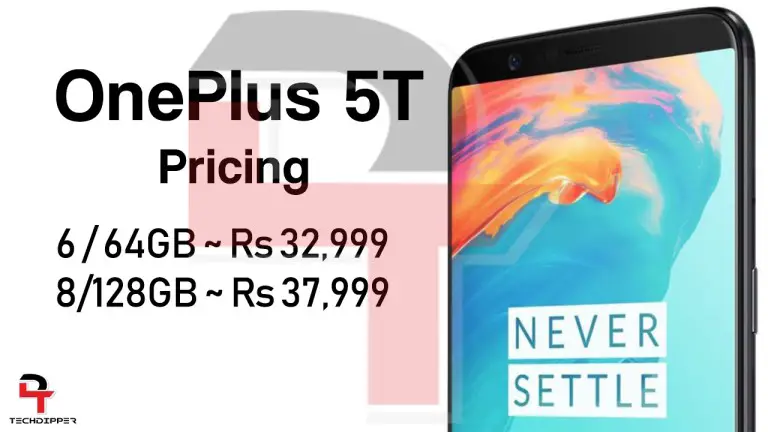 It would be interesting to see if these prices turn out to be true. In case the prices of the OnePlus 5T start at R.s 32,999, there are chances that OnePlus 5 might get a permanent discount, otherwise, the phone will be left redundant. Whatever the thing maybe, we shall have all the official details of the OnePlus 5T on November 16.
In the case of OnePlus 5, TrueTech was the first one to reveal the Indian prices of the phone, which later turned out to be true. The OnePlus 5T will again be exclusive to Amazon in India. After being revealed on November 16, the phone will go on sale across different countries, including India, soon after.
You might also like
---
More from Android
---
After Huawei Huawei, Asus, Xiaomi, Razer among others released a gaming-oriented smartphone while there is a stash of smartphones with …
Xiaomi Redmi Note 6 Pro is still days away from its official release, however, it seems like a seller on …
Samsung is holding a special event on October 11 and it was lately teased as '4x Fun' although the information …
Editor Picks
---