We're still three days away from the announcement of the Samsung Galaxy S8, and yet we know virtually everything about the phone. The CEO might as well just come to the stage and say 'You know it all, bye!' and just leave. Anyways, we hear new rumors about the device every day. However, we don't think they'll all make it to the final production. Here are the ones that we think will.
Release Date
By now, we all know that the Samsung Galaxy S8 is getting announced on March 29th. However, we don't know exactly when it will be available for purchase. We've gone through several reports and rumors, and almost all suggest that it'll start shipping around the last week of April.
Variants: Size & Color Options
They are set to launch the phone in two sizes namely Galaxy S8 and Galaxy S8 Plus. A very well known leaker, Evan Blass suggested that the S8 Plus will feature a 6.2 or a 5.8-inch screen. The regular S8 will probably sport a 5.5 or a 5.2-inch screen.
See also:
Talking about colors, we recently got leaked images from once again, Evan Blass, suggesting color options such as black sky, orchid gray, and arctic silver. Just a while ago, we also saw this violet variant. From what I saw, it didn't look premium at all and seemed bit dull so I wouldn't mind if it doesn't get launched.
Display
As mentioned above, Samsung's likely to launch two variants with screen sizes of 5.8 and 6. inches. While we aren't 100% sure of that, we are firm about the 90% screen to bezel ratio, as quoted by a Samsung spokesperson.
We don't see Samsung going any higher than a 2K resolution, at least on the smaller model. 2K is already very sharp for a small screen of 5.8 inches, and plus, it will have a significant effect on the battery life, unless they somehow manage to fit in a 5000+ mAh battery.
Other than that, we can also see from the leaked images that the edges of the screen will be curved just like on the LG G6, which reduces the chances of your screen getting cracked when the phone drops from the side.
Design
The S8 will feature a design very very similar to the Galaxy S7. The front will have curved edges just like on the current edge variant of the Galaxy S7. But this time, it'll also have those slopes on its sides like on the infamous Galaxy Note 7. As you can see in the image below, there is practically no space for the capacitive buttons and the fingerprint scanner/ home button. You'd think that they'd move it to the back at some comfortable position like on the Nexus 6P but no, not at all. It is placed beside the camera, which we might all just agree is a very awkward position.
Cameras
Starting off with the front camera, most reports suggest it'll  most probably have an 8 MP sensor, coupled with f/1.7 aperture. According to Blass, this will also serve as an iris scanner to unlock your phone. Another plausible feature of the front camera is a new autofocus system that occupies lesser space and is more accurate. We heard about this back in November 2016 EtNews reports, and it is something that isn't too far from being true.
The rear camera is as well set to have an f/1.7 lens and is rumored to maintain the same 12 MP camera from the S7. We've seen many companies going towards the route of dual lens cameras, but no single leaked image suggest so for the Galaxy S8 so we'd like to cut that out of the option.
Hardware
Like previous Samsung phones, there will be two different variants regarding processors used, depending on the region. One with the Exynos 8895 chip and the other with the Snapdragon 835. According to numerous reports, the S8 will stick with 4GB of RAM. With phones like the OnePlus 3T and Asus Zenfone 3 Deluxe featuring 6 GB of RAM, it might seem a bit less, but I honestly don't think the extra 2 GB RAM will make things significantly better. Although their newly launched Galaxy C9 Pro packs half a dozen of RAM so we might just get it on the Galaxy S8 too. Besides, they'll have two storage options (64GB/128GB) and will likely keep the microSD card slot.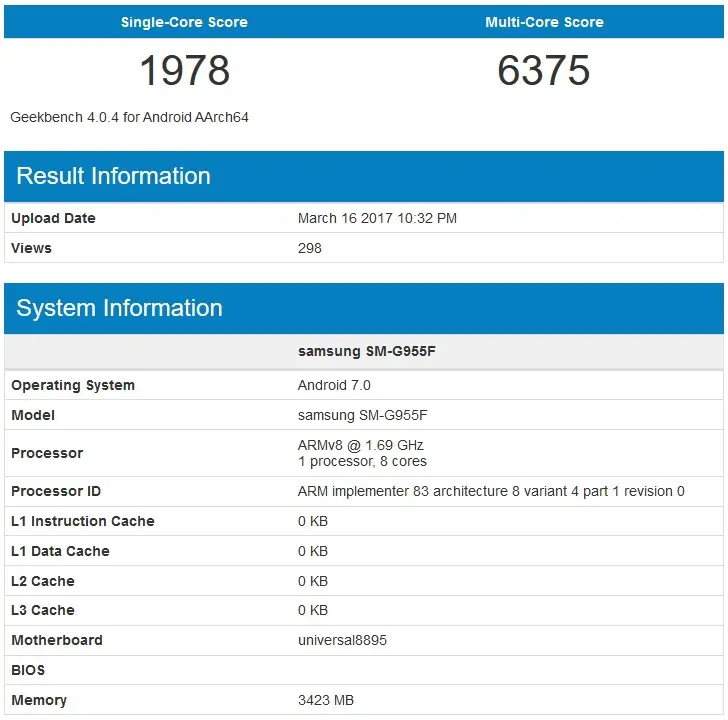 In 2017, a sub 3000 mAh battery just won't cut it. Thankfully, we've been hearing multiple rumors of 4,200 mAh battery on the Galaxy S8 and maybe even more on the Plus model.
As for connections, seems like Samsung won't be following the trends of removing the headphone jack, although they will be finally shifting to USB C. About damn time!
Software
There are no words on the infamous TouchWiz or GraceUI leaving the S8, but we hope it will at least be trimmed down. Being Samsung, we'll probably never get vanilla Android experience on the Galaxies but at least a refined version, much like the new Sense UI on the HTC U, would certainly be welcome.
One significant change on the Galaxy S8 software is the new Bixby voice assistant. Samsung says that Bixby will be able to do just about everything you can do with an app using touch unlike the ones available today that can either just open an app or just follow particular commands through the app. It'll also allow you to speak more casually without having to be too careful about the way you ask questions. Although we know little details like these, we still don't have much idea as to what things it can do.
We've also heard several rumors of a desktop mode on the Galaxy S8, in fact, there have been leaked blueprints of this technology and as well some pictures of the dock. It'll be called Samsung DeX and what it basically allows you to do is connect your phone to a dock which connects to a display. Then, you can hook up accessories like keyboard and mouse and start using it as a desktop computer. This is very similar to the Continuum feature by Microsoft
After the Note 7 disaster, this is a crucial launch for Samsung. It's their opportunity to make a comeback, and well these leaks and rumors make it seem like they will. We're really impressed by the thin bezels and the beautiful display and hope to see it soon.
Your Samsung Galaxy S8 Rumor/Leaks binge-down:
You might also like
---
More from Android
---
I have seen a wide range of devices with maximized screen real estate using a plethora of ways such as …
OnePlus 7T Pro is officially and available for sales in India tomorrow on Amazon. The Chinese smartphone maker launched OnePlus …
We are less than two weeks away from Google Pixel 4 series launch and Google is making efforts to keep …
Editor Picks
---