Would you like your Android smartphone to be even more powerful than it already is? Then you might want to consider opting for a personal assistant app, especially one powered by artificial intelligence (AI). AI assistant apps can perform all sorts of things for you while you take care of other important tasks. So, let's take a glimpse of the five best Android assistant apps to get in 2017.
Of course, you can't really go wrong by choosing something that's native to Android. Google Assitant is undoubtedly one of the best personal assistant apps you can get for your Android phone. The free app comes with plenty of features that will make everything about your day seem just a little better. You don't necessarily even have to download the app if you have Google Play Services turned on.
The app is aimed at providing you with information. You can ask for it directly, but the objective of the app is to recognize what you want to know before you know it. The app collects data on how you use your smartphone and where you are in the world. It then displays this information on cards you can see – for example, the scores for your favorite football team or your flight information. It can even help you plan your commute based on local traffic reports.
You should consider using Jarvis. The aptly named personal assistant app even has a voice that sounds exactly like a butler. Jarvis isn't just going to sound good. It has plenty of features that make using your phone and conducting little tasks easier. Jarvis links with the different functions of your phone and allows you to use them with voice commands. For example, you could turn on the flashlight or start Chrome without having to click those buttons. Of course, Jarvis is also able to do cool stuff like play songs or tell you what the weather will be like.
One of the more unique features of the app is its ability to set reminders to specific contacts. Therefore, you could make a note about a question you need to ask a colleague about, and when the person calls, Jarvis will remind you about the note before you answer. Furthermore, you can link it up with your Android Wear smartwatch.
Hound is a fantastic app by SoundHound. You can use the assistant without having to click a thing – the app is voice activated as you say "OK Hound". You can follow this wake-up call with your question or query. The great thing about Hound is that it uses natural language. You don't need to have to form the perfect questions or spend time figuring out what the best keywords are to use. In most cases, the app will understand your natural speech.
With Hound, you can send text messages or make phone calls to people. You can also perform searches on the Internet by asking questions. For example, if you are getting hungry, you could ask where the nearest sushi place is located. You can also order your Uber ride with it or book a hotel room for the night. The app requires GPS access, and it is free to use.
Now, some people can't stand Microsoft Cortana, but the app isn't as bad as people make it out to be. Indeed, if you are familiar with Windows 10, you might find Cortana an easy to use the app for your Android phone. Cortana comes with many handy functions, and it is one of the best assistant apps out there. The AI is magnificent and you shouldn't, therefore, completely disregard this product.
With the help of Cortana, you can search for information but also allow it to manage your day. You can schedule your meetings and Cortana will ensure you do what needs to be done in regards those planned events. You can also deal with packages and send text messages with the app. Perhaps the biggest downside is that you do need to have a Microsoft account to use it. However, the app is free to use.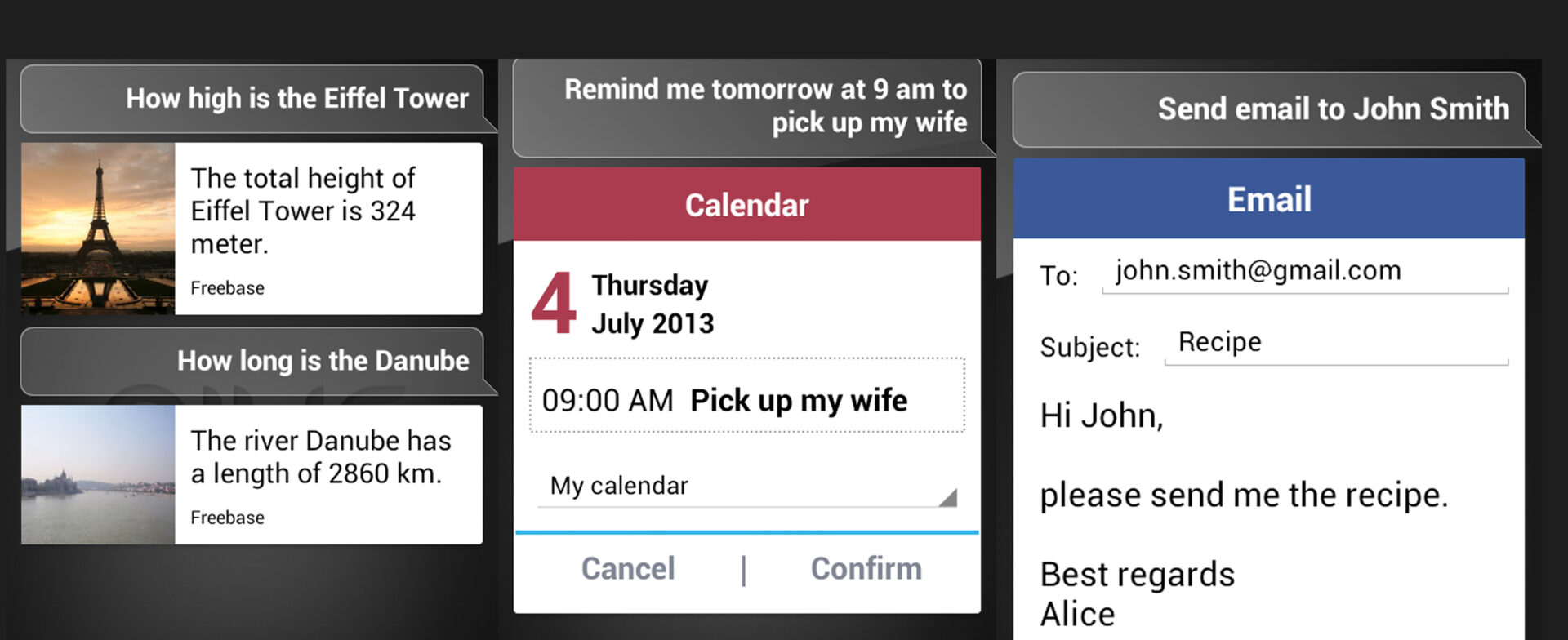 For something standard, yet super functional, you should go with AIVC. The app isn't anything as smooth as the other apps on the list but it, nonetheless, provides you with plenty of power. You can use it to start other apps, check the weather, set notifications, and timers, and even solve simple math problems. If you are into business, then you can use the assistant app to check out how stocks are doing and what different business news sites are currently saying. Of course, the free app also allows you to perform the usual tasks of calling, sending text messages and simple translation sentences.
If you want to take your smartphone use to the next level, check these five Android assistant apps. They'll make your life easier in a second!
You might also like
---
More from Android
---
There was a time when we were having smartphones being launched from companies such as HTC, Sony, Nokia and even …
Motorola unleashed its first-ever foldable smartphone aka Razr that tapped into the nostalgia people had with the original Razr flip …
After teasing itself in various leaks, rumors & whatnot, Realme X50 Pro Player has been finally made official in China …
Editor Picks
---