Asus Zenfone
Design and Build -

8/10

Performance -

8/10

Camera -

7/10

Software -

8/10

Pricing -

7/10
Summary
Comes at Rs. 23999, Asus Zenfone 4 Selfie Pro offers quite a few good features. The ZenUI has been improved a lot and feels snappier than ever. The phone features a dual camera setup for selfies with a specialised duo-pixel mode to improve the images.
Every year, we see a new trend in the smartphone industry. In 2017, we saw bezel-less displays with 18:9 aspect ratio getting popular and in the previous year, dual camera setup ruled the field. If there is any trend that seems unsettling, it for sure is of selfies.
We have already seen Oppo and Vivo targeting the selfie buffs and getting away with decent sales numbers (although their main selling medium is offline stores). Asus is trying to captivate the heart of the selfie-lovers with their most premium Zenfone 4 series phone, dubbed as Selfie Pro.
Asus ZenFone 4 Selfie Pro Review
The Taiwanese company is offering something great at sub-25K INR price range for selfie lovers. But is it that great? Let's find out.
Build and Design
Before we jump into the build and design, I want to tell you that the box contains a pair of earphones and a transparent back case, which most of the devices nowadays don't have.
When it comes to the build, the metal construction of the body evokes a premium feel when we hold the device in our hand. The phone will not slip out of your hands with or without the silicon case. One of the main aspects you notice about Zenfone 4 Selfie Pro is how thin it is. Measuring only 6.85 mm, you won't feel it to be bulky.
Of course, we are moving towards the time when 18:9 bezel-less display becomes a standard. However, you need to wait until getting the feature onto a Zenfone. The Selfie Pro's 5.5-inch full HD AMOLED display carries considerable amount of bezels on top, with the dual cameras and a few sensors. The 2.5 D Gorilla Glass protects the screen from accidental scratches. If you are a person who spends a lot of your time outdoors, the sunlight legibility of the screen will not impress you.
Below the screen, it has three capacitive buttons, of which the middle home button doubles as a fingerprint scanner too. They have placed power button and volume rockers on the same side (right). For the same reason, you might have to stretch your fingers to up the volume if you are a right-hander.
On the bottom of the screen, you can see a 3.5-mm headphone jack, a micro USB port and a single speaker. Although it excites me to have the good (and now-old) audio jack, the absence of a Type-C port is a bit of a disappointment.
Performance
Asus Zenfone 4 Selfie Pro packs in an octa-core Snapdragon 625 processor clocked at 2.0 GHz coupled with Adreno 506 GPU and 4 GB of RAM. You might have already known the Snapdragon 625 as the robust processor which made Xiaomi sell over 5 million Redmi Note 4 units in India.
The processor works just fine, handling almost everything thrown at it well. You won't find any issues with day-to-day activities. And, it even handles the graphic-intensive gaming titles in the way you want it to be. Of course, there is no wow factor about the performance of the device. However, you got nothing to complain about as well.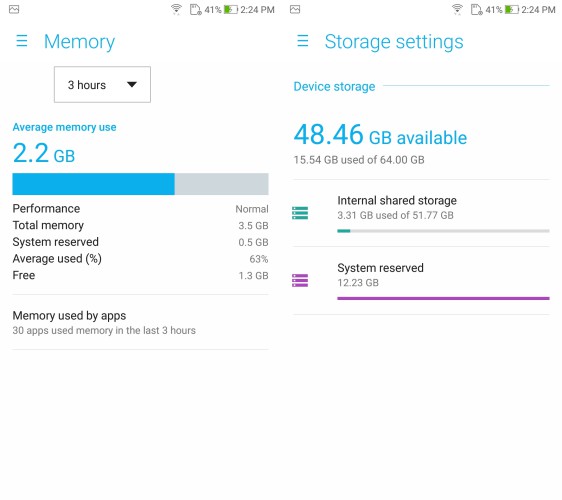 The performance is backed by a 3000 mAh battery, which you can charge swiftly as it supports fast charging. Even with a considerable time of playing games, Zenfone 4 Selfie Pro easily gets through a day on a single charge.
I have noticed the device getting heated up during gameplay sessions and camera usage. It might be unappealing and inconvenient for many as the device itself is labelled for taking selfies.
No, the performance and battery life aren't the areas the Asus offering has a better edge at. We can get the similar performance and better battery backup at only half the price.
Camera
Let me walk you through the spec sheet first. The rear camera holds a 16 MP sensor with support for gyro EIS (electronic image stabilization), dual pixel PDAF (phase detection auto-focus), and a dual-tone dual LED flash. When it comes to the front camera, it carries a dual setup with a 12 MP and a 5 MP sensor. The secondary sensor offers a 120-degree field of view, making the camera a perfect fit for groupfies. The surprising fact is the dual selfie cameras' 4K video recording capability.
This slideshow requires JavaScript.
The duo-pixel technology, which Asus promoted a lot works (not up to a great margin, though). The portrait mode is available for both front and back cameras to focus on a subject and blur the background.
Low-light photography isn't the best on Asus Zenfone 4 Selfie Pro. However, you can improve the pictures taken by the rear camera using the dual-tone dual-LED flash on the back. You can see the samples above. Apparently, HDR mode does make a difference in making the color profile vibrant.
When it comes to the front camera, the lack of a flash might create a problem for you given the phone is specifically designed for selfie buffs. If you get ample of light, you won't have to worry about anything. Asus can make you look exceptionally good using the beautification mode or the selfie master application.
Software
Ever since the first generation Zenfones, Asus sticks to their own ZenUI. I remember when I bought the Zenfone 5, it had too much of bloatware that I went on uninstalling/disabling most of them. Fortunately, you won't have to do it here as the Selfie Pro has a few pre-loaded apps. Alongside Facebook, Messenger, and Instagram, they have included Mobile Manager (like Clean Master), Themes, Selfie Master, and Babe (a news reading app, I guess. I didn't spend much time on it because it showed me text in a language I don't know).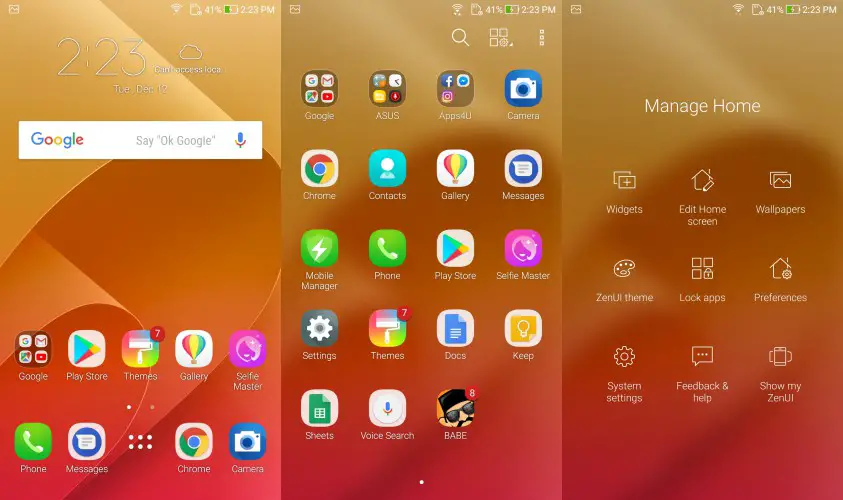 Zenfone Selfie Pro runs on ZenUI 4.0 on top of Android 7.1.1 Nougat. Despite Asus going lean with the skin, the functionalities remain the same. Along with the normal Nougat features (quick switch, dual apps, etc.), you do get some custom options too.
Twin apps let you use two accounts for one app simultaneously. The Page Maker helps you save articles from Chrome, so that you can read it whenever you want without taking time to surf. Game Genie is a custom setting that claims to improve the gaming performance.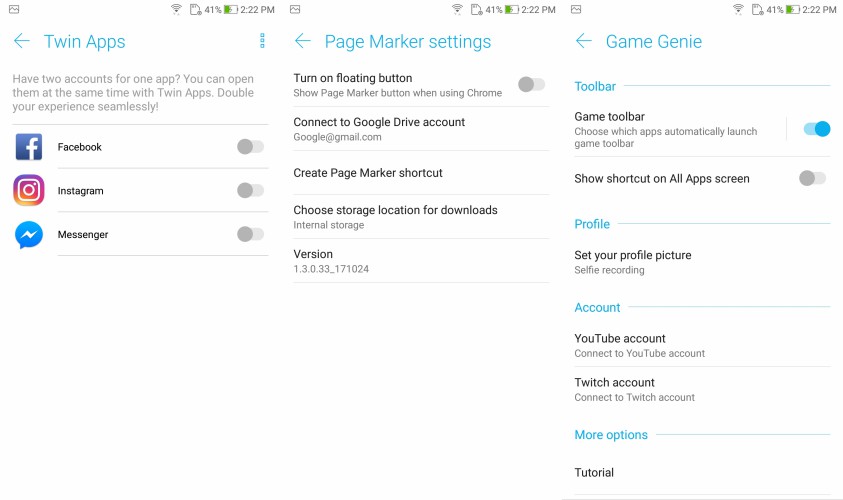 You have to bear in your mind that FM radio can only be accessed via the notification centre. They haven't added it to the list of apps.
I have been using this device for about a month now and I got more than four OTA updates as well. During my time with the phone, I didn't face any issues with the firmware like freezing or stuttering as ZenUI was known for it. Asus has pushed hard to keep the device optimized for better performance.
A positive aspect of Zenfone 4 Selfie Pro that I want to point out is the cellular reception. It depicted better signals than my primary device OnePlus 3 inside my home.
Final Verdict
Asus is selling the device for Rs. 23,999 on Flipkart. You now know what are the pros and cons of it. Would you be interested in buying a phone with above-average selfie camera and optimum performance? Then, Zenfone 4 Selfie Pro is the best bet. Get one and you will find it worth your penny. In case you don't want yourself or your group to appear impressively good in your selfies, you have got other cheap options in the market that offer the similar performance and better battery life.
More from Asus
---
Asus has launched the VivoBook K15 OLED lineup on Friday (October 1st) in India starting at just Rs 46,990/- making …
Asus held a virtual launch event " Create The Uncreated" on Thursday. At the event, it launched a tonne of …
Asus is gearing up for the next big launch with Asus ZenFone 8 series in the works. Some of the …
Editor Picks
---