Xiaomi Redmi Note 7 and 7 Pro. Millions of people have bought them and millions of people will buy them in the future. I have personally been using the Redmi Note 7 Pro since the day it came out and one thing that I need to share with you is my first impressions which I can guarantee will be your first impressions as well. So three things. First, it's beautiful, I got the blue version which is actually a gradient of blue and purple and every time tilt it, its a bliss. I do not want to hide it, I want to flaunt it. Insanely attractive.
Second, it's big, its actually huge along with which it is also pretty thick plus the camera bump in the pro version is much more pronounced than in the RN7 due to the 48mp sensor, and so when you put it on a table, the camera glass is in direct contact and at a risk of getting scratched up. also if you try to use it while it's kept on a table it will wobble and shake making it really uncomfortable to use it.
The third thing is that Its made up of glass, and it's Corning Gorilla Glass 5 so it should hold up against scratches to a great extent maybe even drops but the glass at the rear along with the smooth and glossy frame make this extremely slippery and from what I have seen online, it's breakable.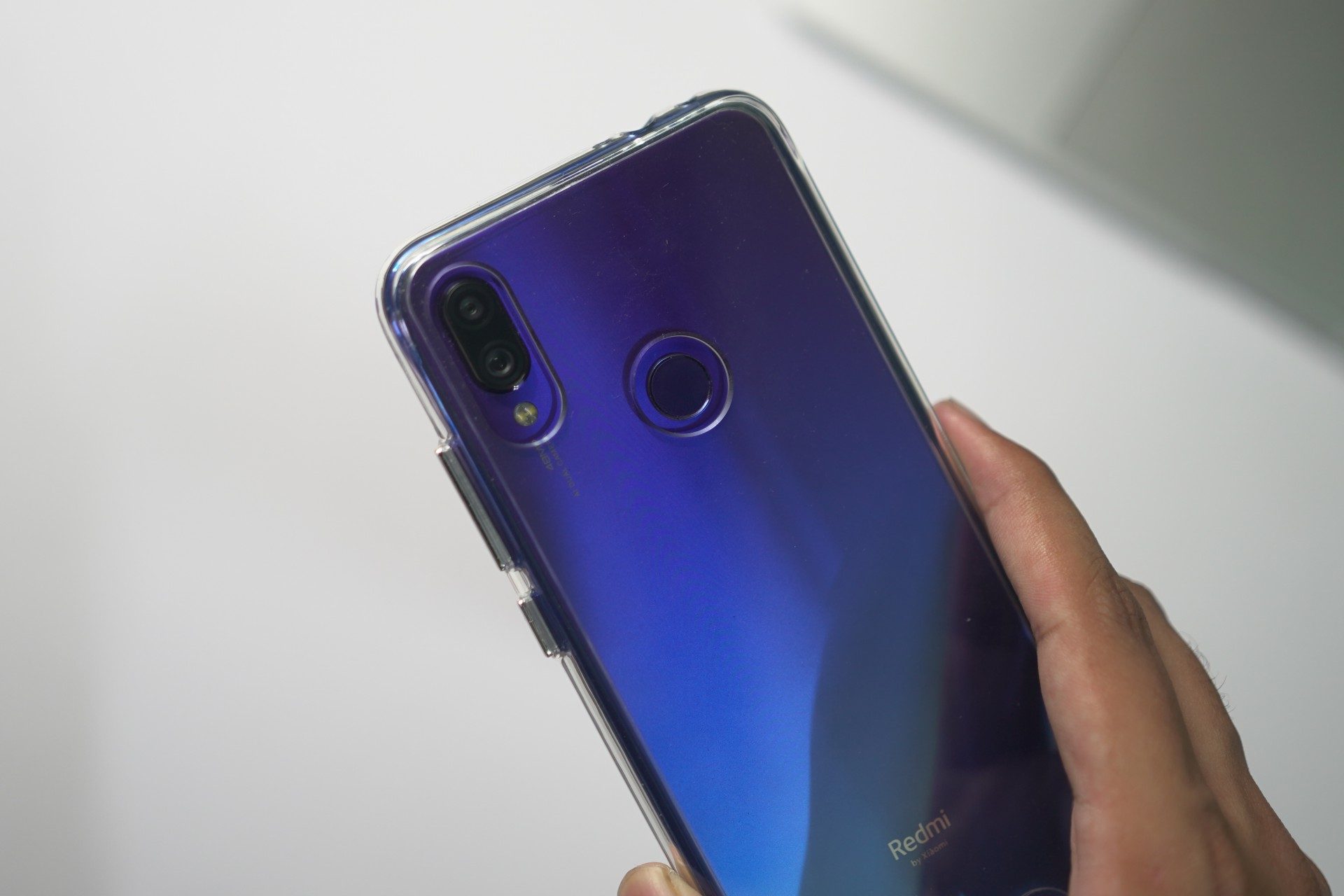 So when you combine the fact that it's huge, the fact that the pro version has a massive camera bump and the fact that it is very slippery there is no denying that you need a case. Now you actually get one inside the box but its a very basic, really thin soft case that can not protect the phone at all. It is not raised from the front so it does not protect the display glass if you put it face first, it also does not cover the camera bump on the Pro which is almost embarrassing.
As far as the third party options are concerned, there are two types available one is a clear case which is what I prefer and recommend because it allows for that beautiful gradient to reflect through but they are cheaply built they soft and flexible so they do not provide great protection, a lot of them also do not cover the camera bump on the pro which automatically renders them useless and on top of all this they don't have tactile buttons which is you know not cool.
The other type is a fully covered case which is supposedly protective but the problem is all the options are supremely ugly, all of them are really bulky, most of them have really hard to press buttons and most important of all they just hide the gradient color.
So if we make a Venn diagram and we exclude all the disadvantages of the two types and only include the advantages in the two sets, the intersection of the two is the dream, that is the goal. But is there anything like that? Actually, there wasn't so I made one.
 The First Step is the best case you can get for the Redmi Note 7 as well as the Redmi Note 7 Pro because of its attention to detail and focus on the little things. Its a clear case so it lets the back of the phone which is that gradient color shine through. It has a lay on table design meaning it is raised from the front so even if you lay your phone face first, the display is not in contact and not getting scratched up. It also unlike Xiaomi's own case completely covers the camera bump even on Note 7 Pro. So not only will it protect the camera glass from getting scratched up but also not let the phone shake and move if you use it on a flat surface. The most exciting part however that you might have noticed by now is the buttons. If you've been following the channel you would know how much of a sucker I am for tactile buttons and This has just that. the buttons are not created out of the frame itself as in all the other clear cases, these are an extra set of buttons that are integrated into the hardware. They are made up of plastic obviously to save up cost but they are incredibly clicky and there is nothing quite like it.
Now all of these things are the cherries on top of the cake. The actual cake is the build quality of the case. It's not a flexible case, it's a rigid hard case that doesn't add any bulk but is very protective in fact to satisfy you, I actually dropped it on camera in my launch video from which you can make out its strength. Although I still recommend taking precautions like applying a screen guard.
So all in all this is the case that I would personally use on my RN7P, its been in the making since months and now I can finally share it with you. But one thing that I haven't talked about is the price. I have kept a really low margin on this one so that all of you who own the Note 7 or Note 7 Pro or are getting one in the next sale will be able to buy this without any stress in a blink of an eye. So I am selling this at just ₹398.
That's The First Step even if you don't have a Redmi Note 7 or the Note 7 Pro, feel free to get this as a collector's item as this is not going to stay forever.
You might also like
---
More from Android
---
The ongoing feud between the US and China has forced many companies to look for alternatives. Oppo expressed that it …
You must have seen that there is a lot of talk about upcoming smartphones from OnePlus a few months before …
There was a time when we were having smartphones being launched from companies such as HTC, Sony, Nokia and even …
Editor Picks
---