Do you know that a while back Google finally introduced promo codes for developers? If you do you may be happy to know that there's now an app giving away those codes on a daily basis. The list of apps which are said to be "premium" is curated to make sure all the apps on it are premium.
How does the Promo Codes app work?
It's super easy to use the app, install it from the Play Store and hit the: "I'm feeling lucky" button to see if you've won right away. If you're lucky enough, you'll get one of the free promo codes which you can enter in the Redeem section of the Play Store. If you don't have as much luck today, it'll redirect you to the featured app's Play Store page with a message saying: "Better luck tomorrow".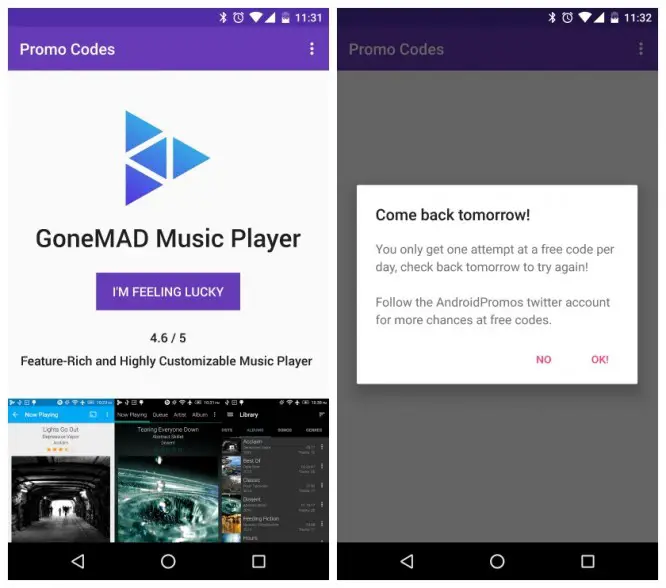 There's only one try every day to see if you get the featured app of the day for free, there's currently no way to get around the featured app of the day. Which means, if you aren't interested in the app or you already got it installed on your phone you're out of luck. It needs to be said though that most premium apps are already participating, including: Nova Launcher, Today Calendar Pro, Franco Kernel Updater, Relay for Reddit, Focus, Impressions, Shuttle, Twee, Progression and many other to come, as more apps are added daily.
If you don't think you're lucky enough to get it through the app, you could also follow the Twitter account made by the owner of the app, @Android_Promos, which auto-posts more promo codes every day.
You might also like
---
More from Android
---
The Redmi Note 13 Pro series will be unveiled in China in September, according to an official announcement from Xiaomi. …
OnePlus, the famed Chinese smartphone manufacturer, has just introduced its maiden affordable tablet, exposing the world to the OnePlus Pad …
We now have a first glance at the design and color options of the next Samsung Galaxy S23 FE according …
Editor Picks
---