Not every Android smartphone has the functionality to operate multiple apps at once. Now that the foldable displays are the new hot thing in the market (Samsung Galaxy F), Google is working on more effective approach towards multi-tasking and that is what was demonstrated at the Android Developer Summit and then at the Samsung Developer Conference 2018 a few days ago.
Multi-tasking or split-screen functionality allows the user to maximize the functionality of a screen by using its real estate with more than a single app at once without any hassle. But the feature responds differently in various smartphones and tablets enabled with Android.
As per the fact, when you are using a split-screen function with at least two apps at once, the phone will either feature a fixed split-screen in half, freeform, or it will have three apps at once, however, the thing is, when using this functionality with Android Nougat and below, the main app that you are interacting with is active but those apps opened on a split-screen but with those you aren't interacting with is paused. This prevents the app from working in the foreground and thus, the app works in the background and doesn't update at real-time until the user switches between the app window.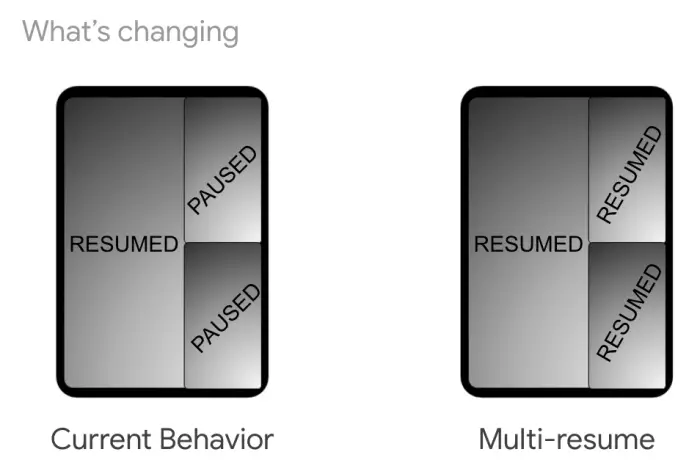 For instance, when you are interacting with one of the two/three apps at once, the app that you aren't interacting with like WhatsApp wouldn't update messages at real-time until the user taps on WhatsApp and interact with it. Google did add the latest Android Pie with a multi-resume function which is optimal since it let's all the apps in multi-screen view work simultaneously and not pause it in-between. But unfortunately, Google hasn't actually enabled the feature on Android Pie smartphones and thus, there is no way out to try it as of now.
But guess what, the upcoming Android version i.e. Android Q will enable the multi-resume feature without any hurdle. It will be a great feature in smartphones with the larger screen such as Galaxy S series of Galaxy F foldable phone among others.
You might also like
---
More from Android
---
OnePlus is one of the fastest growing OEM in the world and especially in India and China which are by …
If you were eagerly waiting to try your hands on $2000 Samsung Galaxy Fold, you might have to wait for …
Now you can use Facebook and earn while sitting at the comfort of your home thanks to the new New …
Editor Picks
---