iPhones hands down are one of the best smartphones when it comes to playing games. You can play anything from 2D or vector or casual games to high-graphics battle royale games and more. The App Store on your iPhone is a den with hundreds of thousands of iOS games and more keep coming every day. Turns out you can't try all the games on the App Store anyway. Thus, we at TrueTech give you a list of the top 10 best iOS games October 2021 that you can play in your free time. Dive into the list right away.
1. Baldo
Price:
Exclusive to Arcade
Albeit mixed response, Baldo is one of the new games to enter the App Store and shares a lot of similarities with Zelda although hardcore fans would deny it. The game offers a lot from a quest to solve cryptic prophecy to meeting a host of quirky characters on the way. You as the main lead Baldo are on a quest and in-between, you meet with a lot of friends and foes, locate hidden temples, on an escapade of epic adventure, collect objects on the way, and more.
This is a complete package if you want decently good graphics on a Zelda-like game but of course, not Zelda. Unless you are a Zelda fan or know what it is, you will try it for sure.
2. Fallout Shelter
Does the term "Fallout Shelter" ring any bell? In a post-apocalypse world, the game Fallout Shelter allows you to experience the frenzy of living in values in the wasteland. You have many tasks to perform such as managing power, water, and producing food while combating raiders, radroaches, and others in epic side-scrolling gameplay.
The most crucial task is to protect the vault where all the remaining humanity leaves from any sort of danger or whatsoever. Every player in the game is tasked with performing a specific task and more. Although it isn't an expansive game so give it a try.
3. Crossy Road
Why did the chicken cross the road is a popular saying. Crossy Road is a game with a pun intended, offering you a blocky structure. Your task is to cross the road but hey, there's traffic so beware. Pigeon is another character that you can play or you have a Unihorse at your disposal. Hit the vehicle and you lose the game or if you are drowned in water, the game is over.
It is a casual pastime that you would love to be honest. It is also one of the best viral smash games that you won't stop playing at an unending crossroad.
4. Beyond a Steel Sky
Price:
Exclusive to Arcade
After a much longer wait, Beneath a Steel Sky has now received a follow-up game titled Beyond a Steel Sky. You play the lead character of Robert Foster who is on a mission to save an abducted child. The trail takes you on a journey in the wasteland called Union City which is spearheaded and controlled by a benign AI.
The game has all the events you would love including thrilling adventures that will keep you on the edge, characters are driven by motivation, foes that you as Foster will have to tackle. There is a tonne of intricate and interwoven puzzles that you have to solve on the journey and more.
5. Stardew Valley
It is the No. 1 game in the role-playing category on the App Store. Stardew Valley is an open-ended RPG title that lets you farm with an expansive 50+ hours of content made for mobile users. There is a tonne of features such as multiple control options.
Turn the field into a farm, raise happy animals and crops that are harvested seasonally. The game has a tonne of thrilling components to enjoy such as mysterious caves, monsters to encounter on the way, and more. Unlike many other games, Stardew Valley lets you auto-save it and continue just where you left.
6. Clusterduck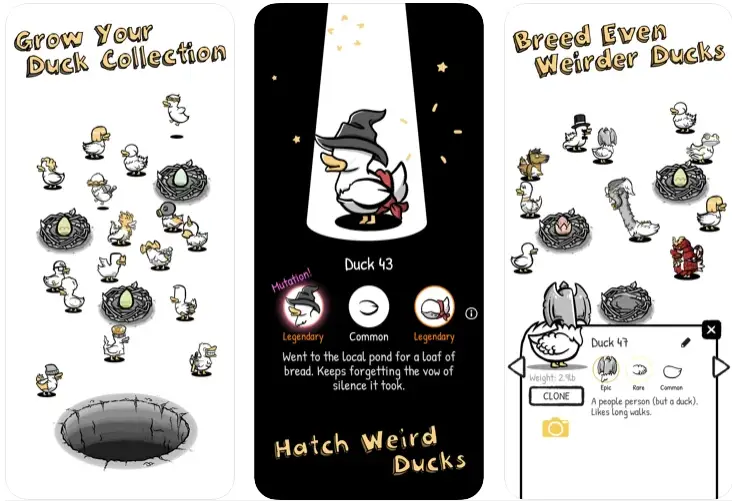 Okay, I know that it isn't the brightest game out there but for anyone who likes breeding ducks, Clusterduck is for them. You are responsible for hatching ducks and there are no numbers here, the more the merrier. These are not just ordinary ducks but some are genetically mutated as you move further from the current generation of ducks.
The game might seem like a futuristic world where the only inhabitants are ducks and you are there you breed them, sacrifice a few if they turn hostile or otherwise, and mutate. You need to breed rare waterfowls that you can achieve by breeding generations-after-generations thereby changing their appearance and other factors.
7. Under Depths of Fear
If you worship horror films, you would love this epic horror game that keeps you on your toes. You need to escape a haunted ocean liner as Alexander Dockter, a traumatized WWI veteran. As the liner is sinking slowly, you should survive it and escape the sinking ship only to know that something's onto you. A mysterious and malicious entity wants something from you.
The game takes you on a spin with flooding decks to surviving horror entities as it comes closer and closer. So, do you have what it needs to survive on a sinking and haunted ocean liner?
8. 1sland
Embark on a journey to find an island before any of your competitors find it in a multiplayer setup. Compete on a global scale and find islands before someone else does it? 1sland is a twisted game to the battle royale so you don't have to fight with others but compete in a race to discover the island as said. Upgrade the island once you find it and show others who is incharge of the island.
9. NeiR Re[In]carnation
Yet another game in this October 2021 listicle on the best iOS games out there. Neir Re[In]carnation lets you play the character of a girl who finds herself in a world full of buildings that seem to have infinite height touching the sky. Mam, a mysterious creature, follows her as her guide in discovering the new place called The Cage.
The game lets you battle with The Dark Monster or you can set the battle mode as auto to let your character fight off the enemies of its own. The game has vibrant graphics with a good storyline and gameplay that will keep you glued to it.
10. HoPiKo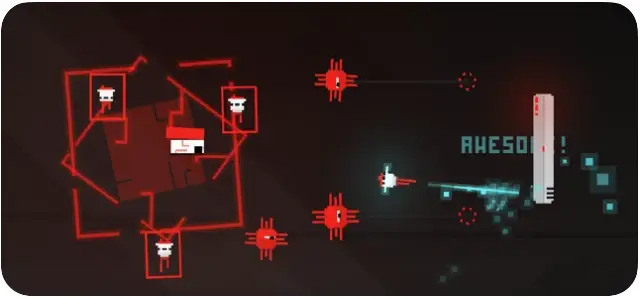 The game has everything from a chiptune soundtrack to flamboyant graphics, unique touch screen controls that give your hands muscle memory as you play along.
So far so good. This is the end of our listicle on the top 10 best iOS games to try in October 2021. The list consists of some free and paid games with a tonne of in-app purchases so user discretion is advised.
More from Android
---
Nokia XR20 has finally made it to India with its military-grade design, water-resistant IP68 ratings, and 3 years of major …
I am quite certain that you have already seen a tonne of renders, leaks, and specifications w.r.t. Google Pixel 6 …
Chinese smartphone maker Realme hosted a launch event in its home country to unveil new products. Along with two new …
Editor Picks
---