Apps, there are more than several million apps available on Google Play Store and I am very much sure that you haven't heard about most of them. There are still plenty of useful apps in any and every category hosted by Google Play Store that you must know. We update a list of the top 10 best Android Apps for every month on True-Tech and January 2021 is no different. This current list includes apps both new and old, paid, and free, and pans across distinct categories that will prove their usefulness when needed.
1. Instasize
When it comes to photo and video editing on your Android smartphone, don't forget to get your hands on Instasize. The app gives you an excellent array of editing tools right from abundant filters to borders and more. Make your photos and videos Instagram or any other social media ready in just a moment. Choose the right template for TikTok or Instagram or any other app to avoid images or videos getting clipped. It is absolutely free to use but you can also get hands-on with more than 130 premium filters, tools like acne remover, whitener, and more with its premium subscription.
2. HiPER Scientific Calculator
The default calculator app on your Android smartphone isn't equipped with calculating advanced mathematical equations and expressions. That's where HiPER Scientific Calculator comes into play with support to 100 digits of significance and 9 digits of exponent values. It can do functions from basic arithmetic operations to fractions, operator priority, derivatives, mixed numbers, repeated operations, and this is just the tip of an iceberg. It also supports nested fractions, integrals, symbolic computation, and works on both portrait and landscape orientation.
3. Resilio Sync
Are you the one who doesn't trust cloud storage services? If yes, check out Resilio Sync as it lets you create your own private cloud that you can use to file devices between NAS, PC, Max, or servers according to your choice. There's no storage limit as it's your system. The app automatically encrypts files during transfers to ensure prying eyes from hijacking or intercepting your data providing a topmost level of protection. You can access your files across any devices remotely with Resilio Sync. Furthermore, it supports PDFs, videos, photos, docs, and almost all of the file types you have on-board.
4. Disa
Fed up with scrolling between multiple messaging apps? Check out Disa, an app that offers you a unified interface allowing you to chat on multiple apps using a single app i.e. Disa. The app eliminates the need to have multiple messaging apps when Disa offers you an all-in-one messaging hub for all your needs and that's free of charge. It has features like a dark mode feature, merges chats from different apps unified by contacts, allows interacting with groups, and more without any hassle.
5. Monect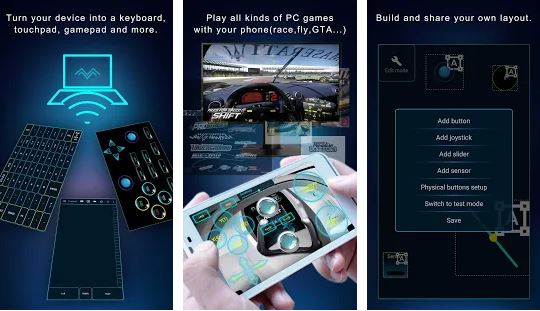 Assume that you want a mouse to control your PC or smart TV but couldn't find it? Try Monect, the app connects with your PC or smart TV via Bluetooth or Wi-Fi of all kinds and lets you play numerous games on the go. The app offers numerous sensors and button layouts that you can edit as per your choice. It has a 25* Bit AES session encoding that offers encrypted and protected transfer of data without any risks. Everything is happening in real-time including the screen and camera of your PC to the phone.
6. Photo and Picture Resizer
There are big things that transform your life and then, there are small things like this Photo & Picture Resizer. We usually have to crop images on-site on an app that we are trying to upload images to which is a big NO-NO. Apparently, Photo and Picture Resizer does exactly what it sounds like. You can reduce the size of the picture or resolution as per your will and wish. All without losing any quality and that is what makes it a great app. Plus, a Smart Image Resizer feature does your job automatically as well. It is necessary in today's time when every app presumably has different resolutions and size restrictions.
7. Fabulous
Fabulous is a truly out-of-the-box motivational and focus-centric app. It has won Google's Material Design Award and for good reasons. It is not just an average habit tracker but offers you more than what you will find on other apps. It lets you track your goals to get slim, improve your sleep cycle, attain mindfulness, among others. Pick any habit and you'll find corresponding content along with a strong community of millions of users where you can express things aloud without any worry. There are many reasons why you would pick Fabulous including irregular sleep, improving focus, and more.
8. Storytel
Enjoy a resonating listening and reading experience with Storytel, one of the largest audiobooks and e-books apps available in English and other languages. Discover novels to books to biographies and more with Storytel. Adjust listening speed according to your pace, use the Chromecast integration to stream it on a big screen. Storytel has numerous titles that you can binge-listen suitable from teenagers to old-agers. Simply launch the app, search, or scroll through the catalog and there you go.
9. Pro Guitar Tuner
Are you a guitar player and want to fine-tune your guitar? With a massive library providing over 100 tunings, Pro Guitar Tuner works like a usual guitar tuner but on an app on your Android smartphone. It analyses the sound emanating from your guitar in real-time and provides the necessary results that would help you get better guitar intonation. Pro Guitar Tuner is used by musicians, professional guitar makers, and folks at guitar repair shops.
10. Vlogit
Are you a Vlogger? Vlogit is a powerful video editing tool for YouTubers available absolutely free of cost. There's no watermark even on a trial version so you are in for a treat. Make impressive videos, add sound effects and music on the go with Vlogit. The app has features like exports in 1080p, no time limit and no watermark, customizable and animated openers, and stickers and much more.
That's the end of this month's Top 10 Best Android Apps You Must Try. We have been doing these listicles for a while and thus, you can check out other lists as well such as December 2020, November 2020, and so on.
You might also like
---
More from Android
---
I recently pondered the bustling neighborhood of South Mumbai. Instead of relying on others for information, I turned to Google …
Following a protracted period of speculations and leaks, Samsung officially held its first Galaxy Unpacked event of 2023 yesterday and …
Carl Pei the Founder and CEO of Nothing has revealed that the Nothing phone (1), which debuted in July of …
Editor Picks
---