We know that Google announced the new Pixel 4a smartphone in the budget range last month after a long wait of rumours and speculations. At the same time, Google also revealed that they have the Pixel 5 and Pixel 4a 5G ready to be launched later this year as well.
Now, we have received the official confirmation from Google thanks to an invite via a press release that the Pixel 5 launch event will take place on September 30. It is unusual to see the Pixel event taking place in September rather than the traditional October timeline but we are living in the weirdest of times so anything is fine right now.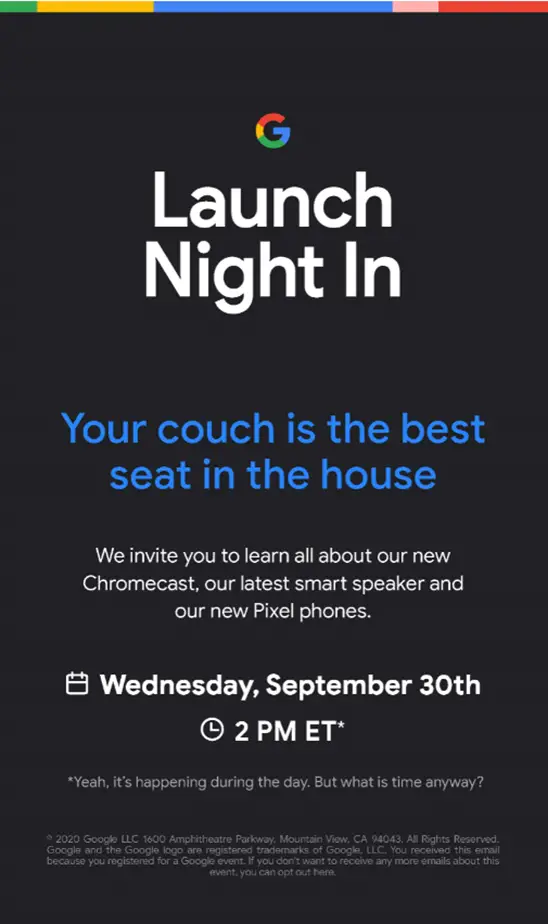 As for the Pixel event for September 30, Google says that "Your couch is the best seat in the house" which obviously refers to this launch event being a virtual one. Also, the launch tagline is "Launch Night In" which might be regarding some more features and improvements to Pixel's Night Mode.
Get your popcorn ready for #LaunchNightIn.Click below to know when to tune in. 👇 pic.twitter.com/RpKOinCDHj
Not only are the Google Pixel phones launching, but the company also says that this event will have "new Chromecast, latest smart speaker". We know that reports of an Android TV box from Google are floating around and it is indeed coming, it might come under the Chromecast branding.
As for the Smart Speaker, it will be an improvement to the Nest Hub speakers as well as the Nest Mini. The launch event on September 30 will start at 2 PM ET which is 11.30 PM IST. In the meantime, we would also like to remind you that Apple is holding their launch event for their new products tomorrow. As expected, and revealed by Bloomberg, it will be reserved for the Apple iPad and the Watch lineup so the iPhone 12 series is not expected tomorrow.
Coming back to the Google Pixel phones, we are going to see Google take a sombre approach this year by launching phones in the upper mid-range segment with Snapdragon 700 series rather than the top-of-the-line Snapdragon 800 series.
It will be interesting to see how Google prices these new Pixel devices because some reports say that the price cuts might not be as drastic as expected.
According to a few outlets, the Pixel 5 might still start at around the $800 mark which is asking quite a lot for a device powered by Snapdragon 768G same as the OnePlus Nord.
You might also like
---
More from Android
---
Micromax is ready to launch another device and this is a successor to 2020' Micromax IN Note. I am talking …
WhatsApp is currently testing out a feature that will allow users to transfer data from Android to iOS devices as …
OnePlus has a few concepts to its name, be it the OnePlus Concept One that was revealed last year with …
Editor Picks
---