If you are looking for the Best Chromebook for your budget you have landed on the right blog, we have compiled an article that lists the Best Chromebooks 2022 in every budget starting from low-budget Chromebooks to high-end Chromebooks.
Chromebooks are revolutionizing the computing industry. Despite the intense demand for high-quality tablets like the iPad and classic laptops like the MacBook, they have managed to carve out a niche for themselves in the portable computing sector.
These devices are in high demand right now, with many people choosing Chromebooks over less expensive Windows laptops because the evolution of Chromebooks is insane, despite its software loads the Chromebooks are best for college students or for casual workers who are looking for a laptop for just surfing and productivity works like docs, sheets, and Slides.
TrueTech has always looked to feed the best value of devices for its viewers on all products in consumer electronics indeed, we have listed the top 10 best Chromebooks for every price range, whether you need one for work, home, or school, you will find it in this article. Before getting into the rundown, let's have a quick look at some key specifications of a Chromebook and for whom the Chromebook is necessary.
It is a new kind of computer intended to make your tasks more efficient and quicker. They use ChromeOS which is based on Linux, an operating system with built-in cloud storage, the best of Google, and several security measures. Windows or macOS are not supported by these computers' operating systems.
Chromebooks are made to run operations that are often performed in a web browser. Although they offer a ton of app compatibility, they are not designed for demanding workloads. As a general rule, you can do the task on a Chrome OS computer if it mostly requires a web browser. A Chromebook might not be the greatest option when dealing with complex procedures that call for particular programs like software development, video editing, or graphic designing.
What is ChromeOS?
An open-source, lightweight OS specially designed by Google for Chromebooks or tablet PCs that access Web-based apps and stored data from distant servers and needs one-sixtieth as little hard drive space as Windows 7. One thing that I like about ChromeOS is it boots up in around seven seconds due to its extreme efficiency, and lightweight.
It used to be that this was just a glorified OS, but things have changed recently. Now, Chromebooks can run Android applications, and some even support Linux software. This makes Chrome OS computers useful for tasks other than online browsing.
Millions of Android applications and a big range of complete Linux desktop programs are available to you, unfortunately, you won't receive the entire desktop software catalog that Windows and macOS.
What's the difference between a Chromebook and a laptop?
A million-dollar question, what's the difference between a Chromebook and a laptop? Well, they may look similar but there are significant changes to both of these devices. Chromebooks presume an internet connection, but Windows and Mac computers are designed to operate offline. The distinctions become less clear in practice. While Chromebooks can run both Chrome OS and Android apps, Windows and Mac users now spend most of their time online and utilizing web apps.
But the built-in storage area is one of the notable hardware variations I see. Most ChromeOS laptops have a little amount of internal storage because ChromeOS is quite light and the majority of the programs are actually online apps.
However, the majority of ChromeOS users don't require a lot of storage, and if they do, external storage devices like external HDDs or SSDs are always an option. Some of these ChromeOS laptops come with an SD card port as well. Not to mention how much ChromeOS depends on online storage.
Advantages and Disadvantages of Chromebook
We will find several advantages to using a Chromebook a few of them are:
Chromebooks are less expensive.
The Chrome OS is quick and incredibly reliable.
Chromebooks' batteries last longer.
Chromebooks are less likely to get viruses.
Many Chromebooks are small and light.
Here are a few drawbacks of Chromebooks, though, that the manufacturers need to address.
Hardly any local storage. Chromebooks often only have 32GB of local storage accessible.
Google Cloud Printing is required for printing on Chromebooks, basically useless while not online.
No cutting-edge gaming capabilities.
Not even Photoshop or professional apps for video editing.
No support for software, I'm not asking for all kinds of software a few lightweights but necessary software should be able to install on Chromebooks so users don't have to rely on a Windows laptop for quicker access.
In a nutshell: If you are the type of user who is looking for a device for casual web browsing and who performs fewer productivity tasks using Google Docs, Sheets, or Slides then you can go for a Chromebook.
On the other hand, if you are a heavy user using software for programming, video editing, graphic designing, or performing any kind of heavy load work then you have no other options than going for a traditional Windows or Mac computer. Now let's get into the rundown of the Best Chromebooks 2022 in every budget.
---
1. Lenovo Flex 5 Chromebook
Best Budget Chromebook under $400
If you are looking for the best budget Chromebook under $400 then I would recommend you to go for the Lenovo Flex 5, we have still more options at this price range but considering all the aspects we see that Lenovo offers the best value for money Chromebook for this price range.
Despite costing less than $400, the Lenovo Flex 5 looks much nicer than other Chromebooks in this price range. In addition to having a smooth, soft-touch texture that is comfortable to hold, it is made to withstand all types of jolts and jostles while being carried in a backpack or briefcase.
A full-HD display, excellent performance, and long battery life are all features of this Chromebook, which also has an Intel Core i3-1115G4 processor, 8GB of RAM, and a 128GB solid-state drive. The battery life, at about 11 hours, is also excellent.
Additionally, you receive some benefits. One of the best keyboards on a Chromebook at this price range, along with a clear 1920 x 1080 touch display, it also boasts a convenient port selection that includes a microSD reader and a USB-C connector on either side.
The Flex 5i Chromebook does include a privacy shutter on the webcam so you can physically block it when it's not in use, despite the fact that it doesn't have a ton of extras. In order to write on it or draw on it using a USI pen, the touch display also has pen functionality. For its cost, capability, and size, it is undoubtedly among the top Chromebook models.
In a nutshell: The Lenovo Chromebook Flex 5 is a reliable mid-range Chromebook with a beautiful keyboard, great speakers, and a variety of connectivity options. Although its battery life and performance fall short, the $389 price tag on the 2-in-1 makes that tolerable.
---
2. Asus Chromebook Detachable CM3
Best detachable Chromebook for $350
With a MediaTek 8183 CPU, 4GB of RAM, and 64GB of eMMC storage, the Asus Chromebook Detachable CM3 is available at Amazon for $350. The CM3, which has a dual-folding kickstand that enables it to stand up like a laptop or fold horizontally, is our favorite detachable Chromebook.
One special feature that I love in this Chromebook is that the kickstand can be folded in two different directions, allowing you to either set the tablet upright like a laptop or horizontally like a tablet. The CM3 also has spacious keys a built-in USI pen, and these features.
In a Nutshell: Not everyone will find the CM3 to be the greatest Chromebook in comparison to more expensive options, it only has two ports one USB-C, and one audio jack and it's MediaTek CPU proved a little slow. However, if you're searching for a convertible Chromebooks then you may go for this Chromebook that can fit into your requirements.
---
3. Lenovo Chromebook Duet 3
Best 2-in-1 Chromebook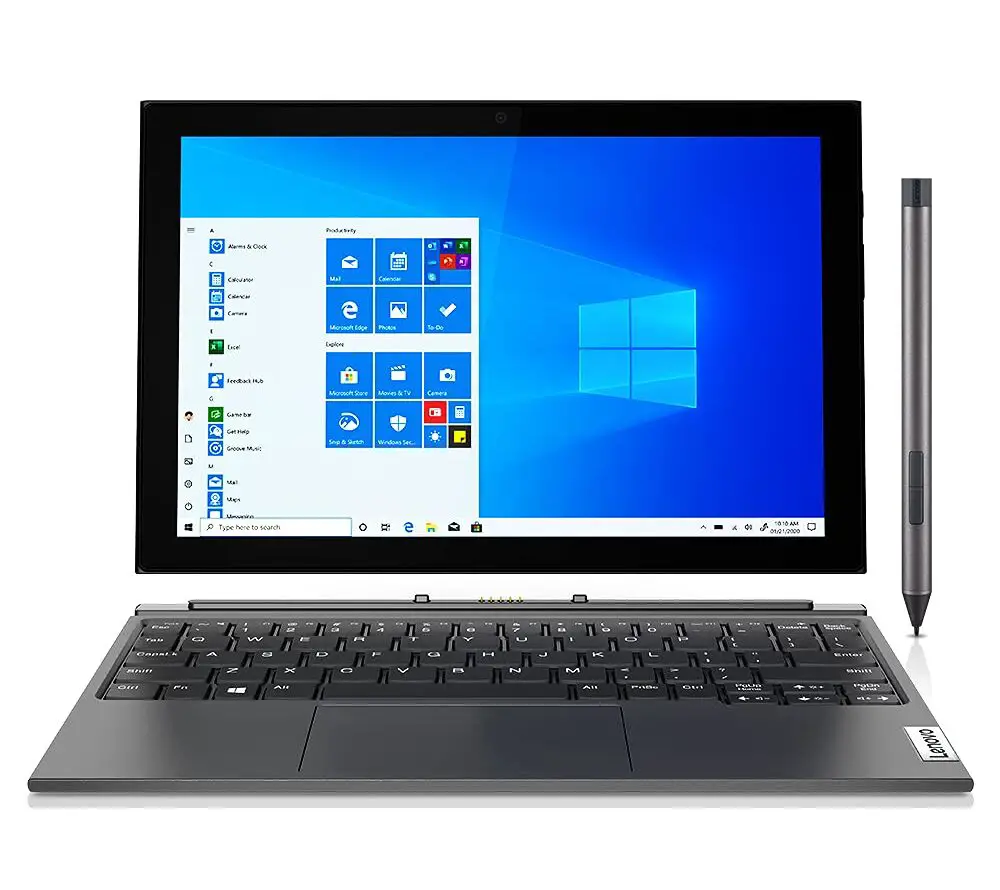 Why you should look for a Chromebook? In my case despite its performance and price, I would go for a Chromebook because of its portability and convenience, Lenovo occupies this space with its Duet Chromebook taking the 2-in-1 Chromebooks to a whole new level.
The fantastic 11-inch ChromeOS tablet with a detachable keyboard and trackpad, but its performance and little size make it unsuitable for continuous usage. For those on a tight budget, it's a fantastic device it includes a magnetically detachable keyboard that is simple to put on and take off. The pricing does not include a stylus, however, the screen does allow USI styluses. And the kickstand, magnetic back cover, and keyboard are all included in the cost.
There are some trade-offs: there are just two ports and the CPU becomes sluggish when you try to multitask more intensively. But at this price, there is no better option for Chrome OS users looking for a portable computer for entertainment and multimedia than this Chromebook.
---
4. Acer Chromebook Spin 513
Best Chromebook for Students for $350
The new Chromebook Spin 513 from Acer is a prime example, featuring a speedy and effective MediaTek ARM CPU together with a clear and brilliant 3:2 display I would like to confess that this Chromebook will suit students, and Acer aims this Chromebook to catchup the students market. The Spin 513 from Acer is a type of upgrade to the Spin 713, one of the top Chromebooks from 2021. It is a Chromebook with a 13.5-inch display that is a two-in-one convertible.
A USI pen may be used to take notes when using the device in tablet mode because the screen size is similar and is handy. It sacrifices a few less important features, including an HDMI output, in favor of a lower price as compared to the 713.
The Chromebook Spin 513 appears to be really fast in all areas. The Chromebook has a lot of RAM, which allows it to run several Android apps and numerous Chrome tabs simultaneously without experiencing any lag. It can manage Android games without any obvious stuttering.
---
5. Asus Chromebook Flip CX5
Best Chromebook Overall for $379
I see the Asus Chromebook Flip CX5 as the overall best Chromebook of 2022, becuase it is offordabel and has good configuration that can handle most of the tasks smoother and it also well designed. The ASUS Chromebook Flip CX5 took awarded the prestigious Good Design Award 2022.
Particularly for people who are familiar with the Android operating system, the Chromebook Flip CX5 with Chrome OS is simple to operate. This Chromebook has an ASUS pen and touchscreen. Application installation for Android users is simple.
Even while exerting a workload that makes most devices sluggish, the CX5's performance is as excellent. The battery life is really good and should last for a day. Additionally, the CX5's audio was among the strongest heard from a Chromebook. The CX5 is presently the best Chromebook available, despite its flaws.
---
6. HP Chromebook x360 14c
Best Chromebook for Online Meetings at $460
The Chromebook x360 14c is a choice if you're searching for an inexpensive Chromebook with good performance and a sturdy design. The large display on this high-end 13.3-inch HP Chromebook makes it easy to fit two side-by-side windows and is good for online meetings and especially for media consumption. The HP Chromebook x360 has a two-in-one design, allowing you to use it as a tablet. You may also use it as a compact all-in-one computer by tenting it, and connecting an external keyboard, and mouse.
This HP Chromebook costs between $500 and $600, is powered by Intel Core processors, and handled typical office jobs with no problems, and one of the best things that I have noticed in this Chromebook it its webcam the camera surprised me with how well it performed.
With a weight of 3.35 pounds, it is also not the lightest item on the rundown. But in the end, it's a nice feeling and nice-looking device that works well for video conferencing. But the standard cost of this higher-end setup is $699.
---
7. Acer Chromebook 317
Best Chromebook under $500
If you are looking for the best Chromebook under $500 then you can consider buying Acer Chromebook 317, It is an all-in-one ChromeOS desktop. One of my favorite features of this Chromebook is multitasking, Acer made multitasking easier because of the large display. With no overlapping windows, you may watch Netflix in the background while working on a webinar, checking email, or chatting with your loved one.
Users benefit from a wider, more flexible workspace thanks to the huge Full HD 17.3-inch display with an anti-glare coating, slim bezels, and an optional touchscreen. You can get an additional productivity boost when the wide touchpad, optional illuminated keyboard, and integrated numeric keypad are used together.
No matter how many programs you want to run in the background or how many tabs you prefer to have open, more RAM and a faster CPU will keep everything operating smoothly. The bargain really gets better when you include extras like the full-HD webcam and touchscreen.
---
8. Samsung Galaxy Chromebook 2
Best Budget Chromebook from Samsung $560
I still can believe why Samsung named this Chromebook Galaxy Chromebook "2" because it's not a successor to the first-gen Chromebook from Samsung because of its features and specifications, and price. With a $1,000 price tag, an OLED display, a bundled pen, and a luxury design, Samsung's first Galaxy Chromebook was released. The Galaxy Chromebook 2 is a fair purchase from a well-known company since it isn't so much a follow-up to that product as it is a simplified, more cheap option.
This Samsung Chromebook sequel is cheaper than the first model since Samsung scaled back several of the original's features and components. The Chromebook 2 is the first Chromebook to ever use a Samsung QLED display. Although QLED is only a nicer LED and not an OLED, it nevertheless has one of the most stunning displays on a Chromebook.
It boasts an Intel Core CPU, 8GB RAM, a touchscreen, and tablet capabilities. The Samsung Galaxy Chromebook also boasts a significantly longer battery life, and Samsung managed to do this without sacrificing any of the luxury appeals of its predecessor. If you are looking for Chromebook for a casual usage not so intense tasks in a Chromebook then I would recommend you to go for the Samsung Chromebook 2 because of the brand value or else, we have more options in contrast.
---
9. Lenovo ThinkPad C13 Yoga Chromebook
Best Premium Chromebook at $640
It features a strong, durable construction that looks and feels upscale. It features a powerful CPU, a fantastic keyboard, and a sturdy screen, and it's made by a well-known company with a loyal following of customers. This Chromebook, unlike many others in its class, is not intended for children or students. A reliable, expensive, convertible Chromebook for adults is the C13 Yoga. It is a member of Lenovo's famed ThinkPad business series and has a red Trackpoint, discrete touchpad clickers, a fingerprint sensor, a camera shutter, and an aluminum body.
Additionally, the ThinkPad C13 Yoga Chromebook has an AMD CPU rather than an Intel one. A dual-core Athlon Gold 3150C processor, paltry 4GB of RAM, and subpar 32GB of eMMC flash storage are all features of its system.
Additionally, it contains two cameras, a fingerprint reader, and a pen that stores in a slot on the front edge. The Yoga has two cameras: a 5-megapixel world-facing camera above the keyboard that can be used to take pictures while holding it in tablet mode, and a webcam with a privacy shutter that is centered above the display.
The Lenovo C13 Yoga is a fantastic 2-in-1 for organizations selecting Google Workspace, even if it is more expensive than consumer Chromebooks.
---
10. Acer Chromebook Spin 714
Best Chromebook for 2022 at $799
The premium two-in-one maintains the same features as its predecessor, including a solid build, a lovely display, great performance, and long battery life. However, Acer made some improvements to the 714 to stay competitive, such as adding a USI pen that stores and charges within the device.
The Acer Chromebook Spin 714 has some excellent specifications, including a 14-inch screen and an Intel Core i7 CPU that can go up to the 12th generation. I do, however, hope that Acer can fix the minor problems I ran into during my initial hands-on time with the product.
In general, push down on most of the keyboard's surfaces to see it flex inward without exerting much power. The very top area of the keyboard can dip rather badly. Acer stands out by producing an inexpensive laptop that is exceptional in nearly every way in a market where the primary distinctions between Chromebooks in this price range come down to their displays and maybe an integrated stylus.
---
Final Verdict:
These are some of the best Chromebooks that we have handpicked in every price range, I hope this article helped you to choose the best Chromebook at your price range, if you find this article useful consider sharing it with your friends who are looking to buy a Chromebook they will also make use of this article in selecting the best Chromebook for 2022.
More from Deals
---
Best Smartwatch deals enable consumers to buy the value for money smartwatch for their budget without compromising things, I would …
The holiday season is approaching soon, with the month of November bringing us the joy of shopping with Black Friday …
The month of November is special because it is the season to shop for the holidays, and theBlack Friday 2022 …
Editor Picks
---