It is finally here. After waiting for months, Huawei finally showcased its Huawei Mate 30 series on September 19 and I must say, the specs are truly impressive. The event was hosted by Richard Yu, the CEO of Huawei itself who brought us closer to Huawei Mate 30, Huawei Mate 30 Pro, and a lavish Huawei Mate 30 RS Porsche Design which is the epitome of luxury infused with world-class and superior functionalities. Huawei Mate 30, Huawei Mate 30 Pro Launched: All You Need to Know 
Huawei Mate 30 & Mate 30 Pro: Design & Display
It would be embarrassing to compare Huawei Mate 30 series with any other smartphones since it has brought too much onboard. With the perfect blend of superior functionalities and sophisticated yet futuristic design, the Huawei Mate 30 series looks exquisite. The event addresses the first thing i.e. the trending sqauricle camera bump that Huawei introduced a few years ago. The same design is literally across the board with iPhone 11 series hosting it as well the upcoming Google Pixel 4 and 4 XL.
However, Huawei wanted to be unique and thanks to the superior camera prowess that Mate series have promised over its last two years, Huawei Mate 30 series comes inspired with professional and iconic camera bump i.e. its exquisite Halo Ring Design which shows a circular camera bump with triple & quadruple cameras inside it along with a centimeter wide circle that encompasses the circumference of the Halo Ring that offers the right blend of reflection and refraction thanks to the 3D glass back as well.
Huawei Mate 30 comes with a 6.62-inch Rigid OLED display with an aspect ratio of 19.5:9, DCI P3 HDR with 65% anti-blue light filter and a cinematic display with color enhancement. With a futuristic design, the phone is compact and easy to hold with a width of 76.1mm and weighs at 196g. It has a minuscule 2.8mm bezel around the left & right edges along with 4.0mm chin.
Huawei Mate 30 Pro on the other hand packs in a giant 6.53" Flex OLED Super High Resolution display with 25% anti-blue light filter, DCI P3 HDR+, Cinematic Color with the first-ever Huawei Horizon Display with the most curved display of over 88° which is far greater than what iPhone 11 Pro and Samsung Galaxy Note 10+ offers. In fact, the display appears as a waterfall with no bezels around the left and right edges which is something extraordinary to achieve. The chin is at 4.8mm while the notch is 26.6mm that includes everything from 3D Depth Camera, front Selfie camera, Gesture Sensor, Ambient and Proximity sensor and other stuff. To put things into perspective, iPhone 11 Pro has a notch of 34.8mm which is way beyond what Mate 30 Pro has on offer.
Although Mate 30 retains all the hardware buttons i.e. volume rockers and power button but Mate 30 Pro has just the power button as the waterfall display doesn't give enough room for the volume rockers to be placed. But don't worry because Huawei has your backs. It has introduced Invisible pressure-sensitive keys based on gestures that enable lowering and increasing the volume and since it is dual-sided, one can actually use both the edges for it. There is an invisible shutter button for the camera as well and everything is covered with IP68 water and dust resistant while the standard model comes with IP53.
Finally, we also get Huawei's Acoustic Display Technology which produces sound right from beneath the display so there's no speaker grille as well.
There is a Huawei Mate 30 Pro RS (Porsche Edition) as well that brings the top-end 12+512GB of storage and brings the most extravagent design with all the functionalities and specifications of the higher Mate 30 Pro with Porsche Design with a handcrafted genuine leather back panel and it is available in Red and Black classic colors and comes equipped with a hoard of luxury accessories that one can buy with it.
Huawei Mate 30 and Mate 30 Pro: Performance & Battery
Well, Huawei Mate 30 and 30 Pro are actually the powerhouses of the fastest processors from Huawei's in-house chipmaking wing HiSilicon. Both the smartphones have Kirin 990 5G chipset manufactured with the first-ever 7nm+ EUV process and combine key components such as first-ever 16-core Mali G76 GPU with Big-Tiny Core Architecture NPU, BM3D DSLR-level Image Noise Reduction, 5G NSA SSA SoC, and Dual-Domain Wide with Noise Reduction ISP.
Apparently, Huawei showcased the improved metrics compared to the previous generation of Kirin processors. It performs at an impressive 23% more than the previous-gen as well as its GPU has been improved by 39% and finally, its NPU has been greatly enhanced by 460%. Furthermore, the power efficiency has been tweaked as well with 23% power-efficient CPU, 32% power efficient GPU and 290% power efficient NPU.
Huawei has also introduced a boatload of Ultimate OS Optimization which has enhanced the performance of 60% GPU Turbo, Deterministic Latency Engine Response Latency by 25%, and 20% enhanced ROFS i.e. Random Read Performance. To put things into context, the Huawei Mate 30 series has a 29% better latency and 49% better performance fluctuation than Samsung Galaxy Note 10+.
Speaking about the battery at our disposal, Mate 30 comes with a large 4,200 mAh battery while it elder sibling Mate 30 Pro gets a 4,500 mAh battery capable of producing battery backup of 8.2 and 9.2 hours respective on Super Heavy Usage. Huawei Mate 30 series also brings 40W wired and 27W wireless charging with 3x Reverse Charging Speeds capable of charging various Huawei products such as its FreeBuds, Huawei Watch GT and GT2 among others.
Huawei Mate 30 and Mate 30 Pro: Camera
There's no doubt that both Huawei Mate 30 and Mate 30 Pro has the best-in-class cameras. Starting with Mate 30, it comes with SuperSensing Camera Array which brings its triple-camera setup arranged in Huawei's Halo Ring Design. The primary sensor is a 40MP SuperSensing Wide camera with 27mm focal length and f/1.8 aperture. It is flanked with an 8MP telephoto sensor with an 80mm focal length with an aperture of f/2.4 with OIS and finally, there is an Ultra Wide-angle 16MP sensor with f/2.2 and 17mm focal length.
According to the stats, the Mate 30 is capable of ISO 204750 and brings a top-notch 45x zoom which includes a 3x optical zoom with 20x digital zoom. The setup brings OIS + AIS on board and it is capable of shooting macro images and videos at a distance of 2.5cm and the whole setup is from Lecia. The 40MP SuperSensing camera is an RYYB sensor which absorbs 40% more light with a larger sensor size of 1/1.7" which is bigger than the one you will see in Galaxy Note 10+.
Huawei Mate 30 Pro takes the camera setup to the next level with a quad SuperSensing Cine Camera which brings a 3D Depth sensor, 40MP SuperSensing wide-angle camera with f/1.6 and 27mm focal length. We also have a secondary 40MP Wide-angle camera as well which brings a focal length of 18mm with OIS and an aperture of f/1.8 flanked with a fourth telephoto 8MP sensor. Mate 30 Pro brings Pro Bokeh onboard along with Dual OIS + AIS and an ISO of 409600 which is far greater than what even the most flagship has on offer. Both the 40MP sensors are RGGB CFD and RYYB CFA sensors that work in conjunction to bring the best of images and videos.
The quadruple-camera setup is capable of shooting 4K at 60fps along with Ultra Slow Motion photography at 7680 fps which is roughly five to six times than what iPhone 11 Pro and Samsung Galaxy Note 10+ have on offer. Finally, the Mate 30 has a 24MP sensor at the front while Mate 30 Pro comes with a 32MP sensor.
Huawei Mate 30 and Mate 30 Pro: Storage & Features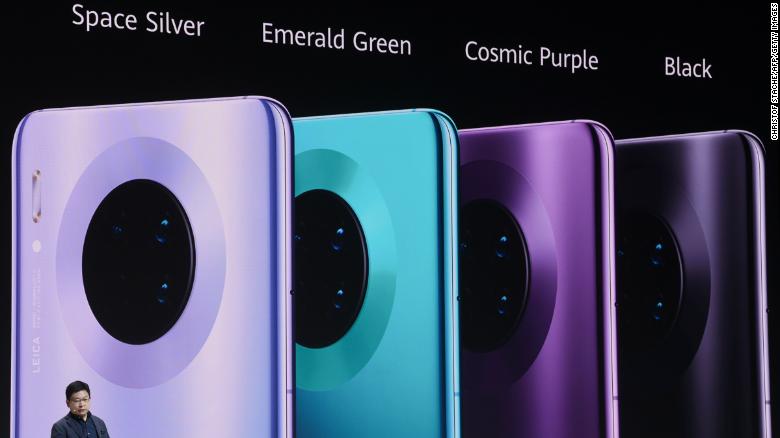 Huawei Mate 30 brings 128GB + 8GB RAM onboard along with a higher tier of 256GB + 8GB RAM while Mate 30 Pro has the same storage variants as well. Both the phones use the fastest UFS 3.0 for storage and comes with hybrid expandable memory slot up to 256GB using Huawei's proprietary NM Card.
Huawei has introduced a state-of-the-art Graphene Film Cooling Technology which keeps the phone up to 3.9° Cooler than other 5G devices. Furthermore, we have a varied range of features onboard such as Multi-screen Collaboration with 4096 pressure-sensitive levels thanks to the Pen. Huawei has introduced the highest level standard for storing biometric information thanks to TEE with Proprietary MicroKernel and it is the highest standard CC EAL 5+ certified.
We have features like AI Auto-Rotate that keeps an eye on your eye to rotate or not. It's Privacy Protection from app tracking keeps apps from using methods to trace your location while the Private Message feature keeps anyone else from prying on your messages and even when it is a notification on a lock screen where it hides.
Huawei Mate 30 & Mate 30: 5G
Yes, Huawei Mate 30 and Mate 30 Pro has a standalone 5G versions as well. Both the standard 4G and 5G variants of Mate 30 and Mate 30 Pro are similar in every way possible but comes with 5G modem integrated within the Kirin 990 i.e. the Kirin 990 5G chipset that was released along with the 4G variant.
Huawei has worked a lot of its 5G technology and Kirin 990 5G has a lot to onboard such as 21 antennas with 14 antennas dedicated to 5G. Huawei has introduced the most advanced 5G with its Mate 30 series that supports 5G bands and grab a download speed of 1,516 Mbps which is way more than Samsung Galaxy Note 10+ 5G which has an average download speed of 985 Mbps when compared.
Furthermore, 5G modem mounted on Kirin 990 5G is 25x faster than 4G and 50% faster than Galaxy Note 10+ 5G and yes, it supports dual 5G where users will have to use two Nano-SIM cards or they can a single SIM with NM memory card to extend the storage.
Huawei Mate 30 and Mate 30 Pro: Prices & Availability
Huawei has introduced a lot of color choices from Black, Space Silver, Cosmic Purple, Emerald Green, with Vegan Leather Orange Edition and Vegan Leather Forest Green Edition. Here's the pricing related information –
| | |
| --- | --- |
| Models | Price |
| Huawei Mate 30 (8+128GB) | EUR799 |
| Huawei Mate 30 5G (8+128GB) | EUR899* |
| Huawei Mate 30 Pro (8+256GB) | EUR1099 |
| Huawei Mate 30 Pro 5G (8+256GB) | EUR1199 |
| Huawei Mate 30 Pro RS (12+512GB) | EUR2095 |
More from Android
---
Talk of Black Shark 3 has been around for a while now. This is hardly surprising given the popularity of …
Xiaomi is about to launch a series of smartphones this year. Fortunately, one of the Redmi devices to arrive this …
One of the biggest technology events for this year, the MWC 2020, got cancelled as announced by the GSMA. Now, …
Editor Picks
---