Before marking the official launch on March 26 in Paris, Huawei's upcoming P30 and P30 Pro might have made it to the headlines. According to a tipoff from a representative at Huawei India PR Team, we received an enthralling image captured by Huawei P30 Pro quad-camera setup which is a perfect instance of epic photography using a phone.
Huawei launched the P20 and P20 Pro last year where the latter became one of the few contenders competing for head-on with DSLR cameras which is a great achievement. To step forward in the game, the Chinese smartphone maker Huawei is reportedly working on the successor better known as Huawei P30 Pro speculated to launch on March 26 in Paris and it sports a state-of-the-art quad-camera setup.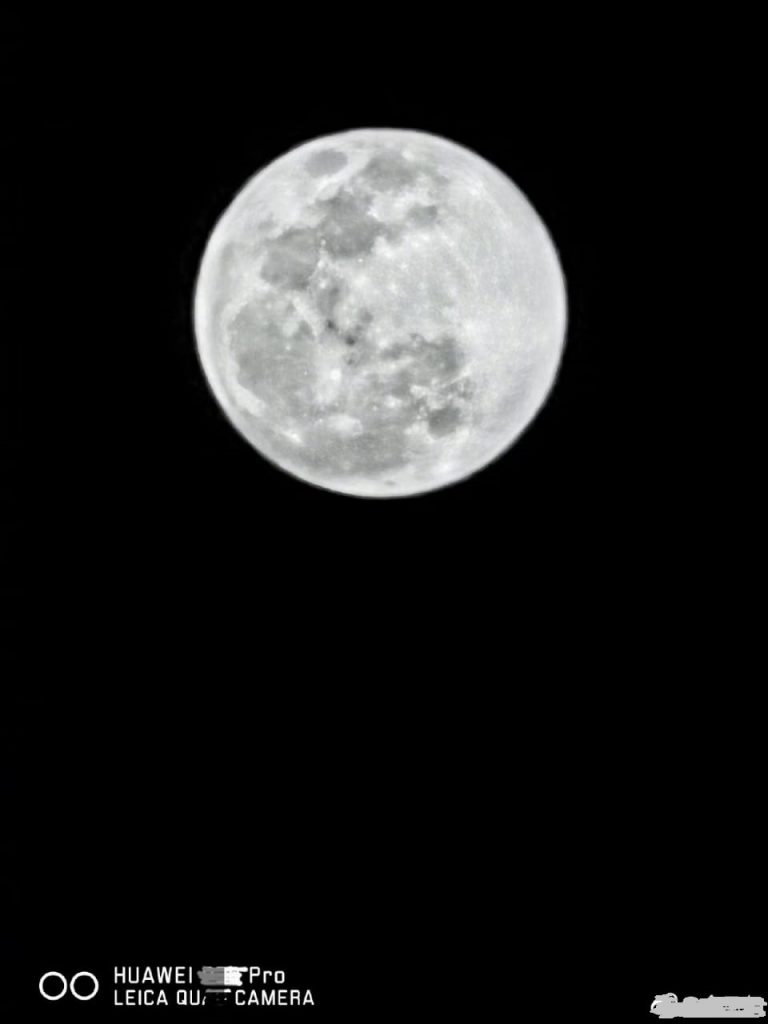 Simply glance at the image capturing the almighty moon which is about 300 million kilometers away from the Earth. Although the watermark has been obscured, it is quite evident that the photo was captured from an upcoming Huawei P30 Pro which sports a quad-camera setup with impeccable zooming capabilities. The image is sharp even after zooming it that allows the user to distinguish the gradients on the moon which isn't possible using an ordinary smartphone which makes P30 Pro way-above-averages and even above high-end devices promising to have better camera setup.
This shows just how clear photos P30 Pro can capture even in low-light conditions possibly due to a combination of a different lens with zooming capability and larger megapixel count. According to the rumors, P30 Pro will horn a colossal 40MP main sensor although a different set of reports suggest that it will sport a 38MP Sony IMX607 according to GizmoChina. Further, the secondary sensor will be a periscope lens with 5x lossless zoom capability which is a feature that allows the camera to capture high-quality images without losing any data due to compression. Other two cameras are expected to be a wide-angle lens and a possibly 2MP or even 5MP Time-of-Flight (ToF) sensor which is currently a new tech for better 3D scanning, augmented reality and more and it will be a Leica supported camera assembly which undoubtedly one of the best.
previous reports state that Huawei will launch Huawei P30 with a 6.1-inch OLED panel with 8GB RAM while the higher-end Huawei P30 Pro will host a 6.5-inch OLED display with 12GB RAM which is a direct competition to largest trim of Samsung Galaxy S10+ that will bring 12GB onboard although along with 1TB of internal storage. It also speculates that the front-end will get 24MP selfie snappers whilst there will be a triple-camera assembly on P30 similar to last year's P20 Pro. Adding onto it, the Huawei P30 Pro will grab a quad-camera setup for its back panel which is quite evident with the watermark on the photo which isn't "P20 Pro" or even "Mate 20 Pro" for sure.
You might also like
---
More from Android
---
July 23, book the date because the date is no ordinary. It is when Xiaomi will unleash what it summoned …
Remember when OnePlus co-founder Pete Lau made it official that OnePlus TV is actually in the making, well this is …
Do you remember about the mysterious Nokia Daredevil that I wrote about before? You can read about it here. Well, …
Editor Picks
---