On June 7, Apple held its WWDC 2021 event that was packed with a ton of announcements about the upcoming products and software. The one that people were waiting for eagerly was the iOS 15 that received the much-anticipated official launch at the WWDC 2021. iOS 15 brings a ton of new features including features that leverage on-device intelligence, more privacy-related features, system-wide emphasis on sharing and communication, and more. Here are all the features that the new iOS 15 brings on-board on iPhone 6s and later this fall.
FaceTime is at the center of the biggest change that iOS 15 brought about. Now that it has been more than a year since almost everyone is on work from home due to the ongoing COVID-19 pandemic. To bring about positive changes towards FaceTime, the iOS 15 will bring Spatial Audio. This feature will transform a virtual room full of participants on FaceTime into an actual face-to-face meeting-like situation.
Spatial Audio will enable FaceTime to spread out voices from the direction they are coming from. This would enable users to feel as if the speaker is sitting in front of them. Another thing that is changing with iOS 15 is the use of on-device machine learning that will help with voice isolation. It will block ambient noise and allow voices only unless the user switches to Wide Spectrum mode which is when all sounds will be transmitted to the listeners.
Also, FaceTime will switch to a Zoom-like grid view instead of different sizes of screens of the participants. With the grid view, users will be able to identify who's talking and the reactions of others. Also, FaceTime will bring a Portrait Mode that blurs the background providing you with the center of attraction during a FaceTime call.
Moreover, FaceTime users will now have the option to invite other users during calls or in advance. Plus, users will be able to summon non-Apple users too that includes both Android and PC users where they can connect on a FaceTime call via app or website.
Apple has also made the SharePlay API available allowing users to sync videos or music with others during a FaceTime call and with multiple devices paired with it. At present, service providers like NBA, Masterclass, Paramount+, HBOMax, Disney+, and a few others are already working on implementing SharePlay API.
iMessage on iOS 15 is also seeing a great change. Apple has curated a "Shared With You" section that gives you an interface to view everything from articles, links to photos, and more shared with you in single or group chats. The section can be found across all first-party apps including Photos, Safari, Apple TV, Apple Podcasts, Music, and News apps.
Users can pin notable content so that it is prioritized and elevates itself in the "Shared With You" section. If a user has received a group of photos, he/she can view it as a swipeable stack or glanceable collage depending upon the number of photos attached. Now users can share content shared by contact name as well. There are some regional improvements on iMessage as well such as Brazil has received an SMS Filtering system while India and China have received the ability to turn off notification based on the type of messages received.
The Weather app on iOS 15 has received a massive redesign and now has more graphical displays than before. It includes full-screen maps, weather data, and layout which is based on the position of the sun on a day as well as precipitation.
With iOS 15, the Apple Wallet now supports Ultra Wideband location tracking which allows users to unlock their cars without taking their iPhone out of the pocket or bag. In fact, Apple is working towards uplifting the feature that will be available at offices, hotels, and a whole range of partner systems that Apple is working with.
Apple Maps on iOS 15 are now getting an interactive globe. Here, some of the major cities bustling with crowds such as New York City, Los Angeles, London, and more will be accessible on much more detailed maps that will showcase important buildings, marinas, commercial districts among others. A nighttime mode has been added to show areas in a moonlit glow. Apple Maps will now have granular road details that would let users see every nook and corner such as medians, lanes, crosswalks among others. AR positioning on the Apple Maps will aid users to know their position and direction of travel.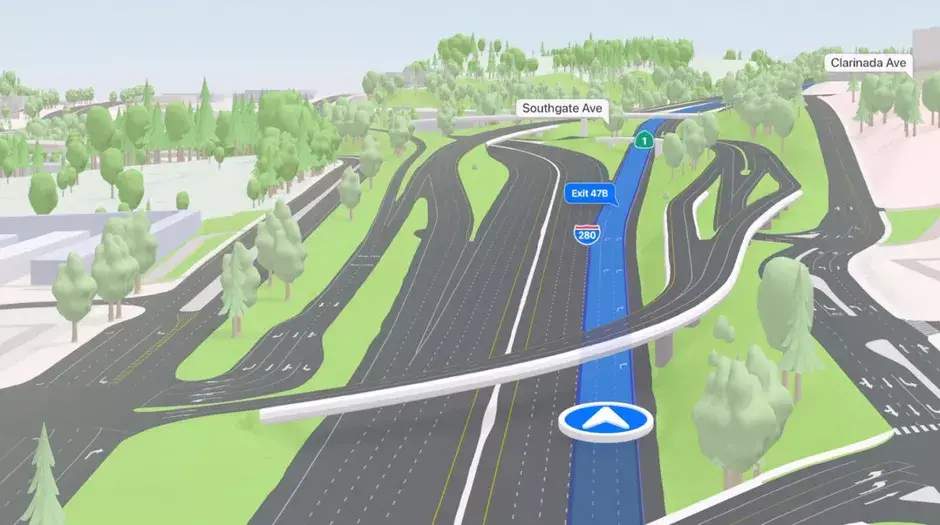 iOS 15 has revamped the notifications section for users as well. Users can set up a new Notification Summary that can be scheduled to show up at any time. The system-wide DND mode on your iPhone can now show your status as a way in the Messages app.
The Find My app on iOS 15 has been revamped as well. It has gained the ability to find devices that are lost and erased or deleted from Find My Network. Next, up, friends and relatives who share their location on the Find My app so that you can track their position and direction of travel. A Separation Alert goes off when the system detects an AirTag or an Apple Device or any Find My Network Accessory left in an unfamiliar location. These were some of the changes that iOS 15 will bring about on iPhone devices.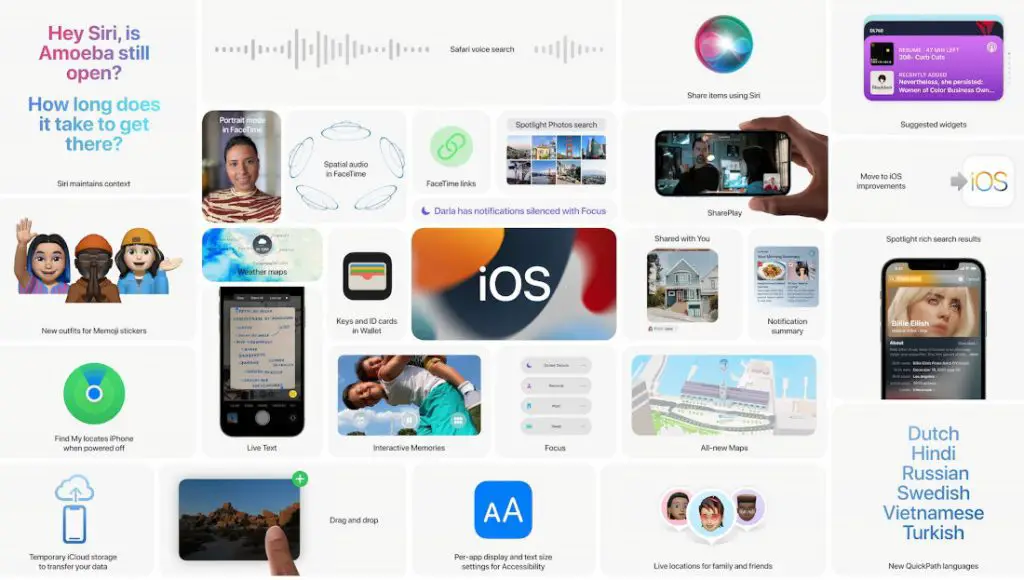 iOS 15 Rollout Schedule
Apple will follow the same timeline for the release of iOS 15. After the unveiling at the WWDC 2021, the developer previews are already up. A month later, the public beta of iOS 15 will be released. In the fall, Apple will commence releasing iOS 15 on iPhone 6S and later. The list is mentioned below.
List of iOS 15 Supported Devices
iPhone 12 / iPhone 12 Mini / iPhone 12 Pro / iPhone 12 Pro max
iPhone 11 / iPhone 11 Pro / iPhone 11 Pro Max
iPhone XS / iPhone XS Max
iPhone XR
iPhone X
iPhone 8 / iPhone 8 Plus
iPhone 7 / iPhone 7 Plus
iPhone 6s / 6s Plus
iPhone SE (1st gen) / iPhone SE (2nd gen)
iPod Touch (7th gen)
You might also like
---
More from iOS
---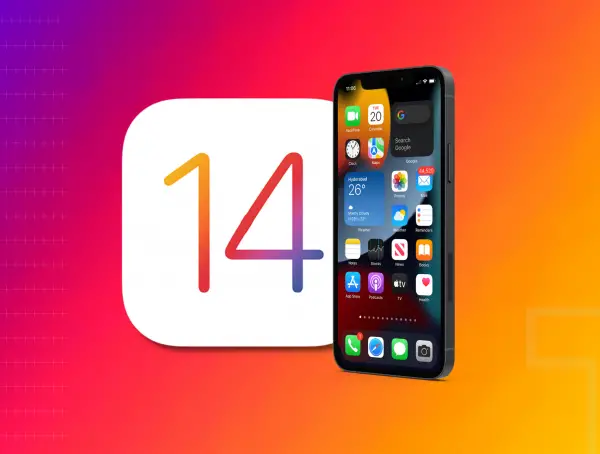 It's early Monday and everyone is gearing up for work or school or other chores. They got a notification on …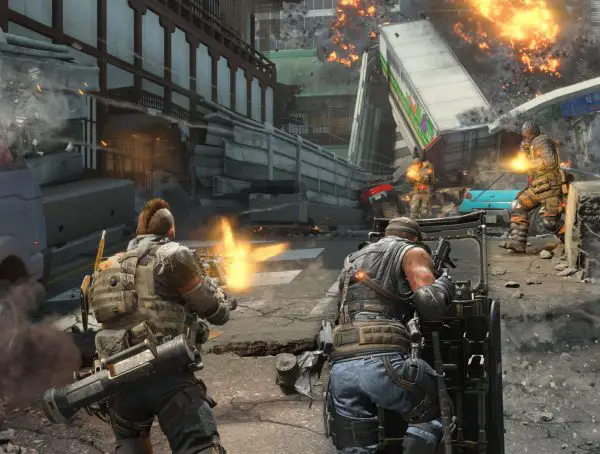 Call of Duty: Mobile arrived when the genre of battle royale was at its peak with Fortnite and PUBG Mobile …
If you open the App Store on your iPhone or iPad, you will discover tens of apps. Search for a …
Editor Picks
---