OnePlus is holding a launch event today i.e. September 26 in New Delhi, India, where it will be launching OnePlus 7T series at its first-ever India-first launch followed by a global launch on October 10. As it goes with any other upcoming smartphones that have a lot of heads to turn, OnePlus 7T series comprising of OnePlus 7T and OnePlus 7T Pro, both have received a tonne of rumours and specifications leaks over a period of a few months and it is quite extensive so what I did here is a roundup of all the OnePlus 7T Series rumours that were buzzing or are buzzing around right now including everything which has been confirmed. Here's the OnePlus 7T, OnePlus 7T Pro Rumour Roundup: Everything We Know
The roundup must give you a clear picture of what you can expect today when OnePlus launches both the devices in New Delhi at 7:00 pm IST and the event will be broadcasted live around the globe on YouTube and OnePlus.com and other websites.
OnePlus usually launches two smartphones in a year i.e. standard and an incremental model such as OnePlus 6 and 6T. However, it launched two smartphones earlier this year i.e. OnePlus 7 and 7 Pro and the crowd went crazy over it. The Chinese smartphone maker is bringing two new incremental models today on September 26 that will take its legacy further and who knows one of these smartphones will get a 5G counterpart by the end of this year and read along to know more about it.
---
OnePlus 7T Series: Design
---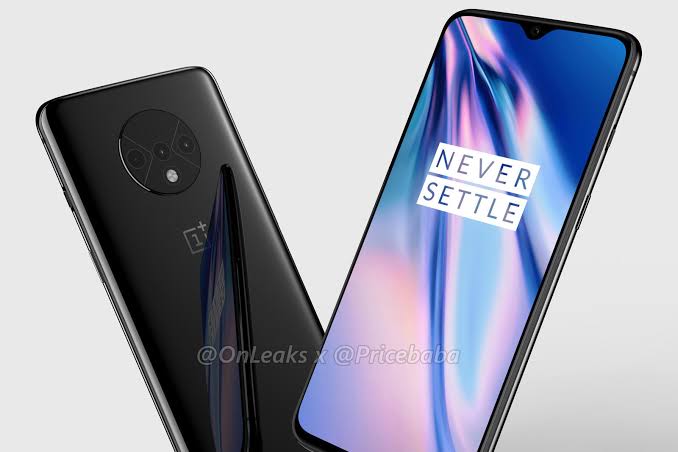 There are a plethora of rumors around the design aspect of both OnePlus 7T and 7T Pro. Earlier suggestions where that OnePlus 7T will adopt the design of OnePlus 7 Pro with a pop-up front camera mechanism along with triple rear camera setup arranged in a vertical camera stack. But turns out OnePlus is going global with a circular camera bump where both the devices will get triple camera setup arranged in a giant circular camera bump that sits right on the upper center position.
Both the devices are expected to look alike although some improvements with the design aren't surprising since OnePlus usually bumps up almost all aspects of its "T" series of incremental models and these two phones aren't any exception. Both the devices will get a frosted back panel with Nebula Blue being one of the colors that have been confirmed so far and there's still two or maybe more color variants waiting to be unveiled at the event.
---
OnePlus 7T Series: Display
---
Thanks to a set of rumors and some of the specifications that OnePlus confirmed via its constant teasing on social media handles, it is confirmed that both the devices will get a 90Hz refresh rate displays that were earlier reserved for the Pro variant only.
Apart from that, OnePlus 7T will be bumped to a smooth and magnificent 6.55-inch FHD+ HD AMOLED display probably with higher resolution than the one we have seen with OnePlus 7. Note that according to a rumor, OnePlus 7 could get a Quad HD Display as well but that remains to be confirmed yet. A detail specs leak suggested a resolution of 2400×1080 pixels with 402 PPI density and the display will be HDR10+ among others.
Moving on to the Pro variant, the OnePlus 7T Pro will have a larger 6.67-inch Quad HD+ AMOLED display with a higher 3100×1440 pixels resolution and a PPI density of 516 pixels. We are expecting a curved display as we have seen with OnePlus 7 Pro as well. Both the devices will get an in-display fingerprint scanner which is something obvious after OnePlus replaced an optical fingerprint scanner on OnePlus 6 to in-display FPS on OnePlus 6T later last year.
---
OnePlus 7T Series: Hardware Specifications
---
This is interesting since both O?nePlus 7T series smartphones are expected to come up with the most powerful chipset along with other enhancements.
Starting with the SoC, OnePlus 7 & 7 Pro were launched with Snapdragon 855 SoC which is currently one of the most powerful chipsets when compared to its rivals like Kirin and MediaTek. With OnePlus 7T and 7T Pro, the company is expected to integrate Snapdragon 855+ SoC which as the name suggests, it is an enhanced version of SD855 and brings a lot out of it. Based on previous stats, Snapdragon 855+ outperforms SD855 with a margin of 4% when compared to the CPUs while the enhanced Adreno 640 GPU outperforms the standard Adreno 640 GPU by 15%.
Apart from that, both the devices will be integrated with 6GB or 8GB RAM along with 128GB or 256GB of internal storage on-board although a Special or Limited Edition could get 12GB of RAM onboard. Also, both the devices will employ UFS 3.0 which is currently one of the fastest storage systems available in smartphones.
OnePlus 7T is expecting to get bumped with a 3,800 mAh battery paired along with souped-up 30T Warp Charge estimated to be at least 23% faster than the one we saw with OnePlus 7 series. Similarly, OnePlus 7T Pro will get a slightly larger 4,085 mAh battery with the same 30T Warp Charge that will outperform its predecessor as well. This will ensure that your phone's battery is always full or you could just plug and wait for a couple of minutes to get the charge of hours at your disposal with one of the quickest charging speeds onboard.
---
OnePlus 7T Series: Cameras
---
I am talking about the upcoming OnePlus smartphones and there is no way I can forget about one of the most important aspects aka the cameras. Speaking about the camera assembly, I must make it clear that there will be a 16MP front pop-up camera sensor with EIS on both smartphones since I don't think so OnePlus will still to a waterdrop-shaped notch for the non-Pro 7T but who knows.
Apart from that, the rear assembly is something getting the most attention since the Chinese brand will eliminate the vertically stacked camera sensors for a new circular camera bump that will encapsulate the sensors and LED flash as well.
OnePlus 7T will get all the sensors you have seen with OnePlus 7 Pro i.e. a giant 48MP primary sensor with EIS and OIS and an aperture of f/1.6. Paired along with it will be a 12MP telephoto sensor capable of 2x zoom and finally, we will have a third 16MP ultra-wide-angle camera with FoV of 120°.
Talking about OnePlus 7T Pro, it will get a slight bump wrt to hardware which includes a triple camera assembly with 48MP primary sensor equipped with both OIS and EIS (aperture f/1.6) along with a 16MP ultra-wide-angle camera (FoV of 120°) and finally, a third 8MP telephoto sensor with an aperture of f/2.4 and 3x zoom capability.
Based on a latest specs sheet that went viral, OnePlus will make tremendous change when it comes to the software aspect of its cameras which means a new slow-motion videos at 960fps will pop up along with new Marco Mode and an upgraded Nightscape Mode that will make photography experience far better when compared to its predecessors including the non-T variants.
---
OnePlus 7T Series: 5G
---
2019 is the year of 5G smartphones although there are only a handful of devices with the next generation of networks available today such as Samsung Galaxy S10 5G, Galaxy Note 10+ 5G, LG V40 ThinQ 5G, Huawei Mate 30 Pro 5G, etc. If you have heard about it, OnePlus did make it official that it will launch a 5G smartphone sometime in Q4 2019 and as we will be stepping into the last quarter of this year, a 5G smartphone from OnePlus is awaited.
There are a couple of rumors that it could be OnePlus 7 Pro 5G or it could be a OnePlus 7T Pro 5G obviously based on their standard models fitted with Snapdragon X50 5G modem but we are yet to see any confirmation. Who knows, today might be the day when we get the answers to some of these questions including the information on upcoming OnePlus 5G smartphone.
---
OnePlus 7T Series: Software
---
On September 24, OnePlus posted a tweet which literally spiked the excitement among OnePlus community. OnePlus 7T and 7T Pro will be the first devices to get Android 10 pre-loaded out-of-the-box which means you won't have to wait to get the latest OS and neither take the time-consuming method to upgrade from Android Pie 9.0 to Android 10.
OnePlus has a custom-made OS called OxygenOS which has its reputation for being one of the most zippiest UI on Android smartphones. OnePlus has already rolled out Android 10 based OxygenOS 10 to OnePlus 7 and OnePlus 7 Pro and the upcoming incremental models will get it out-of-the-box pre-loaded with a bunch of features over the stock features.
Android 10 brings features like system-wide Dark Mode, new permission-based models for apps and services, location controls, Live Caption & Smart Replies, clutter-free UI with the new gesture-based navigation system and more. Apart from these features, OnePlus will be adding its own sets of features including built-in screen recording feature among others. Also, OnePlus 7T series will be covered for future upgrades for two years so if you buy it, you will get both Android 11 and Android 12 as well and that too at the earliest.
---
OnePlus 7T Series: Prices
---
OnePlus hasn't confirmed either hinted towards the OnePlus 7T & 7T Pro pricing yet so we are stuck with rumors only. A source suggested that both devices will probably launch with the same pricing as OnePlus 7 and 7 Pro so we are expecting the upcoming to carry a price tag of Rs 32,999/- and 48,999/- for their respective base variants.
---
OnePlus 7T Series: Release Date
---
It was a leakster who goes by the name Max J who pointed out a probable release date of September 26 in India followed by October 10 worldwide. Turns out that the release date was accurate.
OnePlus will showcase either both the devices or OnePlus 7T today at the Indira Gandhi Arena in New Delhi, India and the event will commence at 7:00 pm IST that will be broadcasted live around the globe. A media outlet suggests that Amazon could launch OnePlus 7T series on September 29 to mark the onset of its Great Indian Festival and that remains to be seen. Note that Amazon already has listed OnePlus 7T on its website so it could be true and available for pre-orders for Indian customers.
On October 10, OnePlus will hold two separate events (at the same time) in London, UK, and in the United States (probably New York) where it will mark the global launch for OnePlus 7T series and the phones will go on sale on October 15.
You might also like
---
More from Android
---
Just yesterday, Google took the liberty to dump at us a slew of official Pixel 6 and 6 Pro details, …
The Google Play Store on Android smartphones is massive as it has hundreds of thousands of apps in any given …
After making a splash in the Philippines, Tecno's latest smartphone is here in India. The Tecno Pova 2 has now …
Editor Picks
---