In the day and age of numerous smart capture devices such as our smartphones, DSLRs, point and shoots, it is often easy to misplace or at the worst – accidentally delete all of your precious memories. This kind of mishap is, believe it or not, so common that we have hundreds of services that provide aid to recover missing, lost or corrupted data. Today, we have got our hands on one such service that claims to provide an easy recovery solution to all of your long lost photos and videos – Stellar Photo Recovery.
Before getting into the technicalities and our review of this service, we would like to bring the attention of the readers to one consolidated fact – It is nearly impossible to build things up from ashes, and the same applies for any kind of data. It is a common misconception that people have regarding how recovery software work. You simply cannot expect a service to rebuild your photos or videos out of thin air, and thus let us take a look at a few scenarios where such recovery services will deem the most useful :
Recently Deleted Data : If you have very recently deleted (accidentally or intentionally) a few photos or videos from a storage device, then recovery in this case is mostly viable and can be expected successfully. This is to say the data has not been lost for a long period of time, or you haven't already rewritten new data on your disk multiple times.
Partially Failed Hard Drives : While accessing your photos or videos on a corrupt hard disk might not do you any good, services like Stellar have technology enough to deep dish your information out from damaged sectors or corrupt hard disks.
Formatted Disks : Even though the chance of recovery from a completely formatted hard disk or any storage device for that matter isn't all that great, if you have a freshly formatted device then you're in luck. Most of the times, the actual bits and pieces of data on your storage disks don't poof away after a simple format and instead wait to be rewritten upon – since that's less work for the mechanical parts to do.
If your situation is remotely close to the above few speculated cases, then we highly recommend you give recovery services a shot. We tried, and we have been honestly impressed by how good recovery solutions have become and how far away the need to visit local shops just for recovering a few photos has gone. In full disclosure, Stellar Photo Recovery has issued us a license key to thoroughly assess the service, but nothing in the following review has been influenced by demands.
Stellar Photo Recovery
While the functionality of a service determines its efficiency and usefulness, another aspect that either makes or breaks the entire experience in my opinion is the UI and design of a software. It is seldom seen in the professional recovery solutions that the front end is easily understandable or UI friendly enough for a layman. It was surprising to see how well everything has been thought out and placed in Stellar Photo Recovery. The big, bold and minimal icons make it very simple and less dubious for any person to get through the process for the first time.
Before even jumping into the recovery aspect of the service, the only few options that the end user can tweak are being able to enable or disable the previews while restoring, being able to select exactly which file types to look for, and lastly choose to create or load images of previous scans to easily resume them later on. The former option is a good pick for those who want to search for the one specific photo or video that they've so badly wanted. When enabled, the live preview feature does take up quite a lot of your CPU utilization and is recommended by the software itself that you leave it turned off unless absolutely necessary. You can access this option by pressing the tiny settings clog icon at the top, or even quickly use the toggle to enable or disable live previews while your media is being recovered.
The next option happens to be quite intriguing in our opinion. You can select exactly which kinds of photos or videos you want recovered by specifying the file type. This is obviously meant for people who are acutely knowledgeable about file types and extensions, but if you do have one in mind, your work will be tremendously reduced. Taking the example of a specific blueprint that I lost, I could narrow down the search by specifying its extension. Assuming I used AutoCAD to design and export it into a DWG format, leaving only this option enabled during search will reduce the time taken by a huge amount. While there are at least two dozen such extensions listed, you can also add your own by using the tab next to it. If you are still unsure about what kind of photo or video files you are dealing with, the software allows you to upload a few files of the same kind to automatically recognize the file type.
The third option does come in extremely handy if you don't have the time to deal with a complete system scan just to recovery a photo or two. With the Resume Scan feature, you can easily load up images or create new ones that the software will then store into its memory. The next time you wish to continue a previously abrupt scan, things won't begin from the ground up and will take lesser time. While this option is good to have, we haven't really found any use for it thanks to just how quick and efficient the software works – even on a low tier dual core CPU.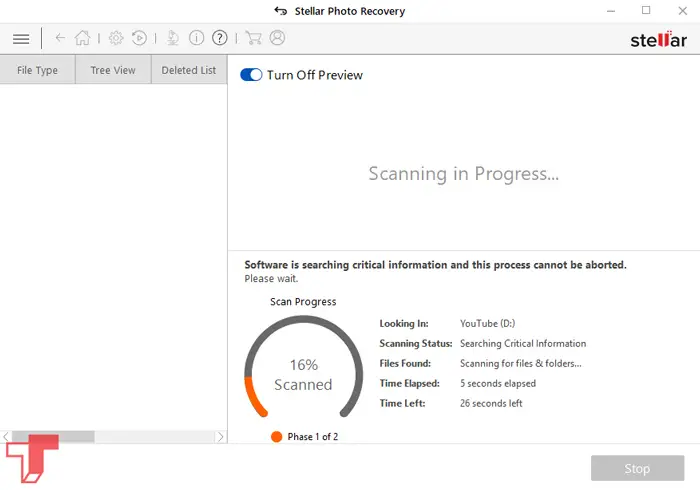 Moving on to a test run, the first thing you get to choose is what kind of media you want to have recovered by the software. You can choose to recovery either photos or videos separately, or have them both spotted and listed by selecting the "All Multimedia" option. We went ahead with just photos to speed up the process. Next up is your drive location. Here, you can choose either your C or D drives, or select any other mass media storage device like an external HDD, or a thumb drive that's connected to your computer. With all the specifics now chosen, the scanning process begins. Since the drive I selected had only a few gigs to scan through, it took me less than 2 minutes to recover all of my lost photos.
After the scan, to me is displayed a tree view of all the folders in the drive I had selected, along with all of the recovered photos and other media. According to the service, I have recovered 13 files distributed among 20 folders. In my case, I had accidentally deleted a thumbnail image for one of my videos and I have finally gotten my hands on it! The next step is to recover the found elements. For this, simply click on the big blue "Recover" button below, and define a path for your recovered media. You media will now be recovered and will be accessible with the original file name.
Voila! With only a total of 5 minutes spent, I have successfully recovered the photo I was looking for. We have also tried the service for videos, and other kinds of photo files (specifically AutoCAD and Canon CR2 file types) and everything has worked out in our favor.
Price and Availability
Stellar Photo Recovery is available for free to download on Windows and Mac, and for the most part, we feel the free version does everything to please the layman who just wants a photo or a video to be recovered with no strings attached. While the free version is capable enough, the two higher tier versions that are paid allow users to recover corrupt photos as well, which there is a good chance you might end up requiring. You can also preview your recovered videos in the premium package which saves a lot of time before you actually recover and export it out to your desktop. Visit the Stellar Photo Recovery website for more information about pricing and availability.
Our Verdict
As an appropriate closure for our review, we have been impressed by how much Stellar has to offer even if you stick to the free plan. The lightning fast scanning and recovery speeds make it a hard choice to skimp by. While the service deemed useful for most of our needs, we would love to see more features being added to the same. Our only gripe with the product has been not being able to specify the exact folders to look for within a selected drive. We can only imagine how fast the scans would get if the users could select and specify exactly where to look for.
At the end of the day, if you have been looking around for an efficient, fast, and cheap solution to all of your photo and video recovery needs, we highly recommend you check out Stellar Photo Recovery.
Stellar Photo Recovery -

8.4/10
Summary
Light-weight in package size, quick installation
Fast, Easy to use, and efficient user interface
Few, but useful options
Reliable and quick for recovery
Free to use for the most part, premium features are worth the asking price
More from Reviews
---
Introduction As the boundaries between work and home continue to blur, the need for a comfortable and conducive work environment at …
This coverage was brought to you by BenQ, who sponsored the review of the product. However, thoughts and opinions presented …
Huawei has made the impressive transition from a smartphone production company towards an all-inclusive electronics giant. From wearables to speakers …
Editor Picks
---