After the success of the Google Pixel and the Pixel XL, it's fans were more than pumped for the release of its descendant the Pixel 2. We're just weeks away from the October 4 reveal of the Pixel 2 and the Pixel 2 XL and we couldn't wait till then.
A very popular Tech YouTuber Mrwhosetheboss (Arun) received anonymous tips of the upcoming flagship. He received some images and videos from a person who claims to have seen the project.
Mrwhosetheboss immediately uploaded a video in which the footage showed us what appears to be presentation slides or marketing material on a laptop which refers to a phone called as, 'Ultra Pixel'.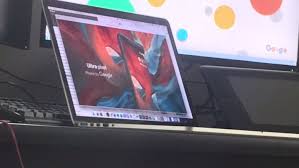 Since we haven't come across any device named Ultra Pixel in Google's lineup, we cannot be quite sure if the images are legit. It could be referring to the camera provided by HTC, since we've heard rumours about Google working with HTC. HTC makes 'UltraPixel' cameras.
We can't tell for sure if these leaks are legit since we do not have access to the pictures, we cannot perlustrate them. The Google branding, icons, and the wallpaper choices seem to be similar to its predecessor.
There's also a mention of a new type of fingerprint scanner, which Arun surmises might be an under-the-display one. If that's true, we are in for a treat. The device doesn't seem to be controlled by standard Android navigation keys, but rather it'll be controlled by gestures which we've seen in the latest iPhone X.
The images show us a smartphone with a rather thin frame and slimmer bezels which seem to be a trend nowadays. Arun also claims that the phone will have a dual camera system. Apart from the volume rocker and the power button, there won't be any hardware keys on the device. There have been no reports suggesting if the device would have a headphone jack or not.
It is possible that the 'Ultra Pixel' could be the Pixel 2 or maybe an another device which Google is planning to unveil and surprise us. We'll have to find out on 4th October 2017.
More from Android
---
The latest update for OnePlus 6 is here though not for everyone. OnePlus has pushed out OxygenOS 5.1.11 on OnePlus …
Chinese manufacturer Huawei is all set to launch a new smartphone in its Mate series, Huawei Mate 20 Lite was …
Samsung Electronics Co Ltd will suspend operations at one of the two manufacturing plants in China. The reason behind the …
Editor Picks
---