A new month, a new beginning for your endeavor to find exciting and new games on Android. We at TrueTech are great game enthusiasts and know what gamers ranging from casual to pro want. I understand that you won't just stick to a single game until you don't find that one game that has it all. Check out this list of Top 10 Best Android Games February 2020 that you can enjoy as it pumps your heart rate and pushes the adrenaline to its limit taking your gaming experience to a different dimension. Check out the list to know more.
1. Into the Dead 2
The sequel to yet another zombie action game, Into the Dead 2 pushes you to the edge of your edge with the nail-biting adventure with zombies roaming around. You are tasked with surviving through the game where you can either lay down and try to survive or take a strong heart and massacre the dead on the go. The game is full of challenges, power weapons, ammunitions across immersive and lively locations ranging from military bases to farm communities, etc. Check out story events within the game with special event modes added with exclusive prizes and play offline without internet.
2. Mini Metro
Mini Metro isn't a hardcore adrenaline-pumped up the game but a simulation brain game. It lets users design subway maps for over 20 cities where you can be tasked with adding stations, establishing routes and keeping the city moving. The game tests your planning skills and has daily challenges that you can compete against other players from around the world. The graphics are subtle and soothing and the music as engineered by Disasterpeace are two of the components that keep you hooked to the device. The USP of Mini Metro is that it is ad-free and there are no in-app purchases that you will have to spend on. Simply download it and design it.
3. The Room: Old Sins
Set on a journey on-board The Room: Old Sins, the fourth installation of this intriguing multi-award winning series 'The Room'. A couple has disappeared and that sets the ball rolling to search for an artifact in their house where you'll find an attic and a dollhouse which is the center of the puzzle. You are tasked with solving the puzzle within the dollhouse, search for the clue and solve it, and unlock mechanisms that are hard to find using intuitive touch controls and objects so detailed that you'll forget it's just a game.
4. Tesla vs Lovecraft
An adrenaline-rich action game where you are Nikola Tesla who is tasked with using the most powerful & enigmatic weapons in an attempt to mow down monsters coming your way. You have immense firepower at your disposal that you can use to destroy these nightmarish monsters and level up on the map. You can use Quantum Teleport to simply zip out through any solid object making your way to the safety. You have a whole arsenal of ammunition to battle through story mode beating the monsters and bosses along the way.
5. Breaking Bad: Criminal Elements
Inspired and developed in collaboration with the creators of the popular TV show by the same name, Breaking Bad: Criminal Elements is a story-driven empire building game. You are working under the legendary duo in an infamous RV where you are tasked with doing whatever it takes to build a larger empire by defending the operations, constructing buildings and upgrading existing ones, generating resources, and building state-of-the-art facilities as per the needs of the business. It's a game that will take you on a journey of a lifetime from a tiny outfit to a huge empire just like the hit TV show.
6. Table Top Racing: World Tour
I must say that the app isn't free so you'll need to subscribe to it to try it out. Table Top Racing: World Tour is a pretty swift and adrenaline-pumping game that lets you attend to more than 30 table-top race tracks where the obstacles are made up of household items. The game offers up to 180 events that you can play and earn coins/cash to buy new cars. You are tasked with using the intuitive touch control to maneuver the car around the race track and use power-ups and other tricks to get the victory.
7. Motorsport Manager Mobile 3
I would say this is one of the best games that you must try on your Android smartphone. Here, you are tasked with building your motorsport team from scratch and live your dream of being in a team making the big decisions at every point of time. You are the one who hires the drivers and manage almost all aspects of the team right from motivating the working with the team to achieve the goal, formulate strategies to win races, and more. You are on top of the authority where you react to each crash or weather changes and take big decisions in a cut-throat competition with the rivals.
8. Australian Open Game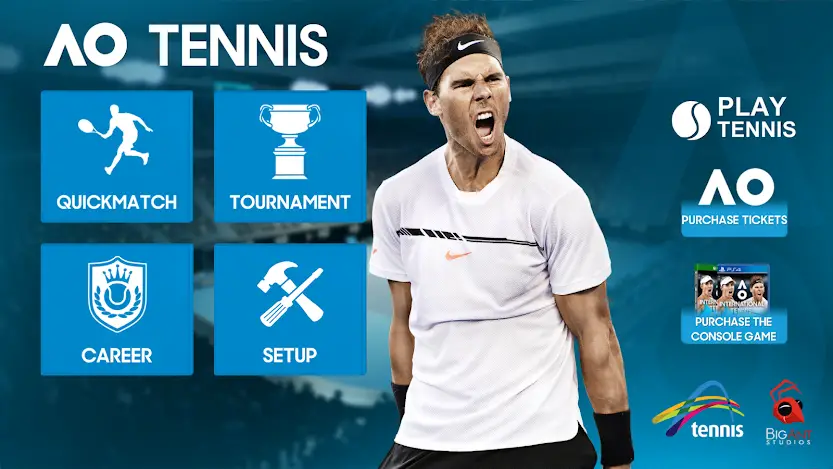 Developed to promote the Australian Open, it's an official game that lets you create your own player. You can either check out the quick match mode or go through the career mode and open higher events such as Grand Slams etc. With each stage, you will observe an increase in the difficulty that you can tackle with your skills and tens of swipes, deliveries, and actions that will help you win the match and prove your mettle against the rival. The game is available free on the Google Play Store and has a lot to offer for all Tennis enthusiasts.
9. Snowboard Party: World Tour
The next best Android game on the list is Snowboard Party: World Tour. The game lets you ride on a snowboard with punchy graphics in the background with over 21 unique locations. The controls are all on-screen and let you perform with the best tricks as you play and progress in the game in terms of skill and upgrade the attributes of the player that you choose. You have more than 50 boards to select, 250 achievements and objectives to complete, and four modes to play within the game.
10. Diablo Immortal
Presenting the newest in this list, Diablo Immortal is available with pre-registration. The soon to release game is all you need with immersive gaming experience. This will open a new chapter in the Diablo sage, there are six iconic character classes to customize, with unique abilities and powers. The game has a unique storyline to follow new challenges, loots, dungeons, and zones, and yes, it is an MMO or massively multiplayer online game that you can play with your friends right away.
You might also like
---
More from Android
---
Samsung unveiled three different sets of Ultrabook today at the Galaxy Unpacked April event. The event was held via the …
XiasssAfter getting a lot of headlines over a couple of weeks now, the Redmi K40 Gaming Edition or Gaming Enhanced …
Realme has had a busy year upgrading its smartphones, releasing newer ones, and whatnot. The company has just released three …
Editor Picks
---