Every month, we come up with some of the best and useful apps you would find on the App Store. No doubt you can't just go to the App Store, search for the type of app you are looking for and find it right away. This is because you still need to see which app is worth trying. Apparently, the App Store has millions of apps to try and that is what makes it extremely difficult to select the best one that suits you well. Here's a list of the Top 10 Best iOS Apps June 2021 that you must try. These apps are from different categories and have different functions so do check them out.
1. A Soft Murmur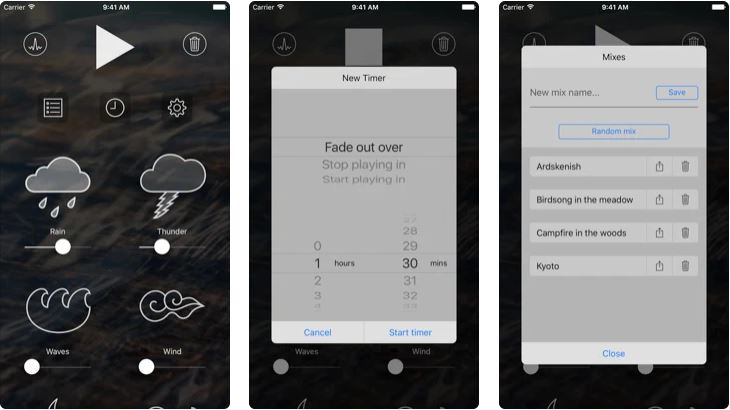 Some people go to sleep as soon as they lie on the bed but not everyone is so successful. Spend hours trying to sleep and that's where A Soft Murmur comes into play. It plays relaxing soft white music such as thunder, rainfall, gusting wind, crickets, and so on. You can even control the volume of each sound individually to get the best experience. If not for sleep you can use the app to focus on studies, projects, work, or just to relax.
You can add more sounds with a one-off purchase. Turn on Meander and you can have a random increase and decrease in each sound in a pattern that is never repeated. You can set a timer as well and add a fading effect once you go asleep or at a set duration.
2. Insight Timer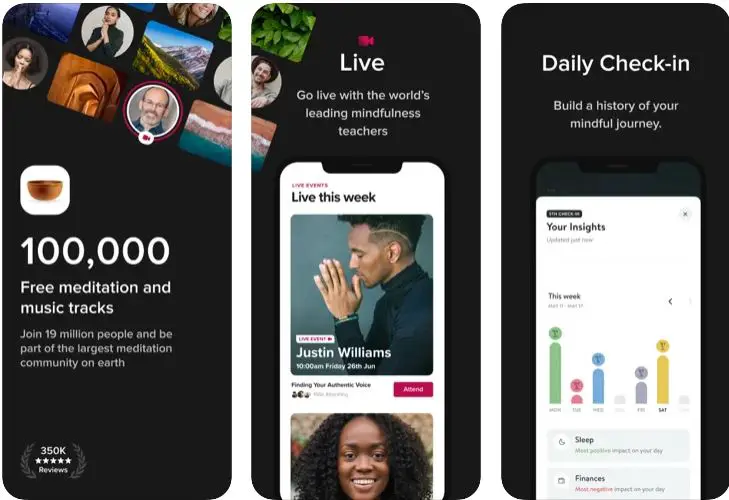 Considered as the most popular meditation app in the world, Insight Timer is literally a Google of meditations. The app has more than 70000 guided meditations of various lengths. More than 80 guided meditations are added every day making it one of the largest databases to access. The app has meditations from top meditation experts, mindfulness experts, neuroscientists, and other professionals hailing from Ivy League institutions across the globe.
You can search for meditations based on the topics such as loving and kindness, leadership, sleep deeply among others. You can follow your favorite teachers and practice their meditations accordingly. It is great for both beginners and professional practitioners as well.
3. CryptoTab Browser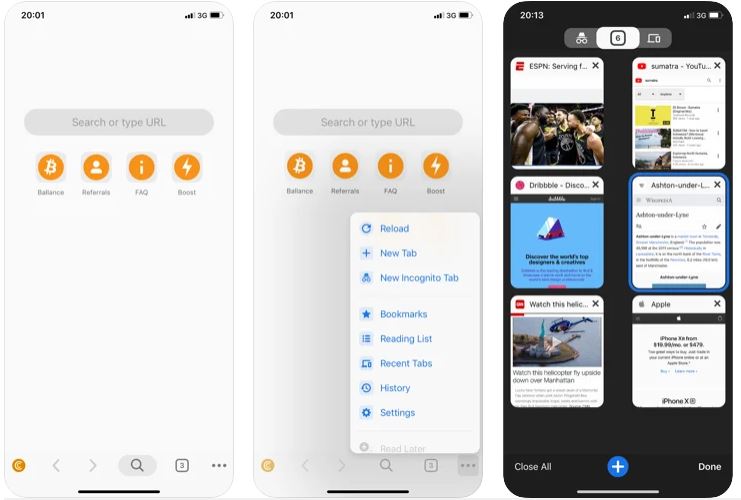 The world of Crypto has received a lot of traction this year even in budding markets like India. The CryptoTab Browser is an app developed by blockchain enthusiasts with some Crypto-specific features. You get a unique, fast, lightweight, and safe browsing experience like no other. You can use Incognito Mode on the app. Toggle ON the Do No Track mode that prevents websites from tracking you.
Use the Safe Browsing Mode that prevents any malware and phishing attacks on you. There's a stringent Pop-up blocker in place too that prevents any and all pop-ups without permission. Its pro version has a dedicated profile setup, ad blocker, and prevents users from harmful sites and more.
4. Captio
5. OmniFocus 3
OmniFocus 3 is a to-do list app. It lets you add items, events, places, things, dates, and other specifics you want to remember. It is flexible and has an intuitive and beautiful user interface where you add the tasks, adds tags on it, and more. It has both a standard and a pro version where the latter unlocks many more features.
The standard version includes batch editing, flexible inspectors, synching for end-to-end encryption, attachments, and more. OmniFocus is an easy-to-use app and also works with services like Zapier and IFTTT that further advances its functionalities. Add repeating tasks, have a forecast of all items listed on calendars including events and tasks on just a tap.
6. Bit.ly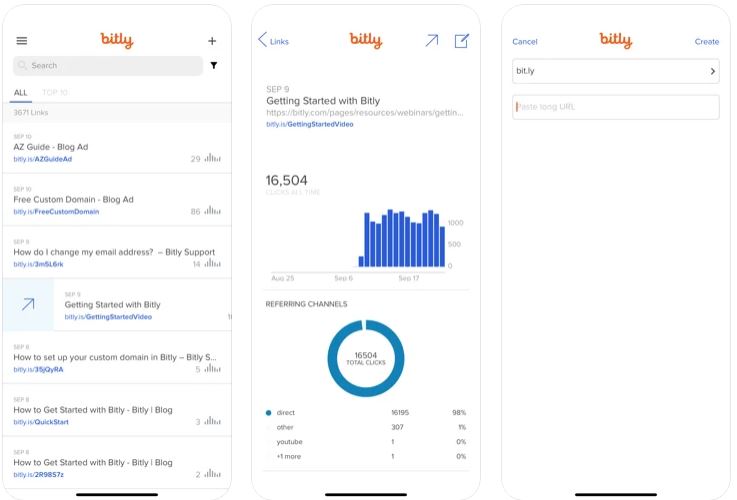 Bit.ly or Bitly is a fully integrated link shortener cum analytics app. It allows users to scrap long links into shorter Bit.ly branded clicks. In fact, it monitors all the parameters including CTR and other vertices. Since you can access all these parameters, this helps optimize your campaign further. The app has easy sharing options between display, SMS, social media, and other channels where you can access the link's performance at any given point in time. It is surely a to-go app if you want to share links by shortening a full URL to a shorter one.
7. Fax.Plus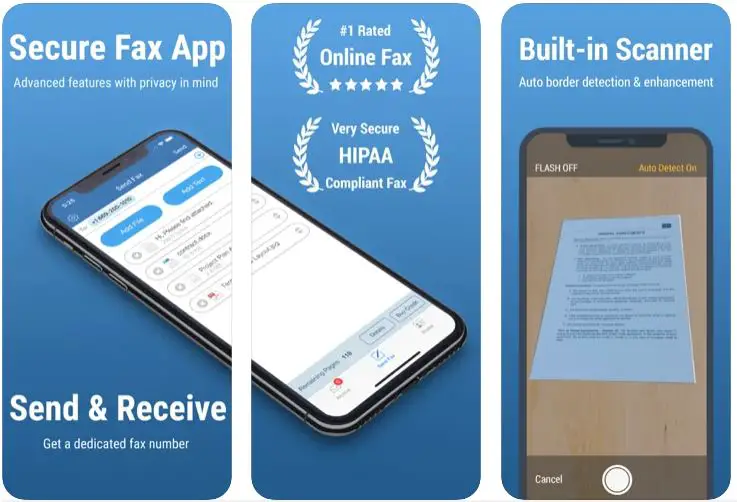 Who uses Fax now? Isn't it? Apparently, a lot of people if are seeking a short answer. Fax.Plus revolutionizes the age-old faxing method allowing users to use their iPhones and iPads to send and receive faxes on the go. It is recognized as the best online fax service out there. Simply add the message, document, or use the built-in scanner, add the recipient's number, and bingo. You can even send faxes to human-operated fax machines with Fax.Plus. Everything is encrypted and Fax.Plus is HIPAA compliant so you don't have to worry about security issues as well. Also, you can use Fax.Plus to fax via email and that's out-of-the-box.
8. Qustodio
Qustodio is an award-winning parental control app that lets you decide the screen time limits for your kids. It has dedicated limits for apps like YouTube and Facebook, kid tracking and app blocking as well as app monitoring and more. The app lets you set up websites and search monitoring as well.
It blocks off unsupported browsers on the phone. A 7-day history lets you have better control over monitoring your kid's activity over the last week. Qustodio is equipped with measures to block porn, gambling, games, and much other unwanted content spread across websites and apps.
9. Sticker.ly
WhatsApp already has thousands of stickers and GIFs you can send, but hey, they don't usually have the ones you need. Sticker.ly is a sticker maker app and has a database of millions of stickers to discover. Search for "Hera Pheri" and you get stickers related to it. Search for "HIMYM" and you get stickers to send in chat or video stats right away. You can create stickers using your photos and share them on WhatsApp or share its custom links.
The app has already gained millions of downloads scoring almost perfect scores so it's highly unlikely that I could go wrong here.
10. Bleacher Report
Bleacher Report is a sports news app that lets you read and note everything in real-time. You can follow live scores of your favorite sports such as MMA, F1, Football, Cricket, Rugby, La Liga, Champions League, Bundesliga, and so on. Watch video highlights to stay put with the latest scores, events, and more. You can also get your hands on news articles and more hand-picked by Bleacher Reports editors.
There you have it. A list of the top 10 best iOS apps in June 2021 from various categories such as cryptocurrency to budgeting apps, camera to meditation, and more. Do let us know which app made a difference in your day-to-day life and which one would be a total disaster.
You might also like
---
More from iOS
---
After releasing the iOS 15 and an incremental iOS 15.0.1, the Cupertino-based giant Apple is releasing yet another incremental update …
The Apple iPhone 13 series is out for sale now and it has received a strong response. Although there's still …
The Apple iPhone 13 is still a few days away from shipping in most parts of the world after its …
Editor Picks
---