WhatsApp is the undisputed to-go instant messaging app on the planet with more than a billion users in 180+ countries and counting. WhatsApp started as an instant messaging app and was later acquired by Facebook in 2014. Although Facebook didn't inject ads or breached user's privacy on WhatsApp in the former years of its acquisition, it did make security-conscious users concerned about both privacy and security of the users.
Facebook and its family of apps including FB Messenger, Instagram, and other 3rd party apps have been involved in breaching user's privacy and have been a part of multiple security breaches over the years. WhatsApp, on the other hand, is a Facebook-owned app and yet, it kept its distance rolling out features that are more user-centric such as End-to-End Encryption among other security protocols.
However, that doesn't mean WhatsApp is all-secured. Facebook recently announced an overhaul in its privacy policies according to which Facebook will be able to use the data collected by WhatsApp however they wish and want. On the other hand, Facebook is also in reports to merge Instagram, WhatsApp, and Messenger on a single platform allowing users to interact with others via messages and more on a single app rather than needing to install three separate apps. This would also append WhatsApp tight E2E encryption in some cases.
The Updated WhatsApp Privacy Policy
First up, the new privacy policy changes WhatsApp's service and how it processes the user data. WhatsApp offers E2E encryption, however, with the new change in policies, WhatsApp and its family of apps and companies under Facebook will be able to get and receive data from other families of companies. This is to operate, provide, understand, improve, customized, support, and market services.
Next up, Facebook and other companies under Facebook which includes WhatsApp will be able to use information accumulated on the apps to improve experiences such as product suggestions among others.
The privacy policy does mention that they don't save users' messages but do save user's profile picture, status message, profile name, account information among others. In layman's terms, WhatsApp stored user data on its servers that can be used directly or indirectly for marketing purposes on WhatsApp or any of the family of apps/companies that Facebook operates.
One of the most shocking things that are included in the privacy policy is that WhatsApp can provide the required user data to the government in case of out-of-ordinary events.
WhatsApp has multiple arrays of data stored and they can collect information related to these aspects linked to your identity. This includes contact info, financial info, user content, usage data, diagnostics, identifiers, contacts, location, and purchases.
Top 5 Best WhatsApp Alternatives 2021
1. Signal Private Messenger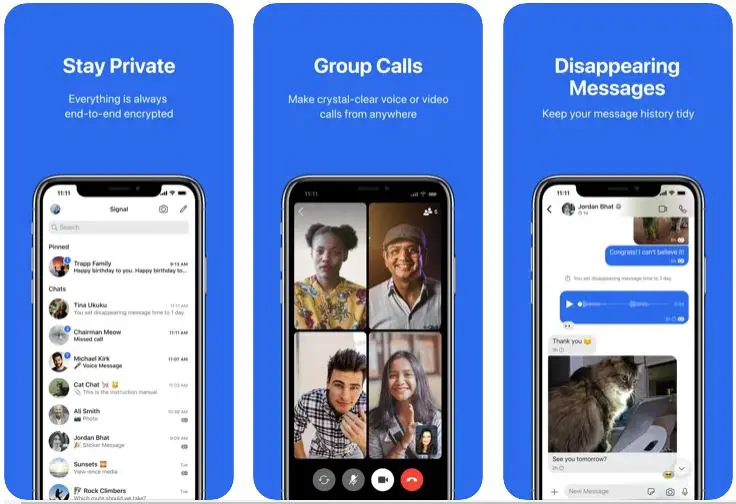 If not WhatsApp, Signal is one of the most obvious choices for users. It has millions of users and it was recently recommended by the head honcho of Tesla & SpaceX – Elon Musk. Signal Private Messenger offers you end-to-end encryption powered by open-source Signal Protocol. This keeps your chats and conversations secure while allowing security experts to find bugs and flaws to fix them.
Every call, every message is protected with open-course encryption on Signal. It is free to use and doesn't have any trackers or advertisements so feel free to use it. The app has a Dark Mode if you don't want the brightness of your screen to irritate you, especially in the nighttime. There are a bunch of pros but a few cons here such as there are no animated emojis but hey, if you seriously want to protect your privacy against intruders and prying eyes, Signal is one of the best alternatives for WhatsApp.
2. Telegram Messenger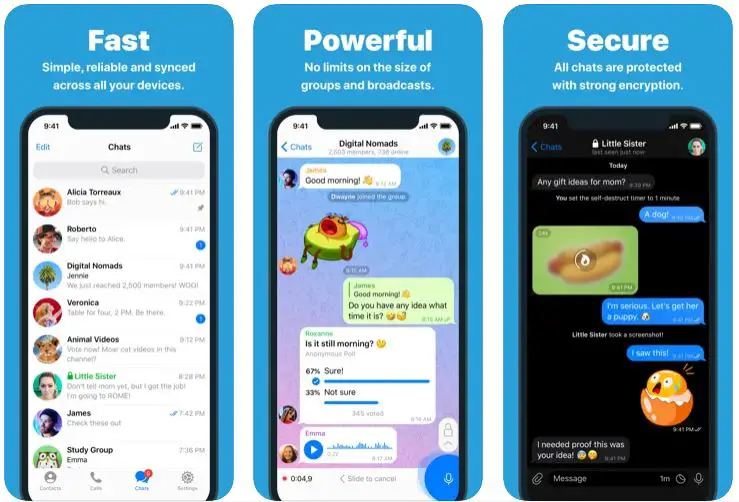 Telegram Messenger is at its best when it comes to the best WhatsApp alternatives. It is fast, secure, and synchronizes itself across all devices. With 400M+ MAUs, Telegram offers unlimited multimedia sharing with no limits on size and types. It is a cloud-based app and thus, the entire chat history won't take a byte of data on your internal storage. Above all, it doesn't let anyone pry on your data and takes privacy as its utmost priority.
It has open-source encryption for both chats and calls (both voice and video calls) although you will have to manually turn it on. It lets you create groups with up to 200K members. It supports sharing exceptionally large videos and files such as a 1.5GB of any movie is not a problem for Telegram. It is completely ad-free and has no ads whatsoever. You can even download movies, TV shows and more on the various channels users have created on Telegram.
3. Skype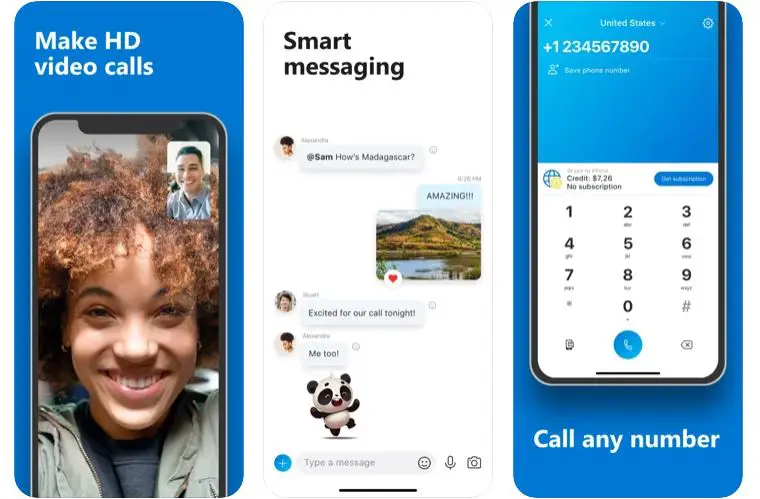 Skype is used by millions of people worldwide. Skype has made its name is one of the best instant messaging and voice/video calling apps. It lets you conduct a video call in high-definition and even if you get 3 to 4 or more members on-board, it won't lag or show a pixelated or distorted video feed of other members. You can hold an HD video call with 1 or 49 of your family members and friends on Skype.
It has features like instant chat with @mentions to grab someone's attention. You can create groups with other users. Meet new people, search by username, email address, and even phone number on Skype to make new connections. You can add status on Skype such as "Busy" or "Available" for others to contact you. For those who are not on Skype, you can use Skype Credit which is a pay-as-you-go method to connect with them. You can even call landline numbers and send SMSes to non-Skype users.
4. Threema – The Secure Messenger
Threema puts your security and privacy on top of everything. It is one of the best-selling secure messengers given the fact that it is not available as a free version. Enjoy uninterrupted and seamless end-to-end encrypted voice and video calls on Threema. The app has an E2E encrypted instant messaging feature as well.
The app is designed in such a way that it generates as little data as possible, unlike any other app you have come across. It uses the said encryption method across all voice, video, group chats, media files, and other aspects users interact with on Threema on a day-to-day basis. It has features like Threema Web, Dark Theme, Syncs contacts optional, anonymous instant messaging tool among others.
5. Session Private Messenger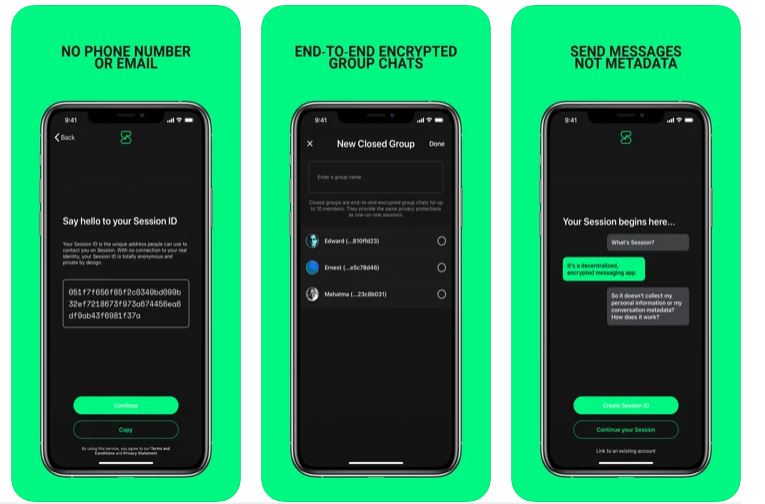 Usually, when we are creating an account on any instant messaging app, an email address or phone number is a must. Is that so? Session Private Messenger doesn't need any phone number or email address to create an account. Once you set up your account, Session creates a Session ID that you can ask people to join in. Session has set up user-operated servers across the globe which means it doesn't control these servers and thus, it diminishes their potential of leaking any user information.
When you are using the app, no metadata is logged and no UP addresses are logged into the servers ever. With end-to-end encryption, you can ensure no one is ready for your messages. In fact, Session doesn't know who you are, who you are talking to, and what the messages are about. It has free speech as one of its mottoes so you are in for a treat if you are using Session.
WhatsApp is sending out notices about the change in privacy policy that will take effect on February 8, 2021. If users want to continue using WhatsApp, they can do so simply by agreeing to the updated policy. We don't condemn or discourage users from using WhatsApp whatsoever although you can check out the above given "Top 5 Best WhatsApp Alternatives" if you want a strengthened privacy-related policies on your app.
You might also like
---
More from Android
---
Honor 50 series is about to go official on June 16 in China. The launch event will see the unveiling …
OnePlus Nord CE 5G is here. He CE stands for Core Edition as the smartphone aims to deliver high performance …
The Vivo Y53s is here with Snapdragon 480 5G chipset on-board. Is it a part of the Y53 series where …
Editor Picks
---