---
BIG Tech Giveaway – August 2016
It's been a while since we conducted another giveaway and we are pretty sure that you guys were awaiting this a lot. This year, we probably won't conduct another End of the Year giveaway due to certain reasons, so we're doing it early. BigBadroid, Heet Nandu and us, we all reached 1,000 Subscribers! So to celebrate, all of us and TechnoNow have got together to host a giveaway!
---
ENTER BELOW:
---
[divider]Prizes to be won[/divider]
Now we're talking, here's the list of all prizes that you could win. There are more than enough prizes and altogether, 10 lucky winners will get a chance to win one of each! To view all the prizes, just click the toggle below.
[toggler title="List of prizes to be won" ]
Transparent Productivity Mouse – 1 Winner (by BigBadroid)
Actrail Sterio sports earphones – 2 Winners (by BigBadroid)
Xiaomi In-Ear Headphones Pro Gold – 1 Winner (by TechnoNow)
Zebronics Alien Gaming Mouse – 1 Winner (by Heet Nandu)
ZOOOK Rocker BlueTooth Speaker – 1 Winner (by TrueTech)
Rs.500/- Gift Voucher (Amazon/Flipkart) – 1 Winner (by TrueTech)
JBL T150A In Ear Headphones – 1 Winner (by Maurson Tech)
Total number of Winners: 8 (Eight)
[/toggler]
---
RULES:
[toggler title="Rules" ]
Participants are to abide by the rules and regulations stated by the organisers to enter the giveaway and be eligible to win the prizes.
This giveaway is open to any anyone residing in India and will run from August nd 2016 to August 20th 2016.
All participants can enter using the above mentioned social activities to gain entries and augment their chances of winning the prizes. Spam entries/fake entries will not be tolerated and will be removed.
All participants are open to refer their friends to gain extra entries, however, duplicate entries will be marked as invalid and will be removed.
Every winner, will be notified by the email address provided within 24 hours, after the results are announced.
Prizes are not transferable or exchangeable. All prizes should be claimed within a week. After which, the winner looses their prize permanently.
In case of dispute, the organizer's decision is final and no argument will be entertained.
We reserve the rights to amend the rules of or withdraw this giveaway if required.
[/toggler]
You might also like
---
More from Giveaways
---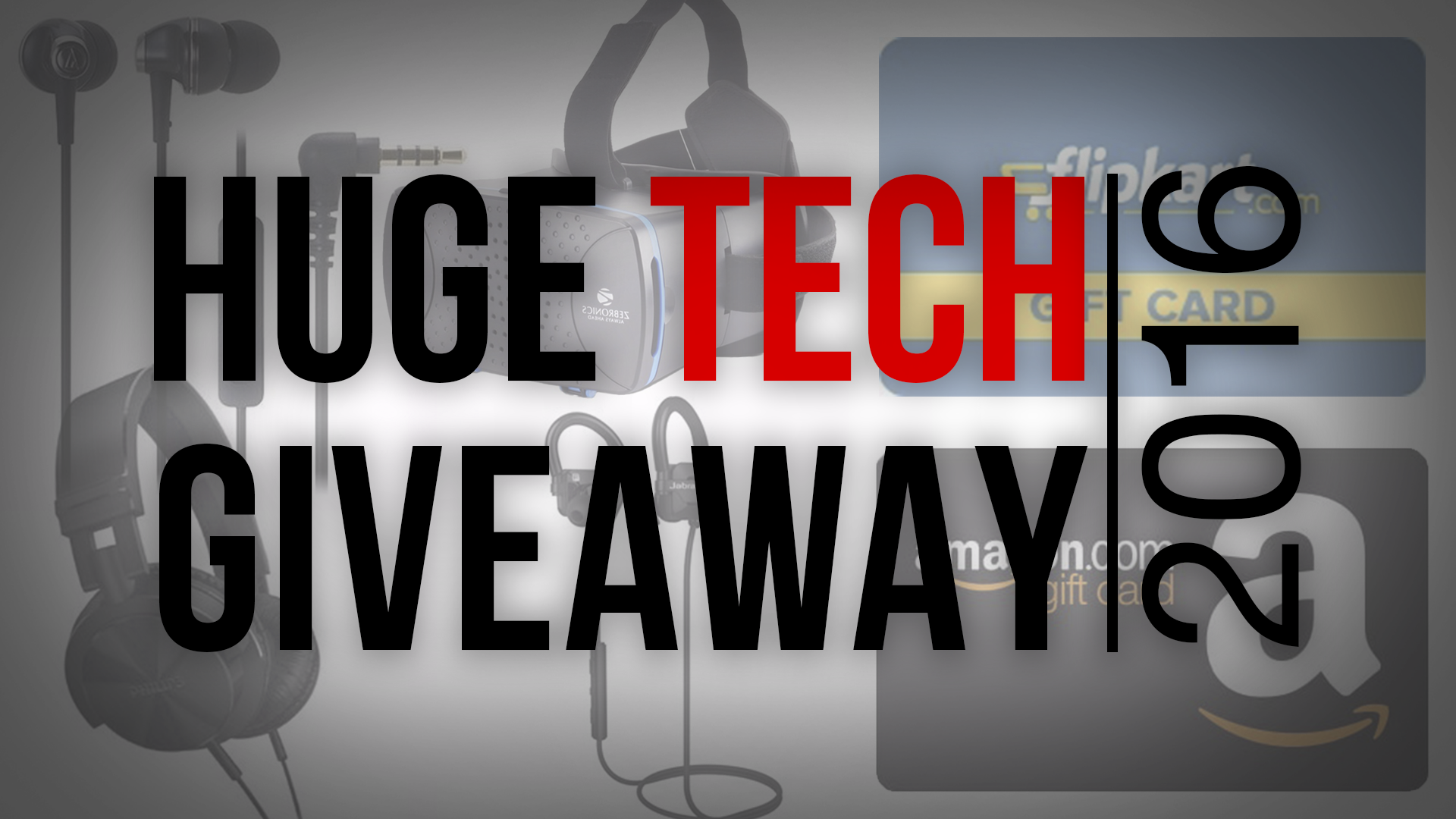 Huge Tech Giveaway - 2016 After a long wait, we're here with another awesome giveaway!  It's the end of Q1 2016, the …
OnePlus 2 Invites Giveaway - 3 Invites We are giving away 3 invites for the 2016 Flagship Killer, the OnePlus 2. …
We have got back with our sponsors for the future giveaways. The giveaways are hosted by our sponsors who receive …
Editor Picks
---