After Huawei Nova 4 made headlines appearing with an Infinity-O display, Samsung Galaxy A8s has surfaced on American agency FCC for certification and it is speculated to sport the first-ever Infinity-O display as promised by Samsung during SDC 2018. According to the screenshot that surfaced online, a Samsung smartphone bearing model number SM-G8870 that appeared on FCC presumably Samsung Galaxy A8s shows an irregularity in its a status bar which has sparked a row of rumors claiming that it is because of a cut-out or hole at the left top side of the screen.
Per the screenshot, icons on the status bar are clearly visible. At first, the screenshot looks not-so suspecting, however, if you take a glance at it, you'll see that the icons on the right side of the status bar are placed just along the right-side while there is a margin or buffer of few inches on the left side of the screen. This has given rise to the rumors that the icons are spaced because of a cut-out for the front-camera or say a hole for the front sensor that comes with the new Infinity-O display.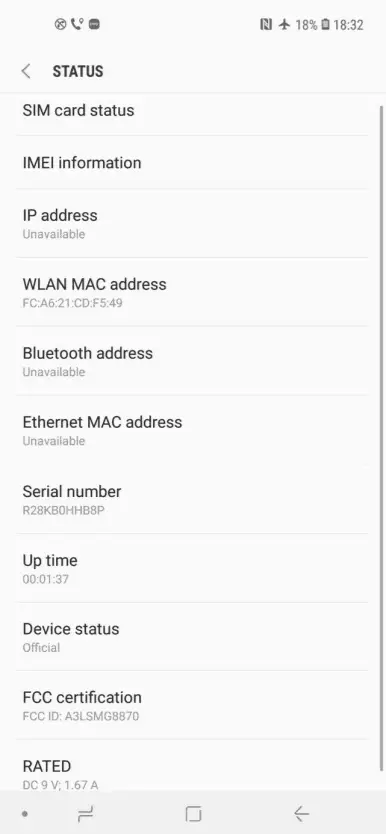 Also, it is clear that Samsung has greatly improved the aspect ratio from 18.5:9 used with Galaxy A6 and flagship smartphones like Galaxy S9 and further, this particular model uses a 19.5:9 aspect ratio. Samsung Galaxy A8s is speculated to roll out in China only where it will be tested before it could be rolled out in other parts of the world if Samsung ever plans for it although Europe is one of the potential candidates for its next rollout after China.
Also, GSMArena stated that Samsung Galaxy A8s could be a precursor to the much awaited Samsung Galaxy S10 expected to roll out in early 2019 with an Infinity-O display which is highly likely although Samsung could roll it out as a completely different device as well. Samsung enthusiasts are eagerly waiting for the launch of Samsung Galaxy S10, Galaxy S10 Lite, and Galaxy S10 Plus that will bring a number of firsts such as 5G technology, Infinity-O display, Exynos 9820 SoC, and others.
You might also like
---
More from Android
---
OnePlus announced last year that it is exploring products other than smartphones as well. Recently, OnePlus 7 series was launched …
OnePlus is one of the fastest growing OEM in the world and especially in India and China which are by …
Now you can use Facebook and earn while sitting at the comfort of your home thanks to the new New …
Editor Picks
---