If you ask me what's the best selling smartphone of 2019? I would say Apple iPhone XR as it has already made a few headlines and based on the latest report by Counterpoint Research's Market Pulse, the same is true. The iPhone 11 ended up becoming the second best-selling smartphone model in 2019 even though it was launched in September last year.
Apple & Samsung managed to portray their dominance in almost all regions around the globe with just a few listing from other brands in the top 10 best-selling smartphones. To put things into perspective, Apple secured six places in the list with iPhone XR topping all at 3% market share. This is followed by Apple iPhone 11 at 2.1% and then comes Samsung Galaxy A10 with 1.7% market share. On the global scale, only Oppo's A5 managed to appear on the top 10 best-selling smartphone lists which are pretty impressive.
Region-wise, Oppo A5 excelled at 4% with Oppo A9 at 35, Vivo Y93 at 2%, Vivo Y93s at 2% and Huawei P30 at 2%. Note that Huawei is currently selling almost all its smartphones in China after the Huawei Ban imposed by the US government.
In North America (NAM), it was only iPhone XR that managed to pull off a double-digit listing at 12% of market share which is more than twice what any smartphone in any region has sold last year. iPhone 11 secured 65 while iPhone 8 took 5% of the market share in NAM. In fact, all the top five positions in NAM are secured by Apple iPhones.
Next up, in LATAM, Samsung Galaxy A10 was the top-selling phone at 5% while Galaxy J2 Core, Moto E5 Play, and Galaxy A20 captured 4% of the market share with Galaxy J4 Core coming at fifth position with 3%. In the APAC region, Oppo A5s managed to showcase its dominance at 3% while Galaxy A50, iPhone XR, Galaxy A10, and realme C2 managed to get 2% of the market share. It is interesting how Realme managed to appear in a best-selling list since it recorded the highest YoY growth especially due to its popularity in India and a few other countries.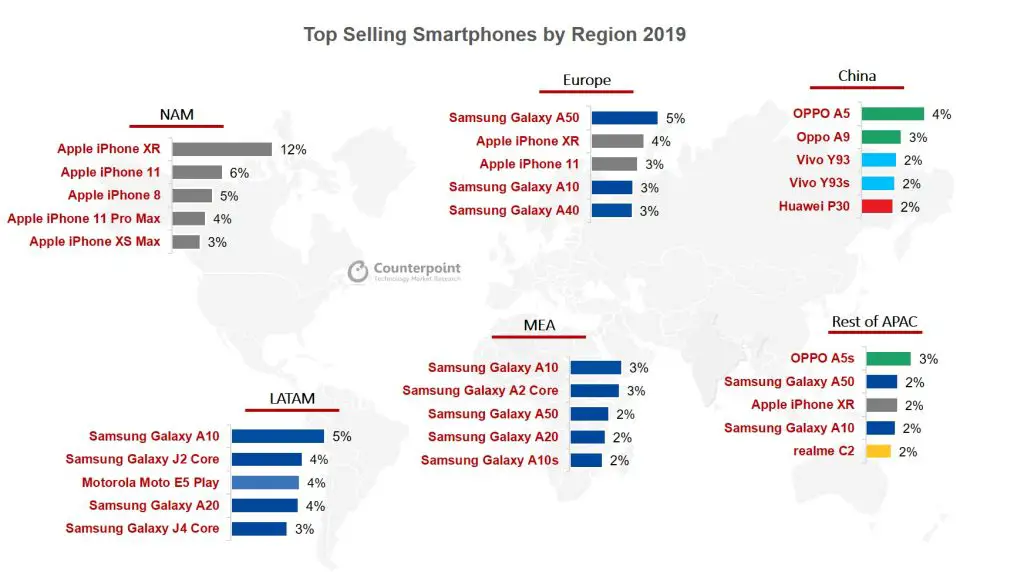 Samsung A-series which is a mid-range series packing in flagship specifications managed to appear in almost all the region such as Galaxy A10 (3%), Galaxy A50 (2%), Galaxy A20 (2%), Galaxy A10s (2%) and finally Galaxy A2 Core (3%) in MEA while the similar story was followed in Europe with Galaxy A50 ranking at the first position with 5% market share while Galaxy A10 (3%) and Galaxy A40 (3%) secured fourth and fifth positions respectively.
Overall, according to the Counterpoint Research, 5G smartphones are still in their infancy with just 1% of market share although 2020 could change a lot since many 5G smartphones have already launched while many are launching soon.
More from Android Devices
---
Samsung is one of the companies that have been the closest rival of Apple for years and we see products …
Huawei Nova 7i made it official in February this year. Apparently, there's a word out of China that Huawei is …
Xiaomi Redmi Band makes it official at the Mi Fan Festival 2020 to compete for head-on with Realme Band that …
Editor Picks
---