The stats for Apple iOS 12 adoption are available now and it is impressive while Google Android Pie 9.0 adoption still suffers. About the iOS 12, it was launched last month after the September 12 Special Event 2018 where Apple iPhone XS, iPhone XR, and iPhone XS Max were launched. The newest version of iOS is speedily taking over all iPhone devices as early as iPhone 5S that was launched 5 years ago and the stats are amazing by far.
According to statistics posted by Mixpanel, the stats show the progression of both iOS 11 and iOS 12 along with older iOSes. It shows that on September 3, iOS 11 was at the peak with 90.71 percent while iOS 12 (which was in its beta) was at 1.06%. Fast forward to September 17 when Apple officially launched the stable iOS 12 publicly and that when the figure started rising with iOS 12 at 14.07% and iOS 11 at 78.53%.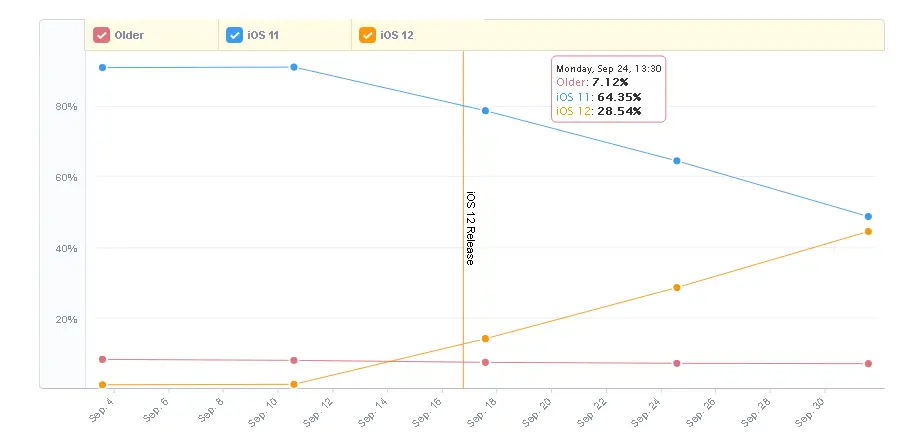 On September 24 when both iPhone XS and iPhone XS Max were available on pre-order, iOS 11 declined to 64.35% while iOS 12 rose to cover more than quarter Apple products at 28.53% which includes all Apple products supporting iOS 12.
Finally, on October 01 at 13:30 (as per the data), iOS 11 declined to 48.71% while around 44.29% of Apple users switched to the fastest growing iOS 12 which is the most popular iOS till date. This definitely calls for a toast since iOS's biggest competitor Android is still figuring out how to get its latest Android Pie 9.0 out in public since only a handful of smartphones have received the update even though the version was launched more than two months ago. This is in reference to the statistics posted by Google a few days ago showing the adoption of Android OSes across all its smartphones in September where Android Pie failed to even appear amidst the statistics.
You might also like
---
More from Gadgets
---
All boasting of a premium design with top-notch specifications, there are indeed many contenders for the coveted title of "Top …
Rumors spread like wildfire in the world of tabloids, tech sites and portals. Just as Chinese OEM Huawei was gearing …
Today, February 20, is the official unveiling of Galaxy S10 series. Being the part of Samsung's tenth-anniversary flagship phones, The …
Editor Picks
---