Recently, Twitter face its worst situation ever in history one of the best social media platforms now has become a place for trolls and memes.  Users are looking forward to the best Twitter alternatives. It's not easy to recommend Alternatives for a particular application we have to consider all kinds of features in comparison and come to a conclusion.
After months of research, True Tech lists out 10 of the best Twitter alternatives that Elon Musk doesn't use so, you don't have to panic these social media platforms will never be owned by Elon Musk.
What are the best Twitter alternatives? 
1. Mastodon
Mastodon, an open-source, free social tool that enables users to create their social networking sites, is one of the most often sought alternatives to Twitter. Mastodon has several independently managed nodes, each with its code of conduct, terms of service, privacy settings, and moderation methods, giving it microblogging features similar to those of the Twitter service.
It does provide practical methods for switching from Twitter because it is more widely used. For instance, you may use debirdify and Fedifinder to search your Twitter account for the accounts you follow there and attempt to locate matches for them in the Fediverse. Catching up with folks you've been following on Twitter is now lot simpler thanks to this.
2. Gab
Musk frequently cites "freedom of speech" on Twitter, but this site, which is quite similar to Twitter, gives freedom of speech for no cost. The goal of Gab is to put "people and free speech first," and it has established a reputation as one of the greatest Twitter alternatives. It was created to act as a check to what CEO Andrew Torba referred to as "the left-leaning Big Social monopoly."
Google removed Gab's app from the Play Store in 2017, citing the fact that it did not "display an acceptable degree of moderation, notably for content that promotes violence and advocates hate against groups of people."
3. Counter.Social

I would like to say if you are looking for an overall Twitter alternative then I would recommend you to use CounterSocial the first social network platform, CounterSocial, has a zero-tolerance policy for adversarial nations, automated accounts, trolls, and misinformation networks that employ social media platforms, and freedoms to carry out influence operations against the US.
There are tight guidelines against trolling and fake news, and the posts are presented chronologically. Additionally, there are no commercial users or advertisements, and the site mostly depends on contributions making it one of the best unbiased social media platforms right now.
4. Amino
The purpose of the software, Amino, a community network, is to link members based on common interests. You can make a profile that is exclusively yours, follow others, and grow your following. After that, you may choose between forming your community and encouraging people to join it or joining one that already exists and is dedicated to your passion.
Communities may be found on a wide range of topics, including popular TV series, films, pop bands, and even gender and sexuality-based subcultures. But with a 13-year-old minimum age requirement finding content that parents might find inappropriate is simple with Amino.
5. Diaspora
The social network of the social networks Diaspora is open-source based. On a personal server, each "pod" is managed by a single person. In a system known as the Fediverse, these are all connected. There isn't a single location, organization, or even software for it like there is for Twitter. Finding a diaspora pod that works for you only requires finding it; joining it; and leaving.
It might be challenging to use the UI, which some people could compare to Facebook rather than Twitter. For instance, you cannot modify messages once they have been posted; similarly, you cannot do so on Twitter.
When it comes down to it, much as with other social networks, the true value you derive from it comes from the users you follow and make friends with. I can put up with the UI since Diaspora attracts a pleasant mix of people that share my interests.
6. GETTR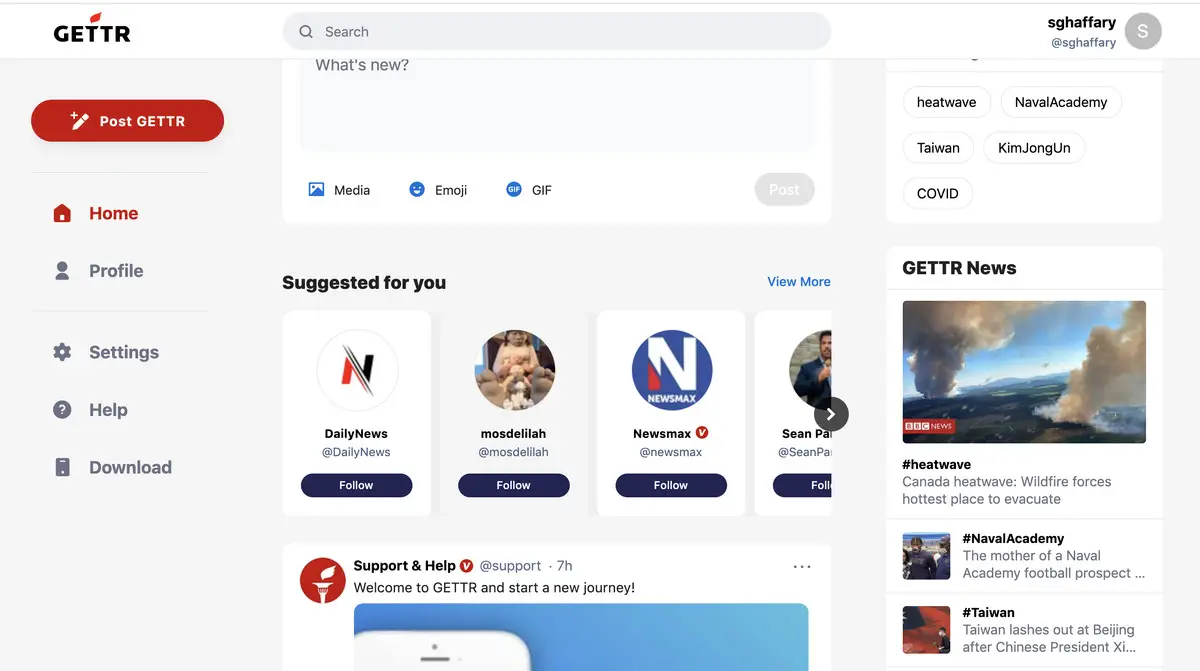 The social media app GETTR has a pleasing visual quality. Your posts are visually appealing and follow a consistent format, but your feed is constantly spammed by people who disagree with you and outright trolls who want to damage the app's reputation.
It is very simple to begin using a social network "based on the values of free expression, independent thought, and opposing political censorship" thanks to the variety of ways to sign up with GETTR, including phone and email. You might think of GETTR as a less conservative Parler without Kanye West.\
7. Tumblr
Tumblr has been around for almost as long as Twitter, in contrast to the other social networks, many of which you have probably never heard of. Tumblr reminds me less of the more contemporary offspring of early social networks like MySpace than of its bright, straightforward UI that facilitates micro-blogging. Tumblr is simple and enjoyable to use, appearance aside.
Tumblr is a for-profit company, unlike every other social network I've discussed. Tumblr uses advertising to pay its costs. But if you pay $4.99 per month or $39.99 per year, you may turn these off.
8. Cohost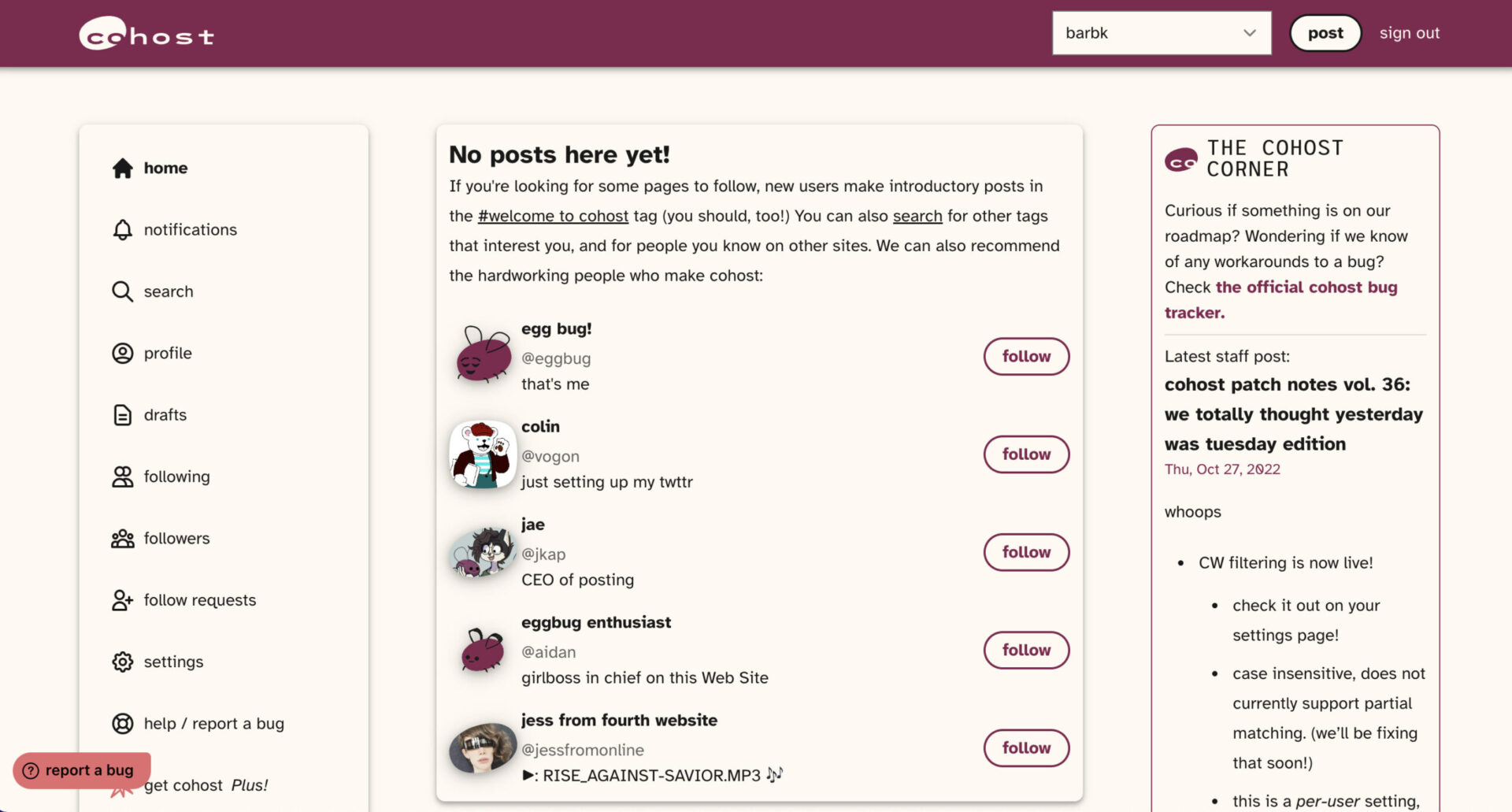 Your ability to share anything is intended by Cohost. Both Tumblr and Facebook are imitated in the user interface, which is free of advertisements. Access to the website is improved with larger uploads and additional customizability choices with an annual or monthly membership.
Cohost would never sell users' data, for their business to anybody who would amend these policies to generate money," so anyone concerned about their internet privacy should rest easy. For the time being, though, I can't locate a mobile application. This is only a web application that you may utilize.
9. Discord
You may exchange audio, video, and text chat with friends, gaming groups, and developers with the free communication software Discord. It is one of the most widely used platforms for interacting with people online, with hundreds of millions of users.
It's simple to use Discord securely with the proper privacy settings and oversight. However, there is always a chance while use open chat websites and applications. Accepting just friend requests and taking part in private servers with individuals you already know is the safest method to use Discord.
On Discord, there are no open areas, but users may join and talk on topic-based servers and channels. Registered users need an invitation link to join private or public Discord servers, which are only available to registered users.
10. Reddit
The material on Reddit, a social news website and forum, is socially selected and encouraged by voting by site visitors. A play on the phrase "I read it" inspired the website's name. To utilize the website's basic functions, Reddit members must first register for a free account.
Users between the ages of 18 and 29 are the most active on Reddit. Reddit is used by more than one in three US individuals in this age group. At the moment, there are over 2.8 million subreddits. More than 130,000 active communities may be found on Reddit.
The Best tab, which also showcases the most popular posts from subreddits, is only visible to registered users. For those that register on the site, Reddit additionally takes into account the subreddits that the user has recently browsed. Submissions based on algorithms are also shown on the first page.
Bonus: Blue Sky
Jack Dorsey, co-founder and former CEO of Twitter, left the company and founded his own new social networking company, BlueSky. However, the application is still in the early stages of development.
By registering with an email ID, anyone can now participate in the beta program. I would like to see Twitter face off against this app.
Final Verdict
These are 10 best Twitter alternatives I have handpicked for you, in contrast to these if you use any of the best Twitter alternatives and noticed we missed it in the rundown kindly let us know about the application in the comment section and will try to include it in the further articles.
If you find this blog useful then consider it with your friend who is anxious about the current state of Twitter, and let them know about these Twitter alternatives. 
You might also like
---
More from Apps
---
Editor Picks
---