In the buzz of the new, big and shiny flagships coming up, we at TrueTech haven't forgotten to focus on the mid-range king – OnePlus. In recent news, the Chinese-manufacturer's upcoming flagship has not only gathered news for leaks (and a plethora of more leaks), but also for official announcements made by OnePlus. However, today we have another exclusive leak for you: an exclusive OnePlus 8 Pro Leaked Photo that confirms 120Hz Display. This leak was tipped to us by a regular tipster, claiming to work at OnePlus. They also mentioned that device could be a pre-production test unit, which could be reiterated upon for the final device.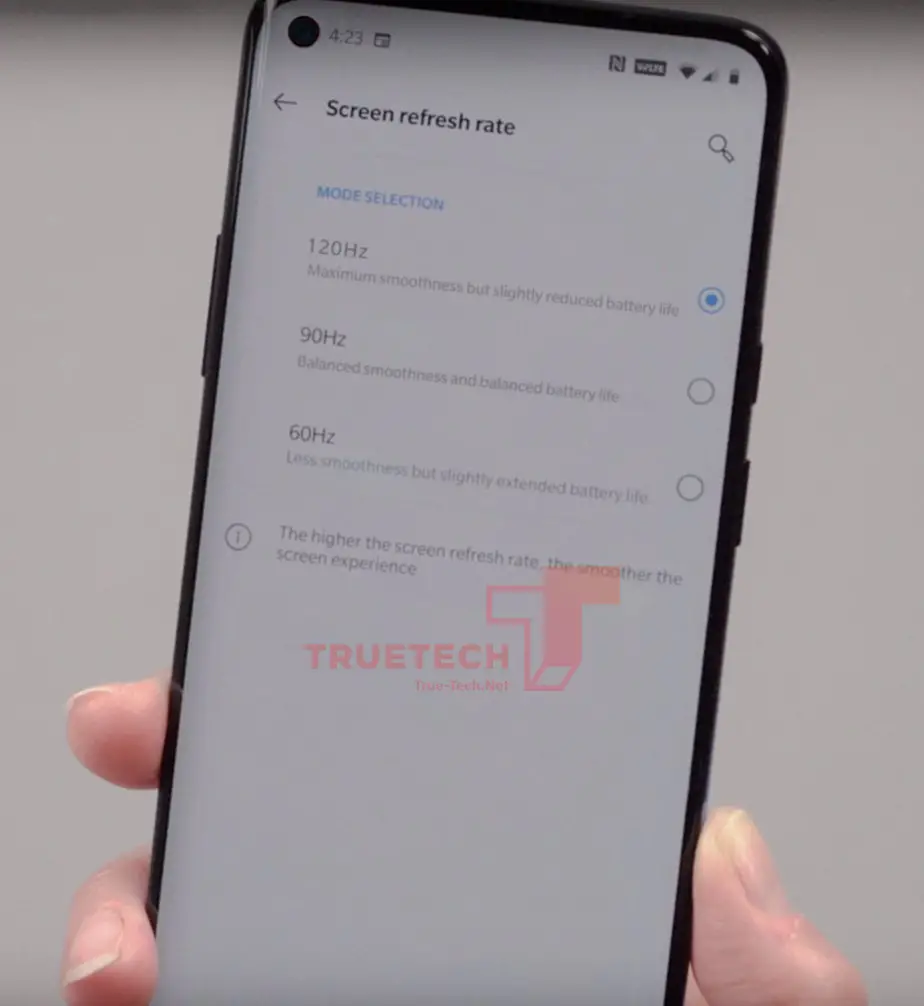 In the early hands on test unit we have (image attached above), it's clear to see that OnePlus will be adding a 120Hz option to its next flagship: OnePlus 8, allowing us to confirm the very fact. Which means it will boldly hold the title of one of the cheapest phone offerings to provide a high-refresh rate screen to the consumers in the initial days of this technology. This leak can very comfortably backed up by the fact that Oneplus officially confirmed the 120Hz display through a forum post. 
One thing to notice here is that the 120Hz option does not list the possibility of the resolution dropping to a lower 1080p in order to kick 120Hz into action. This can either be a very good sign indicating that consumers will be able to enjoy a 120Hz 2K panel, or it could just be a pre-production fluke that has incomplete information for initial testing only. Apart from the 120Hz display, the OnePlus 8 Pro design showcased in the photo, also matches our previous exclusive leak: OnePlus 8 Pro Product Diagrams, tipped by the same individual. The phone seemingly has a single front-facing camera in a cut-out fashion, seems like OnePlus is planning to ditch pop-up cameras this time.
DONATE TO SUPPORT US
TrueTech is a symbol of clean, ethical, and unbiased tech journalism. Your valuable donations will keep keep our effort alive!
Over the past three years, TrueTech has published
exclusive OnePlus and other leaks
with a strong track record of being legitimate (availed mostly from the same individual) – with very minor details changing after the official announcements. These minor discrepancies could also arise from last-minute changes companies choose to make before launch events. Be that as it may, leaks are leaks and should always be taken with a pinch of salt.
Consumers have already been very satisfied with Oneplus's take on a 90Hz refresh rate displays with the OnePlus 7 and 7T series, with not only how smooth their screens feel, but also because how the others specs of the phone harmonize with this display, be it the battery backup, RAM consumption or even the overall performance. It's only about time we see oneplus step it up a notch and do the same magic with its 120Hz displays in the upcoming flagships.
You might also like
---
More from Android
---
The Redmi Note 13 Pro series will be unveiled in China in September, according to an official announcement from Xiaomi. …
We now have a first glance at the design and color options of the next Samsung Galaxy S23 FE according …
The Snapdragon 7s Gen 2 chipset, which is expected to power the next Redmi Note 13 Pro smartphone, was recently …
Editor Picks
---