Apple just released their new bezel-less smartphone the iPhone X, to compete against phones like the LG V30, Samsung Galaxy Note 8, the OnePlus 5T etc. However, until now, it seemed as if Samsung still had the upper hand with a new hinted device called the Galaxy X, a phone with a foldable display. However, this new patent that Apple just filed. However, there have been rumors previously about Apple partnering with LG to create foldable OLED displays for the next generation iPhones. According to a report, the foldable iPhones are set for production in 2020. As mentioned in the patent, Apple will develop a device that can be "opened and closed like a book", and their patent was successfully published by the US Patent & Trademark Office.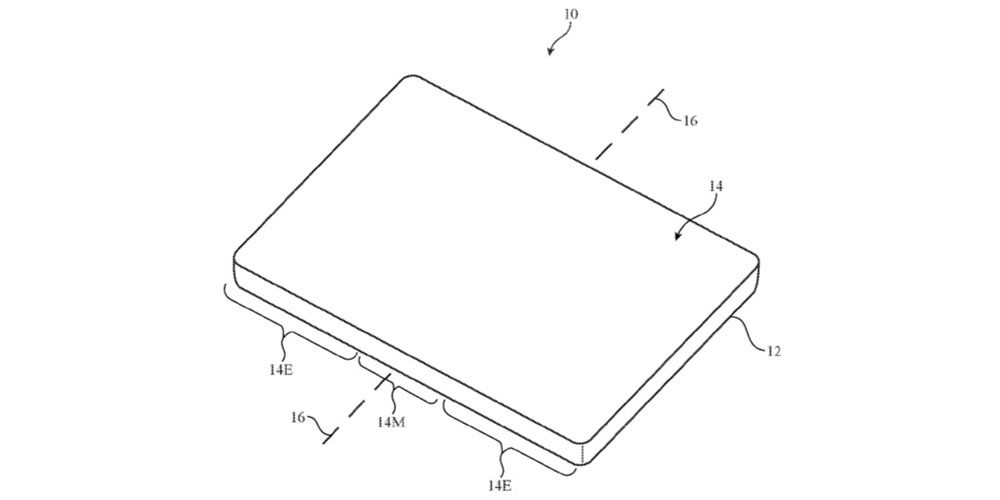 Quoting from the patent:
An electronic device may have a flexible portion that allows the device to be folded. The device may have a flexible display. The flexible display may have a bending region that allows the display to bend along a bend axis when the device is folded.
ZTE recently launched their "foldable" device the Axon M, however, it's not technically a foldable device. It uses a hinge and two displays together and combines them into one canvas.  The devices Apple and Samsung are working on are very different. Although we don't have a lot of information on the Galaxy X's display, Apple's patent talks clearly about how the display technology functions:
"Display may include an array of display pixels formed from liquid crystal display (LCD) components, an array of electrophoretic display pixels, an array of organic light-emitting diode display pixels, an array of pixels formed from crystalline semiconductor light-emitting diode dies (sometimes referred to as micro-LEDs), an array of electrowetting display pixels, or display pixels based on other display technologies. Examples in which display has been formed from organic light-emitting diode pixels or micro-LED pixels may sometimes be described herein as an example)."
Meanwhile, according to reports LG has completed its foldable OLED display protest and will be upgrading the durability and the yield rates. Let's see what Apple and Samsung have up their sleeves for the upcoming era of foldable smartphones.
---
You might also like
---
More from iPhones
---
There have been some rumours in the past regarding the iPhone SE 2 and expectation for it are high since …
The Indian Government announced the Union Budget for the year 2018 recently and it involved an increase in the import …
Apple's tenth-anniversary edition iPhone X is arguably the best looking phone in the market as of today. Even after some …
Editor Picks
---