With the formal debut of its second-gen smartphone, the Nothing Phone (2), the tech firm Nothing, which Carl Pei co-founded, has made a big stir. This cutting-edge smartphone was unveiled at an online event on July 11, 2023, and it is equipped with a potent Qualcomm Snapdragon 8+ Gen 1 CPU, ranking it among the best mobile processors on the market. This smartphone comes with some of the most exciting and unique features, that can' be found in any other smartphone brand. Here's a detailed overview of the smartphone.
Nothing Phone (2): Specifications and Features
The Snapdragon 8+ Gen 1 processor, which is renowned for its tremendous power and performance, powers the Nothing Phone (2). The combination of up to 12GB RAM and 512GB storage makes the phone perform rapidly and seamlessly.
A large 6.7-inch flexible OLED display that provides a snappy and fluid user experience is located on the front. The screen instantly adapts to the information you're viewing thanks to its variable refresh rate of 120Hz, delivering the best possible visual fluidity. The display is impressive in terms of brightness, supporting HDR10+ for vivid colors and lifelike contrast with accurate 10-bit color representation, reaching a maximum brightness of up to 1600 nits.
The Phone (2) has a bigger 4,700mAh battery than the Phone (1), its forerunner. As a result, you may anticipate a longer period between charges. The Phone (2) also supports cable charging at 45W, which is quicker than previously. This results in faster charging periods so you can resume using your phone right away.
The Phone (2) offers you simple alternatives for charging your mobile by supporting both cable charging and 15W wireless charging. Additionally, it provides 5W reverse wireless charging, allowing you to use your phone to charge other compatible devices.
Overall, the Nothing Phone (2) offers a fluid user experience and gives you more options when it comes to battery life and recharging because of its amazing charging capabilities and combination of strong hardware.
The Nothing Phone (2) includes a lot of extra characteristics in addition to its strong hardware, such as:
An on-screen fingerprint reader
Head Unlock
Speakers in stereo pairs
A 5G network
Bluetooth 5.3 NFC Wi-Fi 6
A port for USB Type-C
2 SIM card slots
A water and dust resistance rating of IP54 from IP53
Android lovers will undoubtedly choose the Nothing Phone (2) since it is a huge improvement over the Nothing Phone (1). The Nothing Phone (2) is a tempting choice for anybody seeking for a new smartphone thanks to its potent hardware, distinctive appearance, and clean software.
Nothing Phone (2): Design Upgrades
The Nothing Phone (2) features an original and striking design that gives you a peek at its internal workings through a partially transparent surface. White and dark gray are two gorgeous color choices for this fascinating smartphone.
The Glyph Interface, a creative arrangement of LED lights that glows in various patterns to provide you clear visual signals for different alerts like charging, incoming calls, and texts, is a striking feature of the Nothing Phone (2). Even better, you may alter these designs as you choose to suit your unique preferences and fashion sense.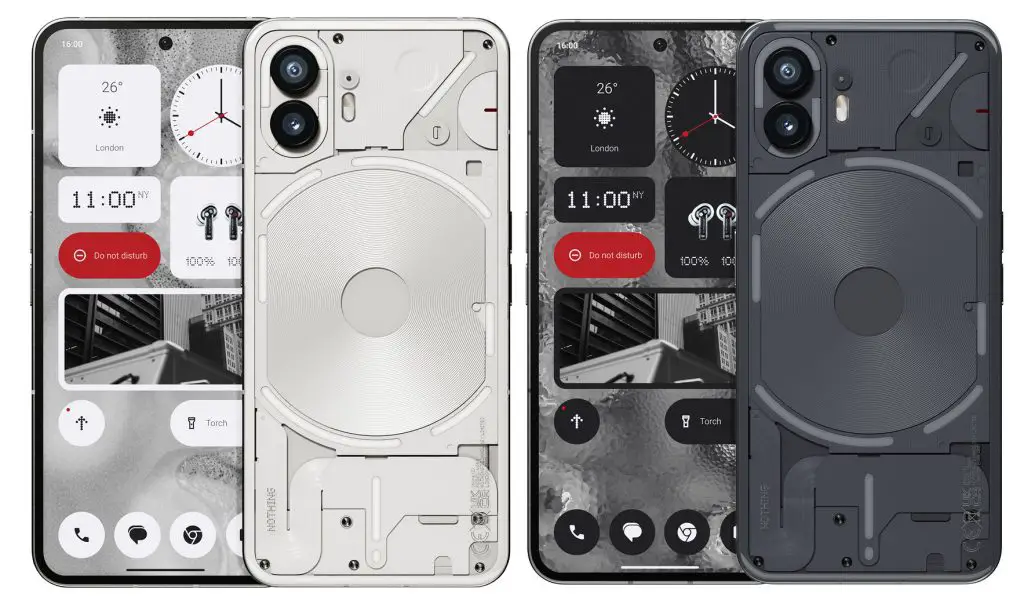 The phone's back is made of a sleek glass panel that is gently curved for improved handling and comfort. Even more striking is the Nothing Phone (2)'s focus on sustainability in its construction. It uses environmentally friendly components, such as a mid-frame that is entirely recyclable. Further, decreasing plastic use is the packaging's deliberate design to be plastic-free.
In conclusion, the Nothing Phone (2) stands out not only for its unique design and customizable Glyph Interface but also for its excellent display, environmentally friendly manufacturing, and packaging, making it a desirable option for those looking for both style and environmental consciousness in their smartphone.
Nothing OS 2.0
Nothing OS 2.0, which is based on Android 13, powers the Nothing Phone (2). The primary goal of this modified version of Android is to provide users with a wide range of customization choices. It includes options including the ability to customize folder size, layout, and more. It also gives features like monochromatic app icons, app shortcuts on the lock screen, and more. The phone also comes with specifically crafted widgets made by Nothing that are easily customizable via Quick Settings.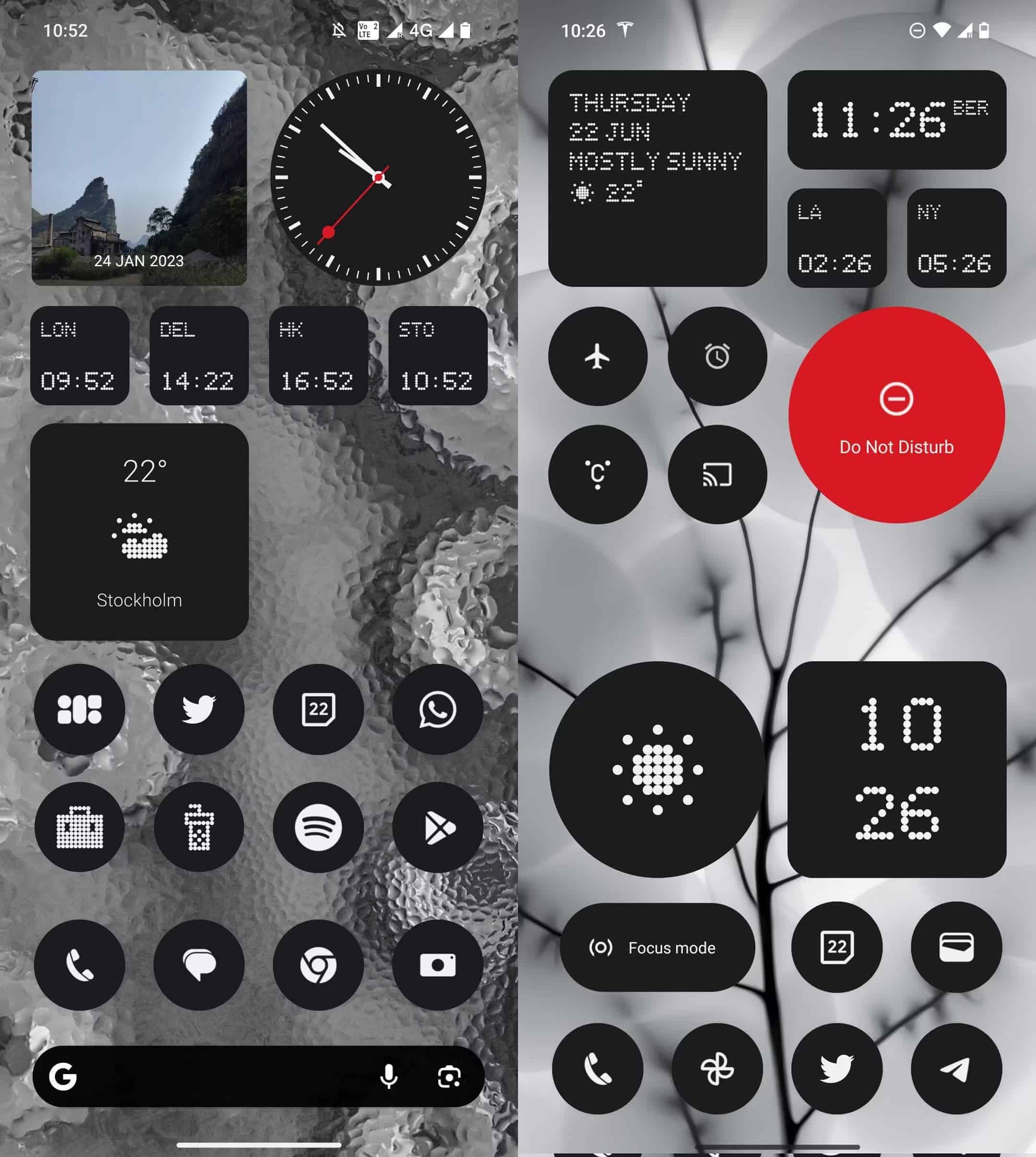 The Nothing Phone (2) will get significant software upgrades for three years and security updates for four years in order to guarantee a positive user experience. With the help of this substantial support package, the phone will be updated and improved as needed over a longer period of time, increasing both its longevity and customer happiness.
Nothing Phone (2): Camera Upgrades
Two cameras are included on the rear of the Nothing Phone (2), and they operate in tandem to take beautiful pictures. The primary camera uses a Sony IMX890 sensor, which boasts an outstanding 50-megapixel resolution. Additionally, it offers OIS/EIS support, which lessens shaky photos and videos.
The ultrawide camera features a Samsung JN1 sensor with EIS capability, and it has a 50-megapixel sensor as well. You may snap broader pictures with the help of these capabilities, filling the entire frame. An exclusive selfie camera is located on the front of the phone. In comparison to the 16-megapixel sensor seen in the prior Nothing Phone (1), it sports a 32-megapixel sensor.
The Phone (2)'s 18-bit ISP is what makes it so awesome. This acts as the phone's equivalent of a brain, processing the pictures you take. A staggering 4000 times more data can be captured by the ISP in the Phone (2) than it can by the ISP in the Phone (1), making it far more powerful. How does this affect you? Therefore, the Phone (2) is able to capture photographs with remarkable detail and reproduce colors more faithfully. Your images will therefore appear clearer and more colorful, adding even more value to your memories.
The Phone (2) also boasts some cutting-edge photography functions, such as:
Super-Res Zoom 4K movies at 2x the frame rate
Evening mode
In motion
Mode for Motion Capture 2.0 in Portrait
Scene detection using AI
Nothing Phone (2): Pricing and Availability
Three versions of the recently released Nothing Phone (2) are available, each with a different amount of storage. The entry-level model, which costs Rs 44,999, comes in a stylish dark gray hue and has 8GB of RAM and 128GB of storage. A 12GB RAM model with 256GB of storage costs Rs 49,999, while a 12GB RAM variant with 512GB of storage costs Rs 54,999.
You may place a pre-order for the Nothing Phone (2) until July 20. The phone will be sold through Flipkart and a few retail locations beginning on July 21. Exciting promotions include an immediate discount of Rs 3,000 on Axis and HDFC cards that go along with the transaction. Customers will also get complimentary Ear (stick) and Ear (2) earphones, a screen protector, a power adapter with 45W charging capacity, and a Phone (2) Case. Nothing wants to make the transaction more enticing for potential customers with these perks.
Overall, The Nothing Phone (2) has a distinctive appearance and an avant-garde Glyph Interface, despite its somewhat higher price tag when compared to certain smartphones with comparable chipsets, such as the iQOO Neo 7 Pro, which has a starting price of Rs 32,999. For those looking for an aesthetically pleasing and notification-rich experience, these unique features could be worth the additional cost.
You might also like
---
More from Android
---
It's official. After a barrage of speculations, rumors, and leaks, the OnePlus 12 made its official launch in China earlier …
As excitement for the OnePlus 12 grows, a new leak has emerged, providing a first glimpse at the highly anticipated …
Prepare for an exciting revelation, tech enthusiasts! The curtain on the highly anticipated Samsung Galaxy S24 series has been lifted …
Editor Picks
---