OnePlus' one of the largest events of the event took place on September 26 where it showcased a few products India-first before it could launch the same in global markets in a few weeks. OnePlus 7T was the showstopper while the new OnePlus TV became one of the most talked after products in the Smart TV category as soon as the folks at OnePlus unleashed the curtails. I curated everything you need to know about the event so sit back and read to know more.
OnePlus 7T
The showstopper, the incremental model to OnePlus 7, OnePlus 7T stole the limelight of the show. Introduced by none other than the co-founder of OnePlus Carl Pei, OnePlus 7T is surely a must-have device as it has a plethora of upgrades. In fact, one could argue it as one of the biggest upgrades OnePlus could showcase for an incremental model and it will be true.
OnePlus 7T: Design & Display
Talking about the OnePlus 7T slated to go on sale on September 28 for Amazon Prime members and others on September 29 (in India only), OnePlus 7T is a must-have. It packs the elegance and exudes the sophistication of a brilliant device packed with muscular & sleek built fused with futuristic design & premium specifications.
Talking about the design, OnePlus 7T follows the company's motto to enhance touch & feel. OnePlus created it to be just 8.1mm thick while it is just 3.2mm at the extreme edges. With the next-gen frosted glass back, the technology itself was adopted by a few brands. Instead of using something that has already proven its caliber, OnePlus believes in experimentations and listens to its community which has grown immensely, making it the fourth-largest brand in the world, OnePlus 7T comes with a magnificent circular camera ring that encapsulates triple sensors.
In fact, OnePlus has clearly stated that the edges of the camera ring are carved by monocrystalline diamond drill giving it an immense clarity and shine similar to any article of jewelry. The rear glass back has been specially manufactured by OnePlus where it has used the next-gen matte frosted glass back that combines a combination of films that are stacked giving the rear panel a diffused reflection appearance while being matte at all time.
Apart from that, the device has a tiny teardrop-shaped notch at the front which is so seamlessly integrated that you might not even notice it and the same goes for camouflaged front speakers on the top bezel which is something OnePlus 6, 6T, and even 7 came up with.
I can't stress this enough but OnePlus has upgraded its display tech a lot with OnePlus 7T. It is the second device to get a 6.55-inch Fluid AMOLED display with a stunning 90Hz refresh rate and has ensured that all future OnePlus devices will get the Fluid display tech although with different resolutions and other parameters. The high 90Hz refresh rate allows users to experience OnePlus 7T with the best of scrolling and animation which is smooth and fluid and unmatched by any other Android smartphones. OnePlus made it a staple back when it released OnePlus 7 Pro earlier year which has a buttery smooth display so expect the same while paying a lot less for it.
Speaking about the display tech, OnePlus has optimized it a lot and now it comes to a 38% faster response rate than any Android smartphones i.e. at 40ms.
OnePlus 7T: The beefy under-the-hood specs
Snapdragon 855+ SoC integrated into OnePlus 7T with 2.96 GHz of maximum frequency is a beefier version of standard Snapdragon 855 SoC launched earlier this year and combined with its eight cores and GPU, produces a 15% increased performance than its standard counterpart. It comes with 8GB of RAM as standard along with 128GB or 256GB of internal storage variants backed with the latest UFS 3.0 which allows the phone to extract files, store, retrieve and more faster than any other smartphones. In fact, UFS 3.0 is also something that other brands rolled out with their respective flagship smartphones as well.
Last year, OnePlus 6T was awarded as the best gaming phone of 2018. Since OnePlus 7T offers a powerful SD855+ SoC which is pretty advanced than SD855 used on OnePlus 7 Pro, it has an upper hand in terms of its performance. With Fully Immersive Gaming experience, OnePlus 7T which has a taller 20:9 display offers a resonating gaming experience unmatched by any smartphones you would find in stores now at this time.
It is also backed with a next-gen Graphite heat sink pipe that exerts heat out of the system without turning up the temperature of the device something which I found a problem with on OnePlus 6 since it heats up quite a bit if you are playing graphics-intensive games for a few hours at a stretch. The device has a next-gen under-the-display fingerprint scanner which unlocks almost instantly.
The Highly optimized OnePlus OxygenOS 10
A few days before the launch, an official teaser went live on company's official social media handle confirming that OnePlus 7T will be the first device to get Android 10 out-of-the-box and turns out it is true. OnePlus 7T will get Android 10 based OxygenOS 10 that has been optimized a lot to handle the apps and services on the new phone backed with an excellently powerful Snapdragon 855+ SoC.
Talking about the OxygenOS 10, it now comes with gesture navigation as a part of Android 10 but there's a chance. OnePlus has added over 150 animation improvements along with gestures that add the zing to its custom-made OxygenOS 10 which is considered to be one of the most fastest custom UI to Android OS.
Further, OnePlus 7T has Dolby Atmos Stereo Speakers for a fully immersive experience while the device comes preloaded with both Gaming Mode and Fnatic Mode where the former optimizes the gameplay while the latter gives it all the resources contracting any other apps and services from using the resources that you would require to play a game.
OnePlus has added a feature that tracks apps and their requirements (power & powerful) and use its dynamic methods to detect the surge and allot the resources that apps would require to perform at their optimum rate without any lag.
OnePlus' OxygenOS 10 brings a lot of features onboard such as Cricket Scores for Indian users. It dynamically categories messages and photos by recognizing their categories and sorts it accordingly. It comes with 5GB of free cloud storage and has a Zen Mode that keeps you away from your phone for 20 minutes with a maximum of one hour if you use the phone a lot.
The Work-Life Balance app allows users to choose apps and services for both Work and Life and also set timers and other parameters. Once it is set, your OnePLus 7T will not distract you with an Instagram notification if the app isn't in Work section and similarly, it tends to keep all the apps that aren't part of either work or life at any given point of time to allow you to concentrate better.
Apart from that, we have International Roaming activated with OnePlus devices that would provide users with international roaming plans all while staying connected to the same number and services even while traveling abroad.
OnePlus 7T: Camera
I do know that there will be a lot of readers here that will skip every part of this post to learn what OnePlus 7T brings in the camera department and I must say they are not wrong and neither will they be disappointed since it has quite a lot under its sleeves.
Zake Zhang who is an Image Product Manager at OnePlus did explain the camera chops OnePlus 7T has up its sleeves pretty interestingly. OnePlus 7T comes with a single 16MP front sensor with EIS and it is located right on the teardrop-shaped notch as I aforementioned.
The rear triple camera assembly is unique as it sits in a circular camera ring and it is placed horizontally. The front sensor is a massive 48MP sensor with a larger f/1.6 aperture of pixel size of 0.8micron while the secondary cam is a 16MP ultra-wide-angle camera which comes with a field of view of 117° which literally taps open the world of opportunities as you can seamlessly navigate using either of the cameras within the camera app itself. The third is a 12MP telephoto sensor with an aperture of f/2.2 which although falls short of what OnePlus 7T Pro will have but comes with 2x zoom capability which is second to none.
OnePlus has added quite a few features up its camera prowess such as the upgraded Portrait Mode which adds a lot of details and clarity into the photos while the UltraShot which combines Super Resolution and HDR+. According to OnePlus, the pixels in this mode uses four times more light than normal mode and uses multiple frames to create highly-detailed images at all times.
OnePlus has also added SuperStable mode with OnePlus 7T that uses ultra-precise gyroscope electronic image stabilization that captures amazingly steady videos so forget about any shaky videos as the OnePlus 7T is especially vlog-centric. Finally, OnePlus has upgraded Nightscape mode which uses details from various frames to collectively form a clear image even in low-light conditions.
There's more as OnePlus 7T comes with Macro Photography mode that can capture macro shots from a distance of just 2.5cm with an upgraded macro lens motor that creates a 50mm equivalent lens with less distortion in the end product.
OnePlus 7T: Battery & Prices
OnePlus 7T comes with a slightly beefy battery of 3,800 mAh which is larger than OnePlus 6T's so it must work fine. The device arrives with third-gen 30T Warp Charge support that brings 23% better performance even with the same charging speed.
The device will be available in two specialized color variants i.e. Glacier Blue & Matte Frosted Glass and will go on sale in India on September 28 (for Amazon Prime users) and for others, they will have to wait till September 29 to get their hands on the same. The 8+128GB variant comes at Rs 37,999/- while the larger 8+256GB variant is available at a price tag of Rs 39,999/-.
OnePlus TV
Presenting the next-gen OnePlus TV which looks flamboyant with near bezel-less display, sliding soundbar, aesthetic & circular OnePlus Dock & FarField, OnePlus TV is truly a next-gen Smart TV and comes pre-loaded with tonnes of specifications & features onboard.
OnePlus TV: Design & Display
At first glance, you would fall in love with OnePlus TV and that's it. It combines superior aesthetic with a beautifully designed structure and brings state-of-the-art specs and functionalities. Starting with 55-inch (OnePlus TV Q1), OnePlus TV also has a larger 65-inch (OnePlus TV Q1 Pro) with a 95.7% screen to body ratio thanks to near bezel-less display for a fully immersive viewing experience.
Weighing at just 28 Kgs, it has a slim unified profile with a sleek design and a sliding soundbar that slides downwards when required and just a mere 8-seconds to do it with a super silent motor that won't create any clutter.
The display is made up of Quantum Dots LED wrapped under Blue LED unit and bundles with Gamma Color Magic technology that gives it a high color range of NTSC 120% visuals. With HDR10 and HDR10+ support onboard, no matter what type of content you are watching, it makes sure that it shows what actually you should, unlike other Smart TVs that show a saturated image.
OnePlus TV is backed with Dolby Vision that outputs crisper, high contrast, and high brightness images on the screen that creates a home theatre experience. It processes the images which are the brightest whites and the darkest blacks and uses scene-by-scene information that it receives from the source to create color-balanced and contrasting images with top-notch clarity without any hassle.
OnePlus TV: Sound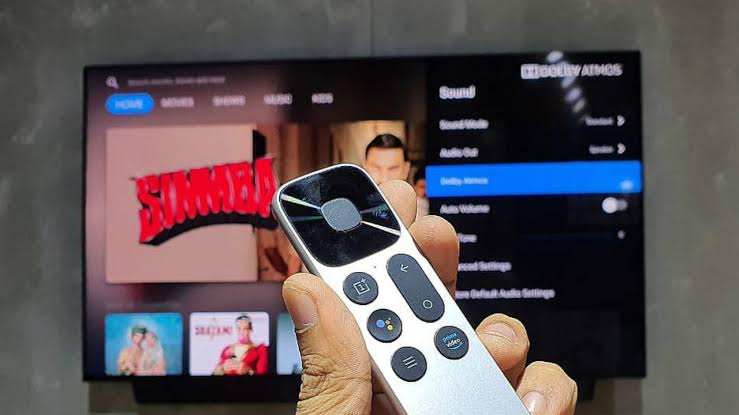 Unlike other smart TVs that depend on external soundbars, OnePlus TV Q1 and Q1 Pro both have a built-in lit soundbar that slides down when you turn on the TV. It produces a punchy 50W sound with 4 speakers on the non-Pro variant and 8 speakers on the Pro variant that combinedly create a spatial sound experience.
OnePlus TVs are powered by Dolby Atmos which means you would hear every pitch, notes and more with optimum clarity and crispness creating a surreal surround sound experience which is something even popular smart TVs abstain from doing.
OnePlus TV: Android TV OS
Yep, as promised, both the OnePlus TVs are backed with Android TV OS with the skin of OxygenOS for TVs. With a combination of Oxygen Play, Oxygen Connect, Google Play Store, there are a lot of ways you can enjoy your OnePlus TV and control it right from your phone or use a minimalist remote control that features a trackpad for navigation and a voice-controlled Google Assistant if you happen to command it without pressing any buttons on the remote control. OnePlus also revealed an external accessories FarField that offers voice control even if you are far away from the TV. The OnePlus TV comes pre-loaded with Chromecast that enables seamless integration with your phone to cast photos, videos, and more without any hassle.
OnePlus TV: Prices
With just a mere difference, OnePlus has rolled out two variants of its OnePlus TV i.e. OnePlus Q1 and Q1 Pro with a price tag of Rs 69,900/- and Rs 99,900/- respectively and will be available at the onset of Amazon's Great Indian Festival on September 29 although Prime members will get to buy it on September 28 itself.
You might also like
---
More from Android
---
We already know that Samsung is working on its own flagship tablet series dubbed Galaxy Tab S7 and Tab S7 …
Samsung is all set to unveil its flagship Galaxy Note 20 series of smartphones on August 5th, during the online …
Ever since Google has unveiled its Pixel 4 series of smartphones, we have been seeing quite a lot of leaks …
Editor Picks
---