After numerous exclusive pre-order sale on an uncountable smartphone, Flipkart is back with its offers on smartphones but this time, it has covered all the smartphones with exciting offers under the name 'Mobiles Bonanza' that will commence on November 19 through November 22. Just when the clock will strike the 12:00 mark on November 19, the offers will be active and for any smartphone enthusiast or anyone who is looking forward for buying a phone, these four days are great for purchases.
To commence with, Flipkart has levied No Cost EMI on almost all the smartphones while those having HDFC Bank Credit Card will be able to get EMI of as low as Rs 499/month. Almost all of the smartphones except Apple come with Complete Mobile Protection package at just Rs 199 that gives a sense of relief in case if you accidentally dropped your phone or something.
To commence with the offers, you can find smartphones from brands such as Realme, Google, Asus, Apple, Huawei, Honor, Nokia, POCO, Motorola, Xiaomi, Samsung, LG, Zenfone, Oppo, Vivo, and the list is unending. To shed light on how much is the discount on each smartphone, Xiaomi Redmi 6 3/32GB has dropped from Rs 8,999 to Rs 8,499 which is a Rs 500/- discount while it's larger variant with 64GB storage dropped from Rs 10,499 to almost Rs 9,499/- and don't forget all the offers adjoining to each smartphone i.e. HDFC Bank EMI, No Cost EMI, Mobile Protection Care, 5% discount of Axis Bank Buzz Card, etc.

Oppo's Realme has too joined the wagon offering a Rs 1,000/- off on Realme 2 Pro 64GB that brings down its price tag from Rs 16,990/- to Rs 15,990/-. Another smartphone from Realme i.e. C1 2GB/16GB that brings a discount worth of Rs 1,990/- with a new price tag of Rs 6,999/-, it's original price is Rs 8,990/-.
There are great deals on iPhones as well. Start with Apple iPhone SE 32GB for instance which has a price tag of Rs 18,700/- on Amazon but with Flipkart's Mobiles Bonanza sale, the price has dropped to Rs 15,999/- i.e. a flat Rs 2,700/- discount although the former price mentioned on Flipkart is outrageous (Rs 26,000/-). iPhone 6 32GB grabs a price tag of Rs 23,999/- after a discount of Rs 6,781/- while the iPhone 6S has grabbed the discount of Rs 24,999/- (Original Price: Rs 29,900/-), iPhone 6S Plus is available at Rs 30,999/- (Original Price: Rs 34,900/-), iPhone 7 32GB is available at Rs 34,999/- (Original Price: Rs 52,370/-), iPhone 7 Plus 32GB comes with a discount of Rs 8,841/- with a new list price of Rs 53,999/-.  Finally, the iPhone 8 and iPhone 8 Plus 32GB have a price tag (after discount) of Rs 54,999/- and Rs 64,999/- respectively.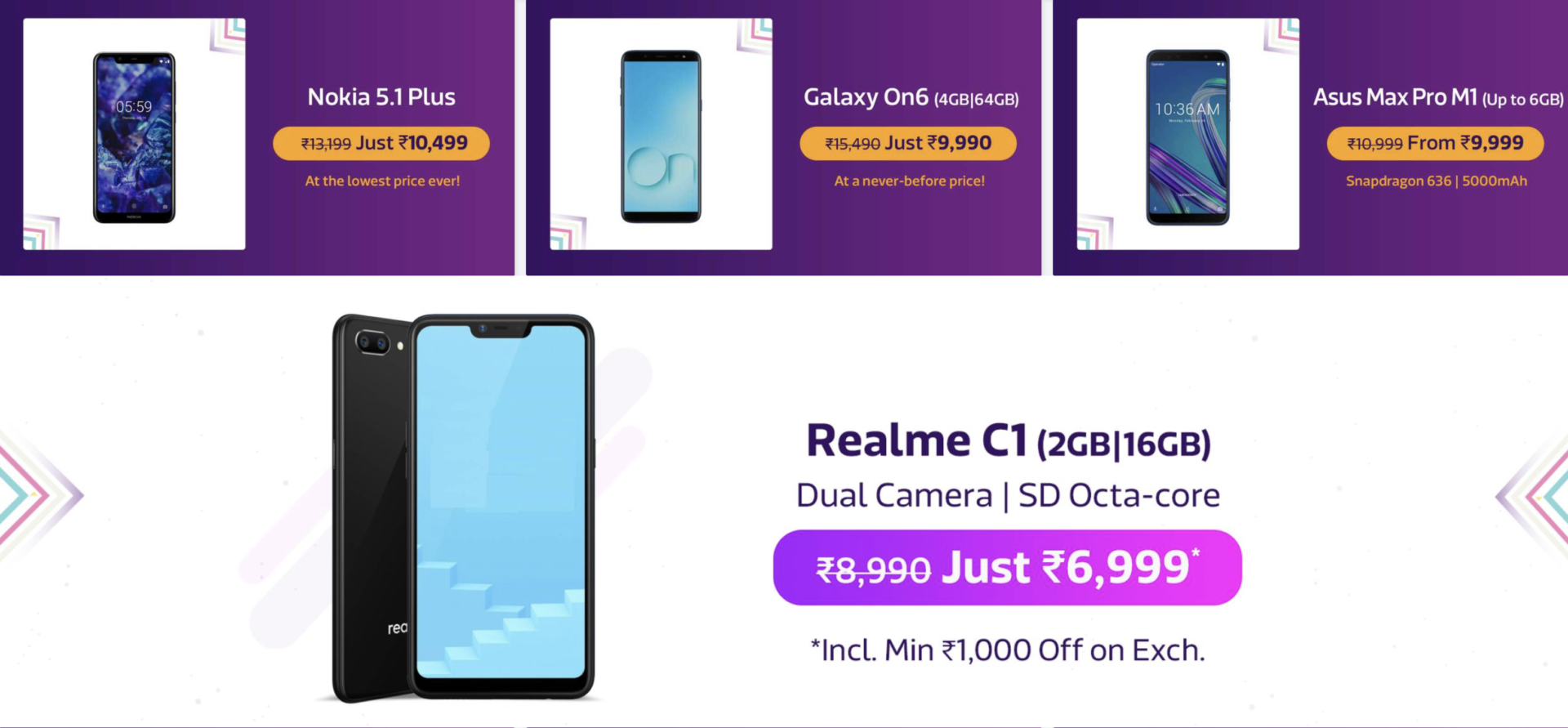 While there are other smartphones on offer too but there are few brands which stand different such as Huawei Honor which is offering a Rs 3,999/- discount on its Honor 9N 32GB that brings down its price to just Rs 9,999/-. Nokia too has a plethora of smartphones in the sale such as it's Nokia 5.1 Plus which now sells for Rs 10,499 after a heavy Rs 2,700/- discount while the latest Nokia 6.1 Plus offers a similar discount of Rs 2,600/- that makes it's price to drop to Rs 14,999/- during the Mobiles Bonanza offer.
Remember POCO F1? The Xiaomi's subsidiary Pocophone has been an exclusive product on Flipkart up till a few days back and has sold millions of units already. Flipkart is offering a flat Rs 1,000/- discount on its base variant which makes it a new price tag of Rs 18,999/- and it is among the best selling flagship smartphone and interestingly, it costs half of what a competitor with similar processor offers, at least that is what it advertises.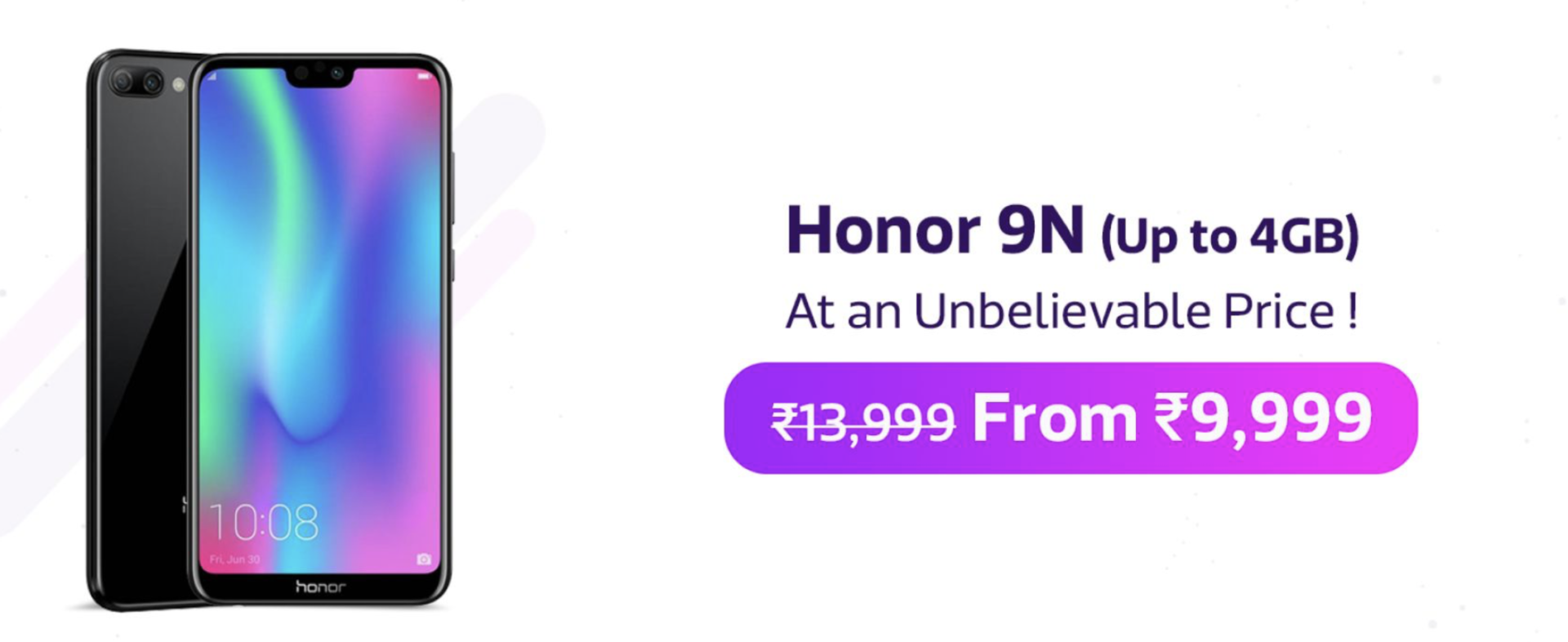 There are a plenty of other smartphones under the sale such as Moto X4, Infinix Smart 2, Redmi Note 5 Pro, Samsung Galaxy On6, Asus Max Pro M1, Zenfone 5Z, LG K9 LTE, Honor 9 Lite, Samsung Galaxy On8, Honor 7A, Motorola One Power, and bunch of others that you can check out here.
But that's not all. Flipkart has also advertised the exchange bonus on all of its smartphones under 'Mobiles Bonanza' sale where the users can earn an additional bonus for exchanging their old but working smartphones. Check out the 'Mobiles Bonanza' Sale on Flipkart right away.
You might also like
---
More from Android
---
Huawei is soon going to launch its Honor Play 4 Series on the upcoming 3rd June but ahead of the …
Infinix finally launched its Hot 9 and Hot 9 Pro India after the launching Infinix Hot 9 in Indonesia in …
The Samsung Galaxy Note 20 series is scheduled to launch in October. This means we have months before it hits …
Editor Picks
---