Samsung Galaxy F (at least that's what report suggest) will be the first-ever commercially available foldable smartphone from Samsung. If you are aware of it, the South Korean giant has been developing it's foldable phone for years now and it was only at the Samsung Developers Conference (SDC) 2018 that was held last week in San Francisco where Samsung unveiled the new Galaxy F although the moniker is still not confirmed.
During the event, Samsung unveiled the foldable phone in a sturdy and giant phone case to protect its actual design from exposing except the main 7.4-inch foldable screen and a 4.6-inch secondary screen at the back which activates when the phone is folded and yes, rest all remains a secret up til now but thanks to various sources, we might have some details that you will love.
First of all, the phone is expected to release in the first half of 2019 according to Samsung Mobile CEO DJ Koh but a recent report suggests that the release date could be as close as the upcoming March or a month after Mobile World Congress 2019 which goes in line since the MWC 2019 will be held on February 28, 2019, so we are expected sometime in the third of March 2019 but that's an assumption and we are still waiting for official confirmation.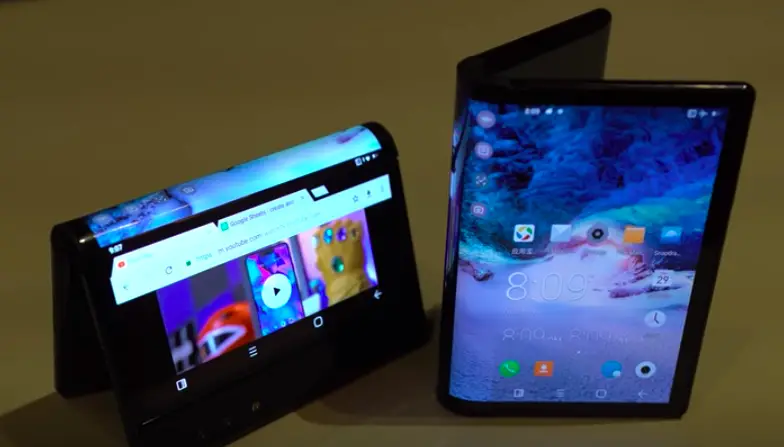 The Samsung Galaxy F will launch as a premium device with a price tag of $1,770 which is although a lot less than the previously speculated $2,000 tag, however, it is still a hefty price to pay for a smartphone with a new form factor that has never been tried. Also, the tech giant has predicted to ship around a million units by the end of 2019 which is optimistic considering the tech and the price tag and also, keep in mind than other brands such as Xiaomi, Huawei is developing their own foldable phones too.
Samsung Galaxy S10 will release at the MWC 2019 probably and will have a 5G modem pre-installed, however, the report suggests that Galaxy F wouldn't be 5G-enabled as if it was, it would eventually raise its price tag. Anyhow, a new Exynos and Qualcomm Snapdragon 855 chipset have appeared too so we might get the chance to use these new chipsets with Galaxy F and Galaxy S10, S10 Plus, etc.
Meanwhile, YouTuber Concept Creator has published a new concept video for Samsung Galaxy F based on the previous leaks, rumors, and the latest grabs from SDC 2018 where Galaxy F was displayed and the video is mesmerizing although it might be hyping the smartphone comparing it with the actual unit unveiled at the event but who knows? The unit used at the event could have been an engineering prototype while the one that will release early next year will be polished and refined further to grab a lot of eyeballs.
You might also like
---
More from Android
---
Based on the latest tweet posted by OnePlus CEO Pete Lau, the flagship smartphone maker is about to announce the …
LG filed for a patent with World Intellectual Property Office (WIPO) and received it this Friday teasing a new outlook …
In a bid to score the highest and upscale the best-performing smartphone chart, ZTE adds another smartphone into the series …
Editor Picks
---