Fingerprint sensors have transitioned a lot from rear panel to front panel on the button to side edges and now under the screen which is called in-display fingerprint sensor. Then there comes Apple which removed the fingerprint sensor which gives ultra security to the user and replaced it with yet another technology called FaceID which is now being used as a complementary in other smartphones as well. Talking about Samsung, the South Korean tech giant teased its under-the-screen fingerprint sensor a few months ago and was touted to release with Note 8 and then, Galaxy S9 but it never materialized. But a patent at the U.S. Patent Office has surfaced online which are fascinating.
According to the patent filed at the U.S. Patent Office, Samsung has described a 'biometric sensor' for its smartphones with top-notched ultrasonic technology. This is something similar to what speculations that rose a few months ago stated about an under-the-display fingerprint sensor with ultrasonic technology that could strengthen the security as well as provide higher accuracy.
According to Patently Mobile, Samsung filed an application at the U.S. Patent Office dictating how the biometric sensor aka fingerprint sensor with ultrasonic technology would work. The image posted with the application shows two smartphones renders, one with a traditional design with a home button or a fingerprint sensor and another is an edge-to-edge display.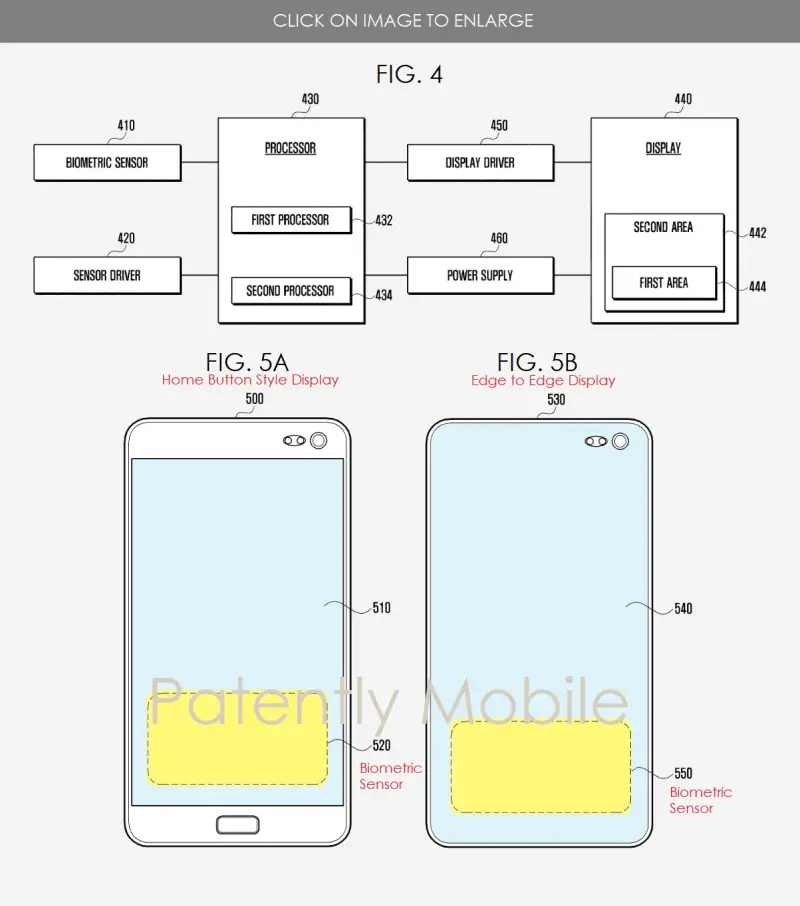 Describing the images, Patently Mobile states that Fig 5A which is a home button styled display may include a fingerprint sensor at an area marked #520. Further, the Fig 5B which has an edge-to-edge display form factor shows the #550 as the region with a biometric sensor that can recognize biometric information.
Samsung has developed an ultrasonic technology-based fingerprint sensor that will be affixed on the rear or back side of the display thus giving a higher accuracy rate. Further, Samsung could also use elastomers between the display and the sensor so that it can be protected from any foreign material piercing between the display and the sensor. Further, Samsung could use an image sensor or an infrared light so that it can record the image emitted by the light source or detect reflected light in either case in order to recognize the biometric information.
As per the dates, Samsung filed the patent on January 22, 2018, and it is rumored to be unveiled with Samsung Galaxy S10 which is expected to launch in the first half of 2019. As of now, Samsung has a gaming-oriented smartphone named Samsung Galaxy X in the lineup to launch next year while the new Samsung Galaxy Note 9 will unveil on August 9.
You might also like
---
More from Android
---
Chinese smartphone maker Vivo announced its sub-brand IQOO two days ago. And guess which is its first smartphone? It is …
Yesterday, Xiaomi took to its Weibo handle to announce the official launch date for Xiaomi Mi 9. Through an official …
Xiaomi has already hyping about the upcoming Xiaomi Redmi Note 7 and Redmi Note 7 Pro that was launched in …
Editor Picks
---