UPDATE (June 7, 2017, 1:27 PM IST): Another individual from the same location has sent us an email claiming that the OnePlus 5 will feature a 20-megapixel main camera sensor instead of a 16-megapixel one. The selfie shooter will be a 16-megapixel camera. As usual, the individual has attached some proof as well, but it does not look legit.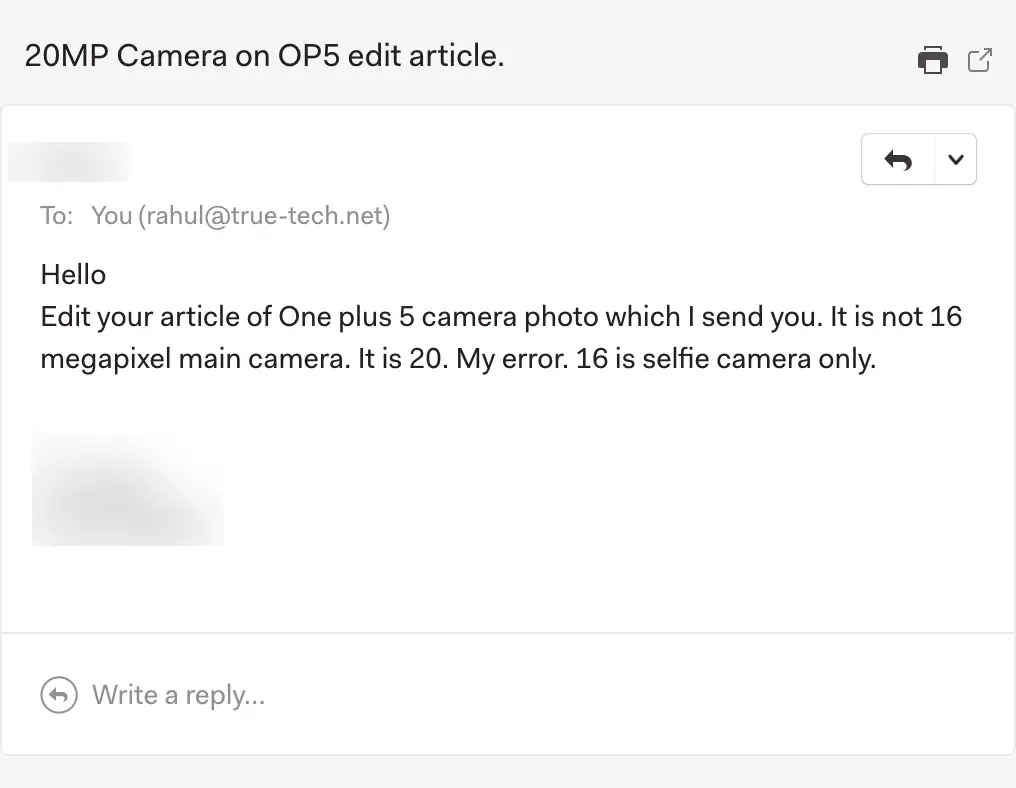 ---
NOTE: TrueTech does not endorse or validate the authenticity of the leaked photographs provided. All the analysis has been based on the information provided by the leaker who has been efficient with his or her work. Click here to check out one of his previous leaks.
OnePlus is soon to unveil the OnePlus 5 to the market and we are hearing a lot about the Chinese smartphone maker's collaboration with DXO Mark to tease their upcoming flagship's camera prowess. Before this news arrived, we already had some dubious OnePlus 5 camera samples delivered to us by an anonymous leaker. However, as we are nearing the launch on June 15, the leaker has followed up with a few new camera samples that are impressive indeed.
Recently, OnePlus officially flaunted a side-by-side comparison picture to highlight what the OnePlus 5 camera is capable of. The official tweet can be found below. The tweet compares two photos taken by two different devices, one being the OnePlus 5. The right one is ostensibly the OnePlus 5, which hints towards sharper and better low light pictures with a good amount of detail. One approach to gathering plenty of detail is to use a monochrome sensor along with a standard smartphone camera sensor, in a dual camera set up, which is most likely the case with the upcoming OnePlus 5. The same can also be inferred from a recently published leak about the OnePlus 5 retail packaging box which highlights the tagline: "Dual Camera. Clearer Photos."
Can you tell which photo was taken with the OnePlus 5? pic.twitter.com/Pd27la4ewn

— OnePlus (@oneplus) May 29, 2017
As mentioned earlier, the leaker who provided us with the camera samples earlier has followed up with better photographs to take a look at. The leaker has not permitted us to reveal any data related to him or her, however, he or she does suggest that the OnePlus 5 will sport dual camera setup with a 20-megapixel main sensor and f/1.8 aperture, as well as a 16-megapixel selfie shooter. He or she has also provided us with a monochrome photo (check image 2 and 3), suggesting that a monochrome sensor may be present.
The new photographs that were sent to us are very rich in detail, are sharp, and saturated. Also, the colors seem close to natural and are definitely an improvement from the previous leaks. It seems from image 2 and 3, as if the OnePlus 5 may come bundled with a monochrome sensor to capture supplemental detail and merge it with the original image to render a better picture. Although we see a really balanced image, we do not have any idea about the dynamic range, since there isn't a significant lighting shift noticeable in any of the pictures. Like last time, the only way to determine the whether the photos originate from the OnePlus 5 is to refer the EXIF or Metadata, but again, that can be altered pretty easily and cannot be straightforwardly trusted, which is why we do not endorse these pictures in any manner. Like last time, the metadata reads the device manufacturer as "OnePlus", the device as "A5000", and points to a latitude and longitude that match Shenzhen's, a city located in the Guangdong province in China.
We have compiled the pictures in a zip folder and uploaded them onto our own server and Google Drive for professionals, individuals, or other media outlets to utilize or evaluate them. Click here to download from Google Drive, or click here to download them directly. What are your thoughts about the OnePlus 5 camera samples? Do let us know in the comment section below.
You might also like
---
More from Android
---
The Redmi Note 13 Pro series will be unveiled in China in September, according to an official announcement from Xiaomi. …
We now have a first glance at the design and color options of the next Samsung Galaxy S23 FE according …
The Snapdragon 7s Gen 2 chipset, which is expected to power the next Redmi Note 13 Pro smartphone, was recently …
Editor Picks
---